Michigan mother who exposed Flint water crisis receives international environmental justice prize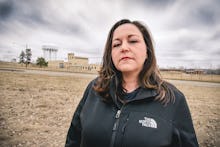 If there is one thing LeeAnne Walters will never need, she says, it's convincing her to trust her own instincts. Just over four years ago, Walters noticed the water coming out the faucets of her Flint, Michigan, home was cloudy and dark brown.
The 39-year-old stay-at-home mother of four said she grew more alarmed when her twin boys suddenly developed rashes. Walters and her eldest daughter were losing clumps of their hair.
"I'm a gut person," Walters said in a recent phone interview. "I've found that when I don't follow my gut, it comes to bite me in the ass."
The cause of their ailments was dangerous levels of lead in the water supply, the effects of which are generally irreversible. But after approaching city and state officials about water quality, Walters was told that she and tens of thousands of area residents had far less to worry about than they actually did.
Despite that word from the city, Walters took action. She is credited with marshaling a citizen-led water testing effort by collecting hundreds of Flint water samples and documenting the extent of the problem. That work also helped expose negligence and collusion on the part of those responsible for contaminating the water supply, who authorities allege hid alarming lead testing results and falsified documents to save the city and state money.
Walters will accept the Goldman Environmental Prize on Monday, and said she hopes to help others go to battle with their governments over environmental injustice.
"This is not just happening in Flint," Walters said. "There are so many states and cities testing with loopholes, who hide and minimize the lead.
"People, please know what's in your water," she said.
Considered the world's largest award for grassroots environmental activists, the Goldman Prize was created in 1989 to elevate the recipients' platform and provide financial support to further their work. In North America, Walters joins the ranks of environmental activists whose work led to cleanups of polluted communities in California and Texas.
Walters and prize recipients from around the world, including Colombia, France, the Philippines, South Africa and Vietnam, will be awarded during a ceremony in San Francisco on Monday evening. The recipients will be recognized again on Wednesday, at an event in Washington, D.C.
Although exposing water contamination in Flint was a humongous task, Walters said her motivations weren't all that complicated. "I was just a mom pissed off that her kids were hurt and that other people's kids were being hurt," Walters said in the phone interview. "People have a right to protect their kids."
The Flint water crisis, as it became known, was an environmental justice issue simmering locally for more than a year before it became a national story. In 2014, Flint officials switched its water supply from a Detroit source to the Flint River. In 2011, the city of Flint was facing a $25 million deficit and the state of Michigan took over Flint's finances. So, the decision to switch the city's primary source of water was a cost cutting measure, officials said.
Corrosive materials in the untreated river quickly compromised Flint's pipes, releasing toxins that made the water smell, taste and appear unsafe to drink, cook and bathe in. All of the city's 100,000 residents were potentially affected, and a state of emergency was declared. Free bottled water was later distributed to residents, as the state's governor sought help from the federal government.
In March 2015, one of Walters' twin boys tested positive for lead poisoning. And her other three children were found to have high levels of exposure. According to the World Health Organization, neurological and behavioral effects of lead in the bloodstream are "believed to be irreversible."
Walters partnered with Virginia Tech professor Marc Edwards, an expert on lead contamination, and in September 2015, began personally collecting more than 800 water samples from community members in Flint, according to the Goldman organization. Walters got a 90% response rate through her grassroots testing campaign — and that's significant, considering most paid federal environmental agency representatives get only a 20% response rate when collecting the same tests.
"I would do it again in a heartbeat," Walters said. "But it shouldn't have had to come to that, when these are the people who are paid to protect us. We shouldn't have had to do their jobs, in order to prove [lead poisoning]."
A full picture of the of government's negligence wasn't revealed until 2016. According to media reports, state and local environmental officials hid the extent of contamination from the public and even lied to federal environmental officials about its efforts to address the contamination. Amid the resignations of top and low-level Michigan environmental agency officials, criminal charges were filed.
In June 2017, the Michigan state attorney general's office filed involuntary manslaughter charges against several officials, alleging their conduct led to the deaths and illnesses occurring after the water crisis. That's on top of the charges filed in the preceding years, on crimes ranging from misconduct in office and conspiracy to tamper with evidence to willful neglect of duty.
Although Flint is still recovering from the water crisis, Michigan Gov. Rick Snyder announced on April 8 that the state will stop the city's free bottled water distribution. "We have worked diligently to restore the water quality and the scientific data now proves the water system is stable and the need for bottled water has ended," Snyder said in a statement.
Engineers who surveyed Flint's water infrastructure have previously suggested the city and state replace public and residential pipes, a process that could take several years. Walters is among those who believe ending bottled water aid before more improvements are made is a mistake.
"It's another injustice and another reason why the residents will never trust the state of Michigan again," she said. "They've done nothing to rebuild the trust with us, and they keep doing crap like this to put it further and further into the negative."
Walters is now raising her sons in Virginia, where her husband is stationed in the Navy. But she spends two weeks of every month in Flint, still conducting citizen-led water quality sampling. In March, she received an Environmental Protection Agency grant that helps fund her work and her methodology with communities across the U.S. If it's successful, Walters' sampling program will be the largest citizen-led scientific collaboration in U.S. history, according to the Goldman organization.
"The biggest thing is — and a lot of people don't want to hear this — water is the new gold," Walters said. "Water needs to be a human right, not a selling point to make money."