'RuPaul's Drag Race' season 10, episode 6: Blair St. Clair exit interview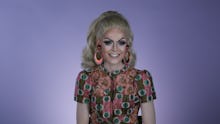 Six down, seven to go.
No amount of sweet Southern belle charm could save Blair St. Clair from elimination during Thursday night's episode of RuPaul's Drag Race. "It's like you're a dessert on the menu and I keep looking at you and thinking, 'Maybe that's just too sweet for tonight,'" judge Ross Mathews remarked.
St. Clair failed to wow the judges during the DragCon-themed maxi-challenge, where her trio — comprised of her, Miz Cracker and The Vixen — were tasked with a panel centering on wigs. A lack of chemistry among the three queens — combined with some attempted barbs at St. Clair that the judges thought were more mean-spirited than funny — made her bottom-two fate inevitable. And her runway, while gorgeous, didn't give the judges much to talk about.
After a lip sync to Diana Ross's "I'm Coming Out" against The Vixen, St. Clair's fate was sealed.
But there was plenty of love and support from her fellow sisters after she broke down on the main stage, bravely sharing the story of how she was raped at a college party. "Consider this your coming out party," Ru told St. Clair after her elimination. "And I want the world to know this is a declaration of independence from the past."
Mic spoke with St. Clair following Thursday night's episode about the elimination and what's next for her drag career.
Mic: Gotta start with a very original question: How are you feeling this morning?
Blair St. Clair: How original! I'm doing OK today, thank you for asking. We filmed this quite some time ago, and I've had a really good amount of time to process and feel every emotion that I needed to feel and be at this point. And last night was a really last-minute, beautiful bit of closure for me and I'm really, really glad that it's out there. It happened and I'm moving past it now.
Where did you watch the show? How did those you were with react?
BSC: Well, I was really nervous — I don't know if you knew, but there were a lot of leaks online yesterday. I'm not dumb. I definitely heard about them as well. And I was doing a viewing party at Roscoe's Tavern in Chicago, so it wasn't like a normal elimination for me. I knew that a lot of people were aware that I was eliminated and I was going to be walking into a venue with them knowing that. And that was a little nerve-wracking for me, but of course I didn't say anything.
So walking in I was initially nervous, but throughout the episode — and especially when I really, really opened up on screen — the crowd just gave so much love and support and kindness, and they stood up and gave a standing ovation and clapped for me. That itself was almost even more overwhelming than what I talked about on TV, because something so dark and negative in my life was now being reinforced with so much love and positive energy ... that was coming full circle for me and [it was] so incredibly inspiring.
During the video your mom recorded, she said you're helping a lot of people in Indiana. What's it like growing up LGBTQ in a place like that?
BSC: Indiana is a little bit more conservative and right-wing, but [the city] Indianapolis is a little bit more liberal, and I had a lot more opportunities than I think people give Indiana credit for with being open and accepting. It's a larger city but it's a small-town feel; [there aren't] as many opportunities of going to Los Angeles or Chicago or New York as some people have the opportunity to. And I'm one of the very first people, especially for the LGBTQ community, to break through the Indiana barriers and start speaking with my voice on a much larger scale and platform. I heard so much talk of people thanking me for opening up and representing Indiana with class and dignity and integrity, and showing that people in the Midwest can still come from a really strong LGBTQ community even if it might be thought of as a more conservative [area].
You mentioned you and your mom had lost contact for a period. What ultimately led to your reconnecting?
BSC: When I first came out, there was probably around six months of us not necessarily completely losing touch, but [not] the same contact that we have today ... We were just a little bit more out of tune with each other. And it took both of us time to really process my coming out. What I didn't mention [is] I didn't really have a coming out story. My parents actually prompted me and asked me if I [might] be gay in a very loving and kind way. But it was very nonchalant. It was, "How are you? How are your grades? How's life? Do you like boys?" It was just out [of] nowhere.
My mom loved me so much, but it took her a while to process that her son ... might have a little bit of a harder time in life because of who I am. What really brought us back together was connecting over that story. I came to her and we talked about [how] that no matter the situation in life, who I am shouldn't pull us apart. It was about communication.
"I urge to find the daintiness because I feel dirty at times," you said before revealing your first sexual experience was being raped at a college party. What compelled you to share this in that moment?
BSC: [Long pause] You know ... [Long pause] I had never really opened up and talked about that, if at all, before Drag Race. And I truly didn't even really know I was talking about [it]. I think the best way to describe it is an out-of-body experience. It's almost as if my heart was speaking for me without my mind knowing it was even doing it. I think my heart was finally ready to talk before I even recognized that I was ready.
There was nothing that really prompted me to start opening up. I think I was just at a very vulnerable moment in time and there was a part of me that was screaming inside, almost a need for help, a need to release and let go. I had this big thing hanging over me and I couldn't really feel what it was, but the pressure was grinding on me, screaming for release. So I kinda just word-vomited and put whatever baggage that was on me off of me in that moment, and it all kind of just spilled out.
What a powerful moment it was watching Miz Cracker and The Vixen physically reach out to you to offer support. What did that feel like in the moment?
BSC: What the show doesn't show a lot of is that Vixen, Miz Cracker and I are really close friends and [remain] extremely close [today]. That moment was so special because here I am, being extremely vulnerable on a large stage in front of RuPaul and the judges, and they truthfully offered their closest sentiment by grabbing onto me. I literally felt for the first time a big sense of belonging and sisterhood, and it was just a really powerful moment for me too.
How did you feel in the hours leading up to last night's episode, knowing this conversation, once contained to a small room of people, would now be on national television?
BSC: I had never really thought that through [laughs]. I think it's easy to forget when filming that these things you are saying are captured on film forever and will be broadcast to the entire world. It keeps you honest. It keeps you genuine. You're not keeping up a front of what you want people to see. It was a little overwhelming, but also I was just really ready for that to be opened and I've been really waiting to finally get over some of those emotions. I think I needed to see it on TV so I can continue getting over that last little bit that I need to get over in my life and take those initial steps.
Who are you rooting for this season now that you're gone?
BSC: The person I would say I'm rooting for the most is Miz Cracker. She has everything I think the show needs in a winner, and she's my winner.
Looking back at this experience as a whole (both the filming and the airing of the episodes), what was the high and what was the low?
BSC: Interesting. The high was probably ... this is so goofy, but every day before we would film the runway, I would look around at everyone and be like "Oh my gosh guys, we are on RuPaul's Drag Race right now and we are about to do a runway!" And they'd look at me and be like, "Yeah, Blair, we've done this like eight times already." And I was like, "I know, but this is so exciting!" That was a high for me, finding those moments of realizing I was actually doing this.
The low ... I had told myself that I was going to win no matter what. And that's the mentality you need in order to do the show. And when I realized that wasn't the case and I was going home, I took it really personally. I wasn't able to take the time away from it not being a personal thing for me, but it was still a life victory that I made it.
What's next for Blair St. Clair?
BSC: Blair is originally a theater queen, so I want to release some music that's true to my heart. And I also want to do a lot of public speaking, whether that's commercials and PSAs or just sharing my story and talking. I think being a relatable queen on the platform I am is really important, and being able to show people that I'm just a human being with a lot of makeup on.
Check out Mic's exit interviews with week one eliminated queen Vanessa Vanjie Mateo, week two's eliminated queen Kalorie Karbdashian Williams, week three's eliminated queen Yuhua Hamasaki, week four's eliminated queen Dusty Ray Bottoms and week five's eliminated queen Mayhem Miller.