'TMZ' staffer to Kanye West: "I actually don't think you're thinking anything"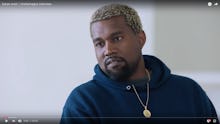 On Tuesday, TMZ staffer Van Lathan said what's likely on the minds of many Kanye West fans. As seen in a TMZ video, Lathan took the hip-hop legend to task for implying that slavery was "a choice" for African Americans.
Ye was visiting TMZ headquarters for an interview about his recent full-throated support for president Donald Trump. Naturally, the conversation produced no shortage of controversial quotes.
"When you hear about slavery for 400 years, for 400 years? That sounds like a choice," West told TMZ in the gossip outlet's newsroom. "You was there for 400 years and it's all of y'all?"
It was the last straw for Lathan, who, when prompted by Ye, gave the rapper a piece of his mind.
"Do you feel that I'm being free and I'm thinking free?" West asked everyone in the TMZ newsroom.
"I actually don't think you're thinking anything," Lathan replied as he stood up in the back of the room. "I think what you're doing right now is actually the absence of thought."
"While you are making music and being an artist and living a life that you've earned by being a genius," Lathan continued, "the rest of us in society have to deal with these threats to our lives. We have to deal with the marginalization that has come from the 400 years of slavery that you said for our people was a choice. Frankly, I'm disappointed. I'm appalled. And brother, I am unbelievably hurt by the fact that you have morphed into something, to me, that's not real."
A stunned West approached Lathan apologetically.
"I'm sorry I hurt you, bro," he said.
"You gotta be responsible, dog," Lathan responded as the camera cuts off.
It didn't end there.
After going silent for several hours, West let loose on Twitter Tuesday evening, tweeting a screenshot of a text conversation with rapper Big Sean before an ongoing attempting to clarify his comments about slavery.
All of this was the culmination of two weeks of startling behavior from Yeezy — and it wasn't even the only high-profile West interview to make the rounds on Tuesday. Earlier in the day, West tweeted out another interview he had done recently, with radio host Charlamagne Tha God. The nearly two-hour conversation had been hyped up by Ye previously, who called their Q&A "one of the best interviews of all time," and declared the Power 105.1 FM shock jock "the new Oprah."
The interview with Charlamagne touches on a range of topics, including questions about West's mental health, his 2016 hospitalization and his onstage rants during concerts. The perplexing back and forth provides a window into where West is right now and what's been going on in his life for the past couple of years.
"The thoughts I'm getting out on Twitter now, I think everything is therapeutic but I'm not doing it as a form of personal therapy," West said during the interview. "I decided to use this platform to express some breakthroughs that I've had since going to the hospital."
West has been making headlines since April 21, when he tweeted his admiration for fellow Donald Trump supporter Candace Owens. He followed that up with a week of controversial tweets in support of Trump, including a picture of himself wearing a "Make America Great Again" hat.
Since then, however, West has also shared his admiration of Marjory Stoneman Douglas High School shooting survivor Emma Gonzalez and support for Black Lives Matter Greater New York president Hawk Newsome.
In his talk with Charlamagne, the 40-year-old emcee said he knew people were going to question his mental stability because of his recent behavior.
"People will take something that's enlightened, put it in a different context and then call it crazy to try to diminish the impact and the value of what I'm actually saying," West said. "There will be flaws in the way I communicate today. We're human beings. We're flawed. I'm not media-trained. I'm not studied in that. I'm not trying to say the right thing. I'm just saying what I feel out of love."
Ye also addressed his battle with addiction, saying his wife being robbed, his struggles in the fashion industry in 2016 and his demanding Saint Pablo Tour all contributed to his eventual mental breakdown.
"It's like all these things were almost set up to put me on meds, to break me down," he said. "The robbery, I don't know where that came from. Was that a bigger plan, a bigger setup? Just being on stage four times a week, you get exhausted out there."
"Did you ever go to therapy?" Charlamagne asked.
"I use the world as my therapist," West responded. "Anyone I talk to is my therapist."
The rapper also discussed issues surrounding race and slavery. Apparently, West wasn't thrilled when the U.S. Treasury announced plans to replace Andrew Jackson's face with Harriet Tubman's on the $20 bill.
"That was the moment that I wanted to use bitcoin," he told Charlamagne. "It's like, why you gotta keep reminding us about slavery? Why don't you show us ... put Michael Jordan on the $20 bill."
On his Red Pill podcast earlier in the day, before telling off Ye, Lathan interviewed Charlamagne and asked whether the interview, which hadn't been released yet, would give fans hope that the West they'd grown up loving wasn't completely gone.
"We're out here in the wind listening to this dude not knowing what to make out of what," Lathan said. "Is there anything in this interview that might make me view this situation any differently at all?"
"It might give you faith that we haven't lost Kanye West," Charlamagne replied. "He's not completely gone. I just think that he's challenging everything he's ever believed in his life."
This all comes as West prepares to release his next solo album, on June 1, and a collaborative album with Kid Cudi on June 8. Yeezy recently dropped two new tracks, "Lift Yourself" and "Ye Vs. The People," the latter of which features T.I. debating Ye on the virtues of supporting Trump as president.
"I just want Kanye to sit down with some more educated people on both sides," Charlamagne said during his interview with Lathan. "There's nothing wrong with listening to people on both sides. I just feel like this Donald Trump thing is something we've never seen before."
May 1, 2018, 8:21 p.m.: This story has been updated.