Kanye West's slavery comments spark Twitter feud between Candace Owens and Tomi Lahren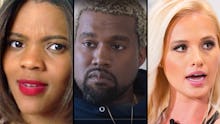 The pro-Trump, conservative movement's plan to use Kanye West to attract more black Americans to their cause has prompted a Twitter feud between two of the movement's rising stars.
Fox News correspondent Tomi Lahren spent Wednesday afternoon criticizing Kanye's TMZ comments about 400 years of slavery being a "choice" for black Americans.
"Is that really the kind of messenger we want for the movement?" Lahren said on one of her "Final Thoughts" segments. "Do not make Kanye or any celebrity a messiah."
Those comments didn't sit well with conservative pundit Candace Owens, who made national headlines on April 21 after Kanye praised "the way [she] thinks" on Twitter. Owens has made it her mission to recruit more black Americans to join the ranks of the pro-Trump, right and recently has been called the black Tomi Lahren.
"I would call out @tomilahren for hating on Kanye, but she blocked me," Owens tweeted late Wednesday night.
The feud escalated Thursday morning when Lahren responded, tweeting that Kanye's TMZ interview was "cringeworthy," and that she would not jump on the "Kanye-obsessed bandwagon."
Less than an hour later, Owens fired back implying that Lahren's comments are throwing a monkey wrench in her bid to recruit more black Americans.
She linked to a Daily Caller article that mischaracterizes new Reuters polling data showing Trump's approval rating among black men has jumped 11% since Kanye's MAGA-palooza. (In an emailed statement, Reuters polling editor Chris Kahn confirmed that the sample size of just 171 black males used in its latest presidential approval poll of more than 2,985 total Americans is "too small" to accurately draw conclusions about how black men feel about Trump's job performance).
"Kanye put me in touch with other rappers and culture influencers to begin having discussions about bridging the gap," Owens tweeted Thursday morning. "Anyone fighting this is not about America first."
Lahren suggested that Kanye may ultimately do more harm than good for the conservative movement. Owens herself previously did an entire YouTube video about not caring what celebrities think.
"Are we really going to put our eggs in Kanye West's basket?" Lahren said Wednesday afternoon. "What happens when he flips the script next week or next month in a bid to nab more attention? Then what? We look like fools for appointing him our cultural messiah. Don't fall for it."
Yeezy, on the other hand, appears to have moved on from this whole cultural debate, at least for now.
After tweeting several times about his TMZ comments on slavery Tuesday night, West's latest tweets from Wednesday appear to show behind-the-scenes footage from one of his fashion shows.
On a Wednesday episode of his self-titled podcast, conservative pundit Ben Shapiro also appeared to take veiled shots at Owens. Both Shapiro and Owens work for Turning Point USA, a right-wing group that brings conservative speakers to college campuses.
"We have spokespeople, some of them somewhat intelligent, some of them very attractive physically," Shapiro said. "If you don't do the reading you shouldn't be doing the talking. If you haven't thought about an issue, you shouldn't be talking about an issue and shouldn't be a spokesperson."
Owens, however, isn't backing down.
She continued her Twitter tirade Thursday afternoon, retweeting a post accusing Lahren of failing to criticize celebrity outreach when she was feuding with rapper Wale or dialoguing with radio host Charlamagne Tha God.
"[Tomi Lahren] is uncomfortable with any black conservative that gets more clout than her," Twitter user @AFreeBlackMan tweeted Thursday morning.
"Bingo," Candace responded.
May 3, 2018, 3:12 P.M.: This story has been updated.