Trump told the NRA Kanye West gave him an 11% approval boost among black Americans. Is he right?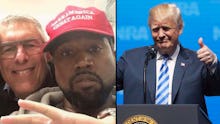 President Donald Trump made time again Friday to thank Kanye West for revealing himself as a MAGA-hat wearing "free-thinker," crediting West's support for supposedly boosting his approval rating by 11% among black Americans.
"Kanye West must have some power, because you probably saw I doubled my African-American poll numbers," Trump told the crowd at the NRA's national convention in Dallas. "We went from 11 to 22[%] in one week. Thank you, Kanye."
Mentioning Kanye in front the NRA is ironic, given the rapper's recent praise for gun-hater and Parkland, Florida school shooting survivor Emma Gonzalez.
But Trump isn't the only conservative making this claim. Turning Point USA co-founder Charlie Kirk and his communications director, Candace Owens, who Kanye tweeted his support for on April 21, have both tweeted the same statistic.
Fox News host Laura Ingraham retweeted the same figure Wednesday and reported it on her show The Ingraham Angle. The Daily Caller shared it as well.
This statistic, however, is misleading at best. The 11% figure Trump cited references black men alone and excludes black women.
The stat came from Reuters' latest available weekly presidential approval polling data, which also has Trump's overall approval rating rising 3.3%, from 38.1% on April 22 to 41.4% on April 29. The same data shows a support increase of 7.6% among black Americans over the same period, from 8.9% on April 22 to 16.5% on April 29.
Reuters polling editor Chris Kahn says it's possible Trump's approval boost among black males jumped from 11% on April 22 to 22% on April 29, but the small sample size of blacks polled renders the data unreliable.
"171 respondents is too small of a sample," Kahn told Mic over the phone on Friday. "There's so much uncertainty with that result, it's almost meaningless."
Kahn explained that the the sampling size for black men in this poll implies a sampling error of +/- 9 points, which means the results could vary in either direction by that amount.
To come up with its figures, Reuters surveyed 2,985 Americans. That sample only included 333 African-Americans and 171 black men. The nine-point margin of error means Trump's approval boost among black men could be as high as 20% as of April 29 or as low as 2%, according to Kahn.
The effects Kanye's tweets have had on Trump's approval are also undeterminable.
"You can't take one tweet, one event and really imply that is impacting a president's approval rating among any group," Kahn said. "I don't know, [but] I would suspect people who take our poll may not know anything about what Kanye did."
Nevertheless, there has been a clear, concerted effort by pro-Trump conservatives recently to recruit more black Americans to join their camp.
Candace Owens has made that her mission since being hired by Turning Point USA in 2017.
On Friday, Owens tweeted about having recent conversations with rapper T.I. and radio show host Charlamagne Tha God. T.I. recently spoke with West about his support for Trump and debated him about it on a new single, "Ye vs. The People."
Pro-Trump conservatives' efforts to woo black Americans to their cause likely stem from the president's dip in support among black Republicans following his racist behavior and comments since taking the oath of office in 2017.