Turning Point USA's plan to "red-pill" black America for Trump should concern Democrats. Here's why.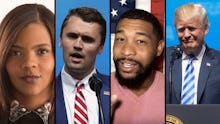 On Wednesday, President Donald Trump joined Kanye West in tweeting his support for Candace Owens, the black liberal-turned-conservative who serves as communications director for Turning Point USA.
Turning Point is the pro-Trump nonprofit organization that brings controversial right-wing speakers like Ann Coulter and Milo Yiannopoulos to college campuses. In March, Turning Point's founder, Charlie Kirk, interviewed Trump at the White House during a Generation Next forum where conservative millennials and administration leaders talked about policy and how it affects their lives.
It's become clear in recent weeks that political strategies centering on black America are being brainstormed at 1600 Pennsylvania Avenue, and TPUSA is playing a major role in the process. Kanye West's cozying up to Owens and Kirk, and expressing his love for Trump, certainly hasn't hurt. On April 29, Kirk and Owens met with West at his Calabasas, California, compound. Shortly after, Trump credited the rapper for an erroneous approval-ratings boost among black male voters.
In the past, Trump's been accused of using famous black people like Steve Harvey, Jim Brown and Ray Lewis to disingenuously get support from black voters.
Cleveland church pastor Darrell Scott, one of Trump's most loyal black supporters, recently told reporters the president had signed off on hosting a White House summit on race. The unconfirmed plans don't involve Trump meeting with policymakers like Sen. Kamala Harris (D-Calif.) or black thought leaders like The New Jim Crow author Michelle Alexander, but instead with rappers like West and T.I., as well as athletes like Colin Kaepernick, in Trump's classic, photo-op fashion.
"This is a really good opportunity for everyone to really talk about empowering the black community," Owens told Fox and Friends on May 5.
Other sources at Turning Point tell Mic that the summit talks are just the beginning.
"We've got something much bigger in the works than what I can explain right now," Turning Point's urban engagement director, Brandon Tatum, said in an interview. The 31-year-old former police officer and Trump-supporting YouTuber, who is black, was hired by Turning Point at the end of March.
Tatum says his organization is making several moves to engage black communities ahead of the 2018 midterm elections. They have hired at least six new staffers to do black outreach in battleground states — like Michigan and Pennsylvania — before Turning Point's first Young Black Leadership Summit in October. Turning Point also has a Dallas-based Young Women's Leadership Summit scheduled for June 14 to June 17 and a Young Latino Leadership Summit taking place in Florida from Aug. 3 to Aug. 5. The organization plans to expand its college outreach, with a mission to start chapters at 50% of the historically black colleges and universities in the nation.
It's a big shift in strategy for Turning Point, which has a history of alleged racial bias and alt-right affiliations within its ranks. In December, former Turning Point employee and current model Gabrielle Fequierre, who is black, accused the group of racism, telling the New Yorker that young black recruits she brought into the organization were disinvited from its annual student summit where she herself saw speakers who "spoke badly about black women having all these babies out of wedlock."
Kirk, who denied Fequierre's claims, has struggled to distance his organization from the overt racists it has hired and fired and the Nazi supporters who show up at events like the one the hosted at Colorado State University in February.
None of that bothers Tatum, who said he's focused on Turning Points's future, not its past.
"If I thought Turning Point was disenfranchising to black people, I wouldn't work for them," Tatum said. "I am proud that Turning Point made the right decision in letting those people go. We can only do so much in terms of hiring people and making sure they're upstanding citizens in the hiring process. The fact that they let them go to me is a sign in the right direction."
"This group of less politically inclined black Americans is the group Tatum says Turning Point and Trump want to target."
Turning Point's struggles with racism would make it easy to dismiss the group's black recruiting efforts as futile — that is, if it wasn't for Democrats' present challenges in appealing to black voters. The party's greatest risk isn't that black folks will vote Republican in November or for Trump in 2020 — that's a bridge too far for most — but that they won't vote at all. That would still be a windfall for the president and the GOP.
Recent polling data commissioned by BlackPAC shows just 65% of black millennials said they were "very likely" to vote in the 2018 midterm elections, compared with 83% of black baby boomers who said the same. Only 50% of black millennial men said they are very likely to vote in November.
"[Black] millennials are less likely to identify strongly with the Democratic Party and among the most likely to be undecided or choosing third-party in their generic midterm voting preference," Adrianne Shropshire, executive director of BlackPAC, noted in an emailed statement. "These voters are consuming information differently than older voters and [are] less reachable through conventional media outlets."
This group of less politically inclined black Americans is the group Tatum says Turning Point and Trump want to target.
"We just want more people to have access to education and do things to empower themselves in their own communities without relying on the government for help," Tatum said. "Some black folks don't think of Trump as a Republican. He's not an establishment Republican. He's Donald Trump."
On Wednesday, Owens told Fox & Friends that, in urban regions where black Americans live, Democratic policies have decimated black communities. That may present an opportunity for Trump to win re-election in 2020.
"If [Democrats] only get 85% of the black vote, they will lose," Owens told Fox News. "They have a lot to lose if we move the vote by even five points."
Still, BlackPAC says most black Americans blame Trump for the country's rise in overt racism.
Racial justice and economic security are equally important for black voters, according to BlackPAC. Issues like college affordability, proper school district funding, affordable housing, ending racial profiling by police and fighting discrimination all rank high on black America's list of priorities.
"The overwhelming majority [of black voters] believe that Trump himself is, in fact, a racist and see casting their ballots as an act of resistance," Shropshire said.
"We have a double whammy of a lot of student loan debt, but also in many cases we're less likely to get jobs that pay high wages." — Ohio Young Black Democrats president Dontavius Jarrells
It's true most black voters aren't fond of Trump, but it's also true there are additional signs of fraying in the Democratic black voting bloc.
Overall black voter turnout fell 7% during the 2016 election, when lack of enthusiasm for Democratic presidential candidate Hillary Clinton discouraged an estimated 4 million Democrats from voting, according to the New York Times. Though recent polls indicate Trump has lost support from traditional black Republicans more than a year after his election, the president did receive more support from black voters in 2016 than Mitt Romney and John McCain did in 2012 and 2008, respectively.
In December, Democratic Alabama Senate candidate Doug Jones won a major upset over accused pedophile and slavery-tolerant Republican Roy Moore, thanks to overwhelming turnout and support from black voters. Jones rewarded those black voters by voting for the Dodd-Frank rollback bill, which would weaken financial regulations put in place following the 2008 financial collapse that caused double-digit black unemployment.
This is just one recent example that highlights why black Americans have expressed Democrats need to do more to earn their votes.
"There's disenchantment, absolutely," Ohio Young Black Democrats president Dontavius Jarrells said in an interview. "People can be disenchanted by the trauma that they're experiencing in their communities and feeling like nothing is being done about it."
Jarrells is the 30-year-old Columbus resident who lost a 2016 Democratic congressional primary bid to unseat incumbent Bernadine Kennedy Kent. He said police brutality in cities like his, with Democrat-led city councils and Democratic mayors like Andrew Ginther, have alienated young black supporters of the Black Lives Matter movement.
In his hometown, for example, police officer Zach Rosen, was rehired by the city in March after shooting one black man to death in June 2016 and stomping on another man's head the following April. A Columbus grand jury declined to indict Rosen in March 2017 for the fatal shooting of Henry Green, who Rosen and another officer said was armed and shot at them first.
Democratic New York City Mayor Bill de Blasio faced similar criticism after the city's police department declined to fire Daniel Pantaleo, the officer who choked Eric Garner to death in 2014. Police brutality scandals have plagued New York in recent years even though the city government is run almost completely by Democrats.
The same is true of Baltimore and Chicago, where police corruption has been rampant.
"Ensuring the safety of black bodies is so critical within our communities," Jarrells said. "Jobs are a big issue as well for young black Democrats. We have a double whammy of a lot of student loan debt, but also in many cases we're less likely to get jobs that pay high wages. Jobs and student loan debt is key. Urban revitalization is so critical too. We have communities that folks don't want to bring jobs into. We have to put strategies in places to bring jobs and small businesses."
Black people are in a trap and they don't have a choice in some cases." — Brandon Tatum
Trump certainly hasn't enacted policies specifically aimed at helping black Americans. He tacitly endorsed police brutality in July a few months after Attorney General Jeff Sessions promised to cut back on the Justice Department's consent decree probes of troubled police departments nationwide. And Trump's Housing and Urban Development Secretary Ben Carson recently announced plans to raise rent for public housing residents, which would disproportionately affect African-Americans.
The president has also been touting record-low unemployment rates for African-Americans since January, as economic security remains a top issue for black voters. However, the Bureau of Labor Statistics has pointed out that most of the decline in black unemployment happened when Obama was president.
Tatum says he believes economic development is a place where he and other black conservatives can find common ground with members of the black community who feel jaded or indifferent about politics.
He himself grew up poor in a black neighborhood in Fort Worth, Texas, before becoming an All-American safety at Dunbar High School. He says his upbringing helps him identify with other black Americans going through adversity who believe they have to be Democrats.
"I wouldn't support a Republican when I was growing up because I thought they were all racist, but now I'm on the other side being influential," he said. "Black people are in a trap and they don't have a choice in some cases, or they have a choice, but it's not a reasonable choice. We want a change. We want more opportunities."