Richard Cordray wallops Dennis Kucinich in brutal Ohio Democratic gubernatorial primary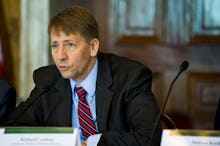 Former head of the Consumer Financial Protection Bureau Richard Cordray won Tuesday's primary to be the Democratic candidate for governor of Ohio, besting former presidential candidate Dennis Kucinich.
The Associated Press called the race for Cordray, who served as CFPB director from 2012 to 2017, early in the night, with him leading Kucinich, a former U.S. Representative from Ohio, by nearly 40 percentage points.
The primary between Cordray and Kucinich had become a heated battle between progressives in the state and nationally. In the end, it appears the final result will not even be close.
Nationally recognized progressives had endorsed candidates on either side of the primary battle. Sen. Elizabeth Warren (D-Mass.) endorsed Cordray, while Our Revolution, the grassroots organization that grew out of Bernie Sanders' 2016 presidential campaign, endorsed Kucinich. Sanders himself declined to endorse in the race.
Supporters of Cordray had pointed to Kucinich's time as a Fox News commentator, his meetings with Syrian President Bashar Assad and occasional praise of Donald Trump as disqualifying factors in the race.
Meanwhile, supporters of Kucinich pointed to Cordray's support from the NRA during his time as Ohio attorney general.
Cordray will face former Republican Senator and current Ohio Attorney General Mike DeWine in November. DeWine and Cordray previously faced off in the 2010 race for Ohio attorney general, when Dewine ousted Cordray from the position in that year's Republican wave election.