One reason for the shortage of restaurant workers? Driving for Uber comes with better perks.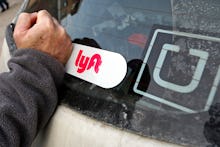 Despite the seemingly high number of people who dream of working in restaurants, the industry is actually facing a shortage of workers. In Michigan, 61% of restaurant owners said the difficulty of hiring workers was their top concern, MLive reported. One potential reason? Those looking for short-term gigs are turning to Uber instead.
While no concrete statistics exist as to just how many people have made the transition from working in restaurants to working in ride-sharing, the evidence is there. A study released in March predicts the market for third-party food delivery is going to skyrocket to over $24 billion by 2022. "As you can imagine, that means there will be less demand for traditional restaurant workers and more demand for delivery services like UberEats and DoorDash," said Noah Lang, the founder of Stride Health, a health insurance company for freelance workers and part-time employees, in an email interview.
This comes at a time when the restaurant industry is expected to have flat growth this year. Lang cited a Reuters/Ipsos study that said a third of people reported eating out at restaurants less than they did three months prior, mostly because of cost. He also pointed out that turnover has been high — 154% for front-of-house workers.
The on-demand gig economy offers something traditional, shift-based work doesn't: the ultimate flexibility. "I enjoyed working in the food service industry because of the lifestyle. It was fun, but very restrictive with the time schedules," Harold Rose, a former bartender and waiter, said in an email interview. "Switching to driving for Uber/Lyft allowed me to still enjoy the social aspects of a service industry job while being able to control my schedule."
He's not the only one. Many of the same people who may have once chosen restaurant work to supplement school or an acting or writing career are now considering Uber driving, trading in the long and low-paying work hours for increased flexibility and income potential, a trend that Restaurant Business Online reported on. "Students in particular are an untapped resource for companies that need on-demand workers — they're 44% of our non-working population," Lang said.
"As much as I loved making pies and running a restaurant, I needed more money for my time." — Thomas Davis, former restaurant worker
During the recession, "non-traditional platform-based work was an especially powerful draw for people who needed to pay bills and put food on the table," Lang said.
This interest enabled platforms like Uber and Taskrabbit to really scale and create more demand. Lang points out the instant attraction: "If Capital Grille only gives you 20 hours a week, well, Uber will give you as many hours in a day as you want. Start, stop, go — it's entirely up to you," he said.
Several former restaurant workers told Mic they prefer the freedom of being a Uber driver. "Unlike having to report to a manager and work within the hours of a scheduled shift, ride-share services like Uber and Lyft allow drivers to turn work on and off with the press of a button," Brett Helling, the owner of Ridester.com, a ride-sharing blog for drivers and riders, said in an email interview.
"As much as I loved making pies and running a restaurant, I needed more money for my time," Thomas Davis, a former pizza delivery guy and restaurant manager, said in an email interview. Davis now drives for Uber and Lyft and is also an Instacart courier. "The on-demand pay from Uber and Lyft is hard to beat. Not having someone hanging over your head is a definite plus. I have the freedom to write my own check and make as little or as much as I need. That flexibility very much overrides the positives of working in the restaurant industry," Davis said.
The attraction is clear: No direct boss and complete control of your hours and days. "Speaking from personal experience, people that work in the restaurant industry typically find it difficult to work multiple jobs, given the inconsistent nature of service industry schedules," Helling, who used to work in restaurants, said. "Restaurant workers are at the mercy of a shift's demand. If the restaurant is slow during a shift, they may get sent home early."
Ride-hailing apps also allow those in creative professions to practice their people skills with riders — as they would in a food service job. "They can play to their strengths and use that experience to offer friendly rides with a smile," said Helling. "Better service means more tips coming in for each ride."
That said, there are downsides. Restaurant work offers a predictable hourly wage plus tips, and gig work is variable, subject to the real-time, demand-based pricing of a platform. "Gigs aren't always convenient. You might pick up a passenger that takes you an hour out of your way," Lang said, noting that platforms are increasingly empowering drivers to refuse an inconvenient gig. "As with anything, there are trade-offs and it's about what works for you."