South Korea tempted Kim Jong Un with a $36 billion train system, but can North Koreans even use it?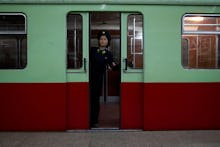 Somewhere between all the hugs and handshakes at the Inter-Korean Summit on April 27, South Korean President Moon Jae In reportedly slipped North Korean leader Kim Jong Un a USB drive full of unfettered transit dreams.
Among the elaborate plans was an outline of an extensive, $36 billion railway project to improve transit in North Korea — so long as relations keep improving between Moon, Kim and other parties. The plan entails upgrades to some of North Korea's existing railroad infrastructure, which could double the nation's 31-mile-per-hour speed to about 62 miles per hour along some lines. It also includes building high-speed train lines from Seoul, South Korea, to Pyongyang, North Korea, to Sinuiju, a northwestern North Korean city bordering Dandong, China.
Diagrams of the potential train routes published in South Korea's Dong-a Ilbo show lines running through the Demilitarized Zone — including the Panmunjom "truce village" — all the way down to Seoul Station. Making that a reality, however, would require far less hostile borders between North and South Korea. The countries have been divided for about 65 years in an ongoing ceasefire — the Korean War is technically still ongoing.
But as unrealistic as the train plan may sound, any offer coming from the president of South Korea — a nation known for its pearlescent, Wi-Fi-enabled, highly efficient subway network — may be hard for Kim Jong Un to resist. In fact, Kim admitted to Moon during the inter-Korean summit that North Korea's current railway and road conditions are "embarrassing," South Korean officials said.
Moon is no doubt using the train plan as part of a "carrots and sticks" approach in dealing with North Korea, where economic aid — the carrot — is dangled in front of Kim as an incentive to keep him engaged in diplomacy and potential nuclear negotiations. Meanwhile, ongoing economic sanctions are the "sticks," and it's unclear whether they can coexist with a $36 billion transit revitalization project.
"It's a matter of, does this violate sanctions and how quickly do you lift sanctions to do this? Do you give them incentives first and hope they denuclearize — or do you wait and see some progress, and then work at a slower pace?" Jenny Town, assistant director of the U.S.-Korea Institute at Johns Hopkins University and managing editor of 38 North, said by phone. "It's unclear where Moon is headed."
The train infrastructure could potentially improve trade between North Korea, South Korea, Russia and China in a post-sanctions world — and it's not a new idea, either. Russia has long wanted to build out North Korea's railroads and oil pipelines to better access the South Korean market, but doing so runs the risk that North Korea will shut out other nations and use the gifted tracks for its own national interests.
"The problem has always been sanctions and how much one should trust that infrastructure in North Korea will be accessible," Town said. "This really requires a very fundamental change in the political relationship."
And though fancy South Korean trains do sound like a facelift for Pyongyang and beyond, Town said that there's "also a really big possibility of overpromising and not being able to deliver." Dazzling Kim with a train plan that never gets built "could just as easily derail" a denuclearization negotiation as incentivize it, she said.
But even if the trains are greenlighted, who are they really being built for? The North Korean government has historically restricted travel within the country, keeping people confined to their designated towns and requiring a travel permit to go elsewhere. Some have fled or bribed their way out of their village or even out of the country, but both options are illegal. Chances are, the average North Korean citizen won't be able to hitch a ride on upgraded trains unless the two Koreas are unified or if Kim Jong Un is willing to loosen up his harsh social control over citizens.
"If you look at the corridors they're looking to build — from the [North Korean] capital to special economic zones — you can see there is much more of a business sort of intention here," Town said.
For now, a deal on this scale is arguably just a far-fetched dream.