'Fahrenheit 451' director Ramin Bahrani explains why he's not a fan of censoring hate speech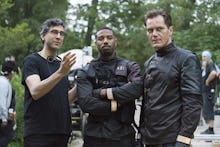 Lead actors Michael B. Jordan, who is black, and Michael Shannon, who is white, engage in an eyebrow-raising dialogue halfway through Fahrenheit 451.
The new HBO film is director and screenwriter Ramin Bahrani's visual manifestation of author Ray Bradbury's 1953 classic dystopian novel.
During the mid-film exchange, Shannon's character — the seasoned, book burning fireman known as Captain Beatty — guides his surrogate son and intended successor, Jordan's Montag, through a room full of recently discovered, smuggled illegal books.
Beatty seizes upon a familiar title to explain why his government-commissioned, flamethrower-wielding troop, the "Salamanders," does what it does.
"Huck Finn, and his nigger friend," the zealous demagogue says, holding up a copy of Mark Twain's late 19th century tome for Montag to behold. "The whites knew that you blacks were offended so what did we do? We burned it."
He continues.
"Then Native Son came along. And the whites didn't appreciate that one all that much. So they burned it, too."
"Why didn't they like it?" Jordan's bewildered, brown-skinned protagonist asks. His leader declines to answer and moves on to the next title.
The dialogue illustrates the screenwriter's view on the hate speech censorship debate that's vexed social media companies and college administrators in Donald Trump's America.
Twitter and Facebook, among other sites, have gone so far as to censor or ban hate speech-spewing, alt-right-affiliated trolls like Milo Yiannopolis from using their sites. Universities like Cal Berkeley have spent millions on security for conservative speaking events for right-wing speakers like Ben Shapiro and Ann Coulter, which have routinely inspired violent clashes between neo-Nazis, the alt-right and antifascist counter protesters.
Bahrani shared his views on such topics Wednesday night, along with several like-minded artists of color working in film and music production during HBO's "Speakeasy 451" forum at Union Hall in Brooklyn, NY. The panel discussion and live performances were part of a three-day promotional event leading up to the film's premiere.
"I'm not sure I'm for that," Bahrani said of hate speech censorship during a Friday phone interview. "I'm very mixed about these things."
The acclaimed Chop Shop director clarified that he's certainly no fan of racist rhetoric. He's just not sure censoring it is the best way to combat it.
"I don't know if we need 80 more years of intellectual thoughts to prove these ideas are wrong," Bahrani said. "It doesn't take a genius to know these ideas are stupid."
Bahrani started writing the script for Fahrenheit in 2015 after news reports of Google accidentally erasing the word "Palestine" from its search engine.
In the film, the Nine, a faux amalgamation of merged internet and social media sites, gives citizens a singular version of recorded history, lest they be confused by anything more nuanced. HBO's timing for the release couldn't be much better, with a very real, similar fake news debate taking place in the halls of Congress.
"It's how I imagined things were going," Bahrani said. "I started thinking people wouldn't notice at some point if facts were changed. They'd be too busy Iiking things."
So far, the film has failed to win over critics.
The movie's heavy-handed messaging on censorship mirrors that of Repo Men, Jude Law and Forrest Whitaker's not-so-subtle sci-fi satire about a future world where the rising cost of health care creates the need to repossess organs from patients who can't pay their bills.
In the end, the idea of Fahrenheit exceeds the finished product. Some of the dialogue from the 1950s novel rings false coming out of Jordan's youthful, swag-filled likeness.
It may not go down as Bahraini's greatest work, but it's as thought-provoking and foreboding as the philosophical rabbit holes its protagonist traverses throughout the film.
Bahrani is probably fine with delivering Bradbury's classic message via a fascist, emoji-filled version of social media live streams illustrated on screen.
"By reducing language, by reducing words, it reduces the ability to think in a complicated critical way," the filmmaker argued. "You can read things but you may not be able to process ideas. The reading is limited because the language is limited."
Fahrenheit 451 premieres Saturday night on HBO.
Monday, May 21, 11:30 A.M.: This story has been updated.