Decoding the food at Prince Harry and Meghan Markle's all-day royal wedding celebration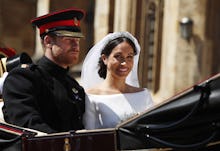 Food is a key part of every wedding celebration — even one as massive as Prince Harry and Meghan Markle's, every feature of which has been breathlessly reported.
When the couple announced their wedding cake flavors two months ago, it was clear no delicious detail would be overlooked. Traditionally, royal couples have fruitcake at their wedding, but Harry and Markle opted for a cake made of organic Amalfi lemons and English elderflower, a modern but elegant choice.
If there is one theme that has remained prevalent throughout Harry and Markle's engagement, it's the blending of classic tradition with modern touches. Here, Mic breaks down everything we know about the food at the big event — and what it says about the future of the monarchy.
The wedding luncheon
When it comes to the order of events, Harry and Markle followed a script similar to Prince William and Kate Middleton's wedding.
In total, 600 guests were present for the wedding service at St. George's Chapel. All of them weren also invited to a reception luncheon hosted by Queen Elizabeth II, held at Windsor Castle immediately following the procession.
It was revealed Monday the couple would forgo a sit-down meal at their wedding luncheon at Windsor Castle, instead serving canapé and food bowls for a standing reception to make it easier for them speak to as many of their guests as possible.
Seven thousand and five hundred items of food were prepared by a team of 25 chefs, led by royal household head chef Mark Flanagan. Lunch canapés included Scottish langoustines wrapped in smoked salmon with citrus crème fraiche and a croquette of confit Windsor lamb, roasted vegetables and shallot jam. The bowl food included fricassee of free range chicken with morel mushrooms and young leeks, pea and mint risotto and slow roasted Windsor pork belly.
Pol Roger Brut Réserve non-vintage Champagne was poured, which was Winston Churchill's favorite Champagne brand. There was also an apple and elderflower mocktail, made with the same elderflower syrup used in the wedding cake.
While beautiful food bowls are a hit on Instagram — Markle is a former lifestyle blogger, after all — they're not the most practical or neatest of choices.
"Imagine a standing reception when you're trying to balance a bowl, utensil and a glass of bubbly," Kylie Carlson, director of the International Academy of Wedding and Event Planning, said in an email interview.
Cell phones were banned from the luncheon, so that's one less thing for guests to juggle.
Over the past week, Windsor Castle's kitchen shared images of local seasonal produce like tomatoes and asparagus — some from the queen's own gardens — that will be served at the wedding luncheon.
"Luckily, the seasons have just fallen perfectly and that's become the main focus in the decision-making," Flanagan said in a statement.
Carlson said the use of in-season vegetables is "a nod to Meghan's mostly vegan lifestyle."
That's very on-trend for the California-born, food-loving bride.
"Meghan Markle's foodie status dates back far before she met Harry, so I'm not surprised that the menu is largely focused on seasonal items," Heather Jones, associate sales director at Wente Vineyards, said in an email interview.
And finally, the wedding cake — made with 200 Amalfi lemons and 500 organic eggs from Suffolk over a five-day process — was served at the end of lunch.
The private dinner reception
A wedding this big is, of course, an all-day affair. Prince Charles hosted a more intimate reception later in the evening at Frogmore House, where the couple's engagement photos were taken. The three-course sit-down dinner featured organic food and light bites with a spring-meets-summer theme, according to the Daily Mail. One themed drink, "When Harry Met Meghan," was a rum and ginger cocktail that was a nod to Harry's red hair.
Previous rumors said the menu would include South African wagyu beef and Tiki-themed tropical drinks, not to mention an after-hours ice cream truck.
Late-night snacks have long been a fun, if not unexpected, addition to wedding celebrations. The snacks included cotton candy (or candy floss, as they call it in the U.K.) and burgers, reported the Daily Mail. Harry reportedly encouraged big brother William to have food trucks at his nuptials, too.
"Meghan and Harry have done a wonderful job of respecting decorum while still allowing their wedding to be a reflection of who they are as a couple," Diane Gottsman, an etiquette expert with the Protocol School of Texas, said in an email interview.
Food trucks and Tiki cocktails are as millennial as it gets for Harry and Markle, who are clearly showing the world that they like to have fun.
"It's going to be a long day for all in attendance, and no matter how much fun they are having, they're still going to be exhausted," Jones said. "Why not offer an ice cream nightcap as the celebration comes to a close?"
May 19, 2018, 9:59 p.m. Eastern: This story has been updated.