Google seems to have removed the famous "don't be evil" phrase from its code of conduct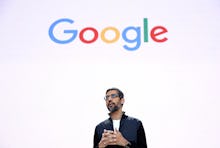 Google has long tried to brand itself as anything but overly corporate, with its in-office Lego stations, oversized ping-pong tables and kombucha on tap. But the company's "good guy" image is being questioned after a famous opening line in its code of conduct — "Don't be evil" — seems to have been deleted.
The media giant cut several references to the motto, with the exception of its very last paragraph, sometime after April 21, Gizmodo reported Friday. The slogan was first used in 2000, but the company swapped its tone for a more palatable "Do the right thing" tagline after Alphabet Inc. acquired Google in 2015. "Don't be evil," however, remained in the company's code of conduct after that — despite the shade thrown by Apple CEO Steve Jobs, who reportedly called the tagline "bullshit" in 2010.
But it's not just a matter of a deleted phrase. It's a change in tenor.
The code of conduct now has a more positive, euphemistic and vague tone. It sounds more clinical and corporate and less like futuristic superheroes behind a keyboard.
Here's what the first paragraph used to be:
"Don't be evil." Googlers generally apply those words to how we serve our users. But "Don't be evil" is much more than that. Yes, it's about providing our users unbiased access to information, focusing on their needs and giving them the best products and services that we can. But it's also about doing the right thing more generally — following the law, acting honorably and treating co-workers with courtesy and respect.
Here's what it is now:
The Google Code of Conduct is one of the ways we put Google's values into practice. It's built around the recognition that everything we do in connection with our work at Google will be, and should be, measured against the highest possible standards of ethical business conduct. We set the bar that high for practical as well as aspirational reasons: Our commitment to the highest standards helps us hire great people, build great products and attract loyal users. Respect for our users, for the opportunity and for each other are foundational to our success, and are something we need to support every day.
It's hardly a fun read, but Google users will have to see whether this is some kind of foreshadowing. In a time when Facebook is under fire for the Cambridge Analytica scandal, many are also turning a watchful eye to Google and what it's possibly doing with their data.