The NFL's latest attempt to kill the #TakeAKnee movement may be bringing it back to life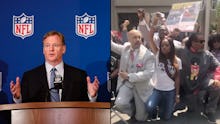 Activists from some of the nation's most prominent civil rights organizations gathered outside NFL headquarters in Manhattan on Friday morning for the first time in almost a year.
Representatives from Rev. Al Sharpton's National Action Network joined Women's March co-founder Tamika Mallory, the NAACP and the National Urban League. All knelt on the Park Avenue sidewalk and raised their fists in protest against the NFL's new policy — announced Wednesday — requiring players to stand for the national anthem.
"Not only is this an immoral decision, it's an unintelligent one," Minister Kirsten John Foy, NAN's northeast regional director, said by phone. "Before, there was some debate among some civil rights groups and activists about whether we should be engaging in this fight with the NFL. Now, everybody is in this. This decision has unified the players and unified the community around them."
Before NFL commissioner Roger Goodell's announcement Wednesday afternoon, the league appeared to have won its unofficial battle of wills against former San Francisco 49ers quarterback Colin Kaepernick and the anti-police brutality #TakeAKnee movement he started back in 2016.
Kaepernick remains without an NFL job or offer, even though a new investigative report by NBC Sports' ProFootballTalk showed teams thought he was "good" enough to be a starter in 2017. Kaepernick's outspoken former 49ers teammate Eric Reid also remains unsigned, and the equally vocal pro-Kaepernick defensive lineman Michael Bennett faces a controversial felony charge stemming from an alleged assault that happened at the Super Bowl more than a year ago.
The apparent backlash against protesting players has galvanized their advocates. Kaepernick supporter Vic Oyedeji, who started a viral 2017 boycott of the league demanding Kaepernick be signed, said a Change.org petition he launched has picked up steam since Wednesday's new rule announcement.
"It was at 201,000 people for several months," Oyedeji said by phone. "It did kind of die down. It's always about the latest controversy, Starbucks or whatever. Nobody was really thinking about it that much. Now we increased it by 1,250 people in less than two days."
Attorney Mark Geragos has suggested the NFL's new national anthem rule will help his argument that the League's owners are blackballing Kaepernick and Reid, both of whom are his clients. Geragos tweeted "#NFLCollusion" on May 23 after the announcement was made. Both Kaepernick and Reid retweeted their lawyer.
The Philadelphia Eagles' Malcolm Jenkins — who has raised his fist during the anthem, but never kneeled — told TMZ this week that the NFL's new rule won't silence him.
"What NFL owners did today was thwart the players' constitutional rights to express themselves and use our platform to draw attention to social injustices like racial inequality in our country," Jenkins said. "While I disagree with this decision, I will not let it silence me or stop me from fighting."
The Trump administration seems content to celebrate the NFL's decision as a victory for the president, who has said the owners should fire "son of a bitch" players who protest. After the NFL's announcement, Trump told Fox and Friends that the new policy was good and that players who kneel during the anthem "maybe shouldn't be in this country."
Vice President Mike Pence was no less impudent.
"#Winning," he tweeted on Wednesday.
Political fallout over the anthem protests, both pro and anti, has been blamed for hurting the league's ratings over the last two seasons. Whether the new policy helps remains to be seen. Tamika Mallory, who co-founded the pro-Kaepernick United We Stand coalition over the summer, said it's clear this isn't a business move by Goodell and the League office, which represents the interest of NFL owners.
"They've always put their politics before the business," she said of the owners on Thursday. "I would say their politics are their business."
Mallory points to how NFL owners have donated millions of dollars to Trump, even though the president has criticized the League often and many of the players they employ have refused to visit the White House because of Trump's policies and conduct.
"As we go towards the midterm elections, Donald Trump wants to be able to use this issue as one of his campaigning tools," Mallory said. "There are many people who were on the fence about whether or not the League was being outright racist. This particular policy and statement has given clarity to the level of racism that exists within the NFL."