Donda's House supporters tweet messages of praise to the charity after Kim Kardashian West diss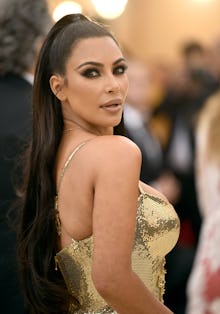 Advocates for Donda's House — the charity on the South Side of Chicago named after Kanye West's mother, the late Donda West — continued defending the organization on Monday after Kim Kardashian West slammed the co-founder of the nonprofit in a Saturday Twitter tirade.
The primary target of Kardashian West's tweets was Rhymefest, the Chicago rapper who launched Donda's House with Kanye and Donnie Smith. The charity used to be called Loop Dreams, but was renamed after Kanye's mother, who died in 2007.
Kardashian West was angry that Rhymefest was criticizing Kanye for supposedly abandoning Chicago after the Life of Pablo lyricist announced his support for Donald Trump in April. On Saturday, Rhymefest took to Twitter to ask Drake, who just dropped a track dissing Kanye and Pusha T, to "help the part of Chicago Kanye has abandoned!"
Donda's House has tried to distance itself from Kanye's comments after receiving questions about his views from donors and corporate supporters, according to a statement on its website.
"We ask that those who feel hurt, angered by or frustrated with Kanye West not penalize or throw away their support, respect and advocacy for us," the organization wrote in a statement on Friday. "We ask that as you boycott and protest Kanye West, that you not forget that we are a nonprofit organization that like other nonprofits needs donations, corporate support and volunteers."
After Rhymefest's tweet, Kardashian West slammed the Grammy Award-winning songwriter in a series of tweets.
According to Kardashian West, Kanye turned full control of the charity over to Donnie and Rhymefest — presumably in 2017, during Kanye's highly publicized financial troubles — when he could no longer afford to pay their salaries.
Later on Saturday, Donda's House announced that it is changing the charity's name in response to Kardashian West's comments.
Defenders of the local charity tweeted words of praise and support Monday as reports of criticism continued to surface on social media. Several supporters uplifted Donda House's executive director Donnie Smith, who is also Rhymefest's wife.
A Twitter user named Lala said Smith's charity once helped her when she was dealing with a domestic violence situation.
"You reached out to me with nothing but love and support," she said. "You change lives daily and no one can ever take that away from you."
Twitter user Mark Hood said he's "saddened" by the current controversy surrounding Donda's House.
"I've seen @donnienicole84 change lives through that organization. With my own eyes. She has a heart for the youth of Chicago. THAT is what's important."
Reports of former Donda's House's staffers criticizing how the charity was run also surfaced on social media on Sunday.
On Sunday, Instagram user Supermoon.info posted a picture of what appears to be Donda's House staffers and children the charity supports with critical words in the caption.
"Might want to ask the actual Donda's House participants why we all left the organization," she wrote. "[We] have endless stories and receipts and some members even started recording [Rhymefest's] rants about hating Kanye so much."
That caption has since been updated.
Donda's House released a statement on Twitter Monday saying it would "speak about next steps" soon. "We are taking the time to meet with our students, staff & volunteers who we are most concerned about & will update you publicly when we can," the organization wrote.