Ex-Fox News host Eric Bolling supported Roseanne Barr after racist tweet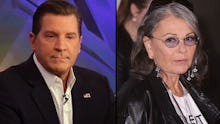 After Roseanne Barr ignited an online firestorm on Tuesday morning when she posted a flagrantly racist tweet about former Obama White House aide Valerie Jarrett, CRTV and former Fox News host Eric Bolling tweeted, then deleted, his support for the comedian.
Barr characterized Jarrett, who is black, as the equivalent of if the "Muslim Brotherhood & Planet of the Apes had a baby," in a widely condemned tweet. Shortly after, Barr tweeted an apology and announced she's "now leaving Twitter." Barr's show was canceled Tuesday by ABC.
While many reacted sharply to the tweet — which president of ABC Entertainment Channing Dungey called "Abhorrent, repugnant and inconsistent with our values" — Bolling clearly didn't think Barr did anything wrong. At 10:12 a.m., in a since-deleted post, he tweeted there was "no apology necessary" from Barr, adding "Please don't leave. Unless it's just for a few minutes!!"
Several eagle-eyed Twitter users caught and screenshot Bolling's tweet.
"No apology necessary for invoking a slur that's been used to dehumanize black people for centuries? Really?" Independent Journal Review editor Josh Billinson tweeted in response to Bolling's tweet. Journalist Roland Martin saw and also posted about Bolling's tweet.
"I'm not shocked at all that @ericbolling tweeted — then deleted — that @therealroseanne should not apologize for her racist @valeriejarrett tweet," Martin tweeted. "Bigots always stick together! Both have blocked me. Ha!"
This isn't the first time Bolling has been accused of endorsing racist views. In 2012, the former Fox News personality characterized Rep. Maxine Waters (D-Calif.) as a crackhead after she referred to Speaker John Boehner (R-Ohio) and House Majority Leader Eric Cantor (R-Va.) as "demons" who are "destroying this country."
"Congresswoman, you saw what happened to Whitney Houston. Step away from the crack pipe," Bolling said, looking into the camera as his co-hosts laughed in awkward disbelief.
Bolling almost immediately walked his comments back after the commercial break, saying, "I was kidding about the crack pipe."
"Of course," his co-host Steve Ducci replied.
Bolling has also been criticized for characterizing racism as a problem of the past. "It's getting tiring," Bolling said on Fox News' The Five in 2014. "We have a black president, black senators, we have black heads — captains of business, companies, we have black entertainment channels...Is there racism?" he continued. "I don't think there's racism. I think the only people perpetuating racism are people like this gentleman from NAACP, the Al Sharptons of the world. Let's move on. Let's move on."
While working at Fox News, Bolling also dabbled in birther theories that former President Barack Obama wasn't born in the United States. He and the network parted amicably in 2017 when he was suspended after sexual harassment allegations surfaced accusing him of sending unsolicited lewd photos to at least two women at Fox News and Fox Business.
On May 3, the conservative streaming network CRTV announced it was hiring Bolling to host his own show. Mic has reached out to CRTV for comment on this story, but did not immediately receive a response.
In her statement Tuesday afternoon, Dungey announced Disney-owned ABC had decided to cancel Barr's show. Dungey's statement was tweeted out by Disney CEO Robert Iger.
Prior to that announcement, comedian Wanda Sikes, who is black, tweeted that she would no longer serve as the show's producer.