These women are advocating for their rights in the porn and sex-work industries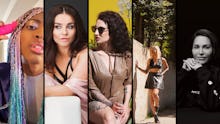 Back in December, Mic published a story asking who would stand up on behalf of women in the adult and sex-work industries — women who've been tacitly excluded from the #MeToo revolution. Since that time, continued double standards concerning workplace protections and legislative threats to their safety and livelihood has compelled an entire community of professional porn actresses and sex workers to grassroots activism. For many, that has meant repurposing their social media outreach as a megaphone for change and speaking more openly to mainstream press.
But there are also larger-scale efforts afoot. And in advance of Saturday's International Sex Workers' Day — an annual occasion signified by worldwide rallies and protests for sex workers' rights that has taken on special urgency this year — we've spotlighted and spoken by phone with just a handful of women across both the porn and sex-work fields who are unapologetically marrying politics to their profession. In some cases, they've committed full-time to activism. Others have followed what they see as a calling while continuing to work — with all the assumed risks — on camera or with clients. They represent a small but powerful sample of people in these invariably intertwined professions who are pushing for equal and human rights.
These interviews have been edited and condensed for the sake of clarity.
The activist: Bella French
Occupation(s): CEO and co-founder, adult platform ManyVids/former webcam performer
What activated her: "As soon as I got involved in the industry, I discovered something I really was not expecting: The webcam community can be supportive and beautiful, but at the same time, it can be pretty harsh. I realized we need to provide more tools to content creators and webcam girls, and that started the whole ManyVids idea. But it became much bigger than that, and it was more about how you feel as an adult performer and the harsh reality of being an adult performer. My true goal is to help make adult performers feel safe and better about themselves."
Her biggest challenges: "You have so many difficulties. First of all, you get rejected [because] the website was small. Nobody really trusts it at first. They're not sure if [they] should invest time to join this community. But then just operating a business: cash flow, convincing employees to join a porn company. To be honest, I had a good career and was proud of what I achieved as a cam girl, but I had to stop camming so I could invest 100% of my time and energy into building this company."
What's kept her motivated: "The feeling of being a cam girl and losing friends and having family members not be supportive is still something I live [with] to this day. That's really what's driving me. I want to make sure the girls that are part of this industry, and the trans and the gay performers, feel respected and loved because I've been down that road."
Her vision for adult- and sex-work by 2030: "It's so much more accepted than it was five or 10 years ago, so I think it's going to keep evolving in that direction. Ultimately, sexuality, it comes second. The No. 1 thing is communication and feeling a connection with someone else. With social media out there, people are less and less connected, so it's another way to get closer to your fantasy girl."
The activist: Tasha Reign
Occupation(s): Adult performer and producer/chairperson, Adult Performer Advocacy Committee
What activated her: "There's been a lot of change in the last eight, nine years I've been performing, not just in the industry but within myself. As you mature, your ideas evolve. So in regard to sexual assault, sexual harassment, people being appropriate — all those things become more relevant with time and experience and realizing, 'This is what I want to deal with, and this is what I won't have and tolerate.' With the #MeToo movement and #TimesUp movement and discussion around sexual harassment in every workplace, it's given me a whole new perspective. I feel like I can use my voice and speak out without marginalizing my already marginalized group of people."
Her biggest challenges: "It's challenging to speak out, because our industry works almost like a fraternity. There's a lot of misogyny, so when you speak out about people it reflects on you somehow … and on a bigger level, we've spoken out and we're writing articles and trying to organize, but the truth is our business lacks so much organization I sometimes don't know where to start."
What's kept her motivated: "Even if women in my business cannot come out and say, 'I support you' on social media, they do it in private, they text me, and I think it's just as important because they might not be able to use their voice and risk [losing] their job ... I want to see future performers feeling safe and confident, and I want to see them have a voice."
Her vision for adult- and sex-work by 2030: "I would love it if we had a mandatory law that made it so you have to be trained on a basic level, like every other industry, in sexual harassment and assault before you set foot on an adult film set. I also think there should be a reporting system, so it's easy to report the predator, and there should be something where the companies have a way to deal with assault or harassment that would be incorporated with the reporting system. And before a performer gets to set, they should have thorough knowledge of what they're doing that day and have paperwork that outlines that."
The activist: Lotus Lain
Occupation(s): Industry relations, Free Speech Coalition/adult performer
What activated her: "Before I got in the industry, I was masturbating to people in the industry, and the guilt I had afterward was not a guilt of, 'Oh, I'm dirty.' The guilt I had was, 'Who are these people and how are their lives?' It used to bother me that people on a global scale used porn performers' images for their gratification without giving a second thought as to how they could make their lives better."
Her biggest challenges: "The surprising obstacles would be within our own industry, people that think maybe we aren't focused on the right things. In a general sense, that's a problem for our industry. They are so shortsighted, not just in pursuing activism, but even in pursuing their own profits. This is the long haul, but the outcome will be greater in the end."
What's kept her motivated: "I really believe and see there's possibility for positive change. There just haven't been people invested in the long-term who can sustain themselves to where it doesn't wear on them to stay consistently in this fight. What we're doing with Free Speech Coalition, and what I see my counterparts doing, I see things happening that have not existed before, and I really believe there's room for them to be so much better than they are."
Her vision for adult- and sex-work by 2030: "My dream would be that adult performers and industry people could be looked at like any other entertainment entity. You have other physical laborers, like athletes, and they get to have multimillion-dollar contracts. It would be great to see [adult] performers be sponsored as the face of a company, a Victoria's Secret line or something like that. It's little things like that that make the general public be like, 'Huh, they really are a normal person.'"
The activist: Maxine Holloway
Occupation(s): Sex worker, educator, artist, filmmaker/co-founder, Bay Area Pros Support
What activated her: "It started pretty early on. Just existing in this world [of sex work] is a form of activism. There are a lot of things we have to do to have a seat at the table, whether it's legislation or regulation or discourse about sex work. From the very beginning, I was like, 'Oh, I need to start working on getting more sex-worker voices to be a part of this larger discourse.' You find out pretty fast what kind of prejudices society has against you, and then you find out how institutions start excluding you. It was never, 'Oh, I want to be political.' It was, 'Oh, if I want to continue working in a safe and lucrative way, I have to fight for that.'"
Her biggest challenges: "We [at Bay Area Pros Support] have to be really careful about what we say and how we share it, which are not things that normal advocacy and activism [organizers] have to think about, like, 'Oh, is this [topic] OK to put on a Google Doc?' There's a higher risk for general organizing that most people in social activism take for granted."
What's kept her motivated: "This work is really hard, but what keeps me going are the people in the communities I work with. I feel really fortunate to work with such a group of talented, smart, driven, badass sex workers. It's such a special group of people, and fighting alongside these different communities is what keeps me going."
Her vision for adult- and sex-work by 2030: "I'm hoping that folks within the sex-worker movement and on the outside start seeing sex-worker rights as a public health issue. Framing that is vital. There are specific steps that need to happen as far as decriminalization and destigmatization in order for us to be able to work in a healthy and safe and thriving environment. I think that will lead to the things we need, which are people understanding sex workers are the experts on their own experience, and having sex workers centered in all policy made about the sex trade."
The activist: Arabelle Raphael
Occupation(s): Sex worker/adult performer/co-founder, BAPS
What activated her: "I've always dabbled in sex-worker rights since I started doing sex work, but after FOSTA, Maxine Holloway and I saw an immediate need and decided to call a meeting. (Editor's note: The so-called SESTA-FOSTA bill package, aimed at curbing sex trafficking, was signed into law by President Donald Trump in April, and makes host sites like Craigslist, for example, partially liable for any criminal activity related to solicitation on their platforms.) And it went from there and that's how we formed BAPS. It's panic, I think. I'm a very privileged worker. The [online platforms] I advertise on have not [shut down solicitations], but the people who were coming to the meetings were not in the same place."
Her biggest challenges: "Retaliation by the law, organizations being infiltrated. It's happened many times, including in sex-workers' rights groups, whether it be police or reporters posing as sex workers and coming to meetings. You're putting yourself out there for all kinds of stuff … There's half the clientele, I think, that really enjoy that [political] part of me, and I bet I'm totally turning off a lot of people who don't want to hear about politics. They want to follow a fantasy. Maybe I'm hurting my business."
What's kept her motivated: "It's very personal for me. Just not trying is not an option. Knowing I didn't try my hardest — that's it."
Her vision for adult- and sex-work by 2030: "My utopia would be, sex work would be decriminalized and we wouldn't be viewed by society as second-class citizens. We're not even human at this point if you go online and read some of the comments. I'd also like workers' rights movements to be more interested in our fight. Sex work is labor, and a lot of these things are labor-rights issues, and a lot of labor-rights activists don't want to touch us. [I want us] to be seen as people and for people to actually give a shit about our rights."
The activist: Suprihmbé (pronounced "Supreme Bae")
Occupation(s): Sex worker/artist/writer
What activated her: "I started on Twitter a couple of years ago, but I actually was talking to other sex workers before then on Facebook in insular groups. Black Feminist Theory was one, and there were some other closed groups. But when the Backpage stuff started happening with [U.S. Senator] Kamala Harris and all of that, that's when I really started talking about it on Twitter and somehow gained a little platform." (Editor's note: Notorious online-advertising site Backpage was shuttered after longstanding concern that it promoted sex trafficking, and its CEO has pled guilty to numerous criminal charges.)
Her biggest challenges: "For one, there's the harassment, especially since I'm one of the poor sex workers. I'm trying to leave sex work and switch careers, and because of that I have a lot of financial issues and people will make fun of me or tell me to die or other terrible things. The other thing would be other workers, particularly white sex workers — there's a lot of classism and racism within the industry that needs to be dealt with."
What's kept her motivated: "My son. He's the only reason. Otherwise ... I would just be out here struggling by myself. I never would have spoken out about any kind of financial problems if I didn't have him, because I have to provide for him."
Her vision for adult- and sex-work by 2030: "It's hard because I'm so cynical, but ideally, I would like everything to be decriminalized. I've been reading a lot about brothels and how it used to be. I would like it to get to a place where everybody's making a fair wage and people aren't getting arrested and murdered."
The activist: Ela Darling
Occupation(s): Adult performer/virtual-reality entrepreneur/public speaker/former APAC board member
What activated her: "I started doing activism within the adult industry maybe a year after I started doing porn. My first big foray was this experience at the Los Angeles courthouse downtown, where we had to speak out about our rights and demand our voices be heard as performers. I don't remember the legislation we were pushing against, but as soon as I realized our rights were on the line and voices were being ignored on the subject we know best and are the primary stakeholders in, that was when it really struck me that we need to do this. I've always been an activist in the spaces I occupy. Part of being a librarian is fighting for intellectual freedom." (Editor's note: Darling was a reference librarian before going into adult work.)
Her biggest challenges: "When you walk into the room, people already expect to be comfortable in ignoring you. When you first start to speak to any agency or group of people, it's like, 'Oh, that's cute, these little sluts think they have an opinion that matters.' And then very quickly they realize that we're quite capable of articulating our needs. People tell me how articulate I am, which at face value is a compliment but sort of backhanded. Or in some cases, when you're advocating for your community, they assume we're all high-school dropouts. Sometimes it's something we can use to our advantage, but it's frustrating that I have to make the case that I'm worth listening to before I get to the things I need you to listen to."
What's kept her motivated: "I'm inspired by the work of my peers, seeing the risks they take and how strong they are while their rights are being chipped away."
Her vision for adult- and sex-work by 2030: "From within, I'd love to have health clinics that offer both physical and mental health resources for sex workers of all kinds in several markets across the country. And externally, destigmatization of sex work and the adult industry, up to and including the ability for people to be a sex worker and then decide, 'I don't want to be a sex worker anymore' and get a job."