Scientists checked the carbon footprint for 13,000 cities worldwide. These were the worst.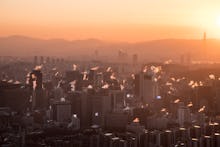 The United States is home to three of the top 10 world cities with the worst carbon footprints, a new study says.
Researchers at the Norwegian University of Science and Technology gathered carbon emissions data from 13,000 cities around the world and built an interactive map of the results. In the process, they found that New York City, Los Angeles and Chicago all had extremely high carbon emissions.
Seoul came in at No. 1, with an output of 276.1 metric tons (plus or minus roughly 51.8 metric tons) of carbon dioxide a year. Guangzhou, China, came was ranked at No. 2, followed by New York City; Hong Kong; Los Angeles; Shanghai; Singapore; Chicago; Tokyo/Yokohama, Japan; and Riyadh, Saudi Arabia.
Overall, the top 100 cities made up roughly 18% of the entire planet's overall carbon footprint, with affluent cities and suburbs generally being the biggest culprits. The good news is that "this means concerted action by a small number of local mayors and governments can significantly reduce national total carbon footprints," said Daniel Moran, the study's lead author, in the study's release. But the bad news is that some of the richest cities are spewing out high levels of carbon emissions, all while the poor are expected to suffer most from global warming.
Cities with higher numbers of people are likely to have a higher carbon footprint overall, but some fairly small metropolitan areas in the United States still have a surprisingly high output. Miami, a city of roughly 5.5 million people, ranks at 21, for example — that's higher up on the list than New Delhi, India, a city with more than 20 million people.
Ever since President Donald Trump announced his plan to exit the Paris Agreement in June 2017, the future of environmentalism in the U.S. has looked somewhat grim. The agreement — first signed by the U.S. during the Obama administration — intends to combat climate change by having participating nations significantly cut their carbon emissions (among other things). At the time, the U.S. pledged to cut its greenhouse gases to 26% below its 2005 levels by 2025 (now, it looks like roughly 11% to 13% will be cut by then). And as other signatory countries are moving forward with the Paris Agreement, the Trump administration continues to pull funding from climate research — including a recent cut to a $10 million-per-year NASA program that monitors the planet's flow of carbon dioxide.
For now, scientists and politicians are left to figure out how they can work together to lower emissions. But the average individual has the power to control at least a third of their carbon footprint, the study's release said, meaning that the average person can do their part, too.