There's literally no research proving sex robots are good for society, a new study says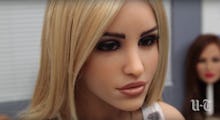 She says things like, "Wow baby, 10 minutes without you seems like an eternity" and "May I be so forward to ask how big you are?"
Harmony — an artificially intelligent robot with a self-lubricating vagina and an interchangeable face — will set buyers back more than $15,000. And though some believe robots like Harmony could improve marriages or put an end to sex trafficking, there's currently zero scientific evidence supporting the claim that sex robots come with real health benefits, according to a recent study.
Researchers in the United Kingdom combed through medical journals for studies on the health effects of sex robots. Turns out, they found nothing — "no reports of primary data relating to health aspects of the use of sex robots," as the paper put it.
The idea that sex robots could be a positive for society is inherently controversial. While some believe it could limit sexual crimes by "redirecting dark desires" away from women or children (in the case of pedophiles), others are concerned sex bots could perpetuate or reinforce rape culture. Making robots that are meant to mimic the female human form is a literal rendering of women into objects, after all. But none of those concerns have so far stopped sex bot engineers from developing what could be the the next market hit in an already $30 billion sex technology industry.
Some have also speculated sex robots or human-like robots could have a therapeutic value for those who are lonely, disabled or elderly and for those confronting fear or trauma around sex. But again, none of those possibilities are currently backed up by research. There's likely a lack of data because sex robots have only recently become commercially available, and so far lack popularity. Sex dolls, however, have long gained traction on YouTube and porn sites.
Excluding carnal desires for a talking silicone doll, there's no scientific justification for dropping thousands on a sex bot yet. Sorry.