What Melania Trump wore her 72nd week as first lady — when she finally (finally!) reappeared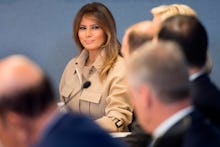 After more than 20 days without a single appearance, we're pleased as ever to report that Melania Trump is back, baby.
Despite the cryptic tweets and public doubt, Trump rose from wherever she was hiding this week for a few different White House appearances.
Her style remained unchanged. This is what she wore:
Monday, June 4: A simple black dress for a her first White House appearance in 20-plus days
Though a Gold Star Memorial event for the families of fallen soldiers at the White House was closed to press on Monday, this is when we finally saw Trump after more than 20 days of not making a single public appearance. She wore a simple black dress, which you can see if you squint real hard at those pics above.
Wednesday, June 6: A normal-as-ever coat for her first appearance for press in 20-plus days
Now for her first appearance with press in 20-plus days, at a meeting at Federal Emergency Management Agency (FEMA) headquarters, Trump wore an outfit we've seen her in many a time: a camel-colored trench coat worn as a dress, with a belt cinched at the waist.
The designer of this look has not yet been confirmed.
You can read previous recaps of what Melania Trump wore here.