Free speech champion Jordan Peterson threatens to sue professor over Twitter name calling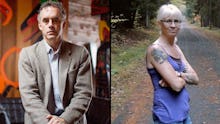 Jordan Peterson, the controversial University of Toronto psychology professor, best-selling author and ardent First Amendment champion who once told his fellow Canadian academics that he's a "true speech" advocate, has threatened to sue an American professor over a tweet he deems defamatory.
"I believe that people should say what they believe to be true," Peterson said to attendees at the Canadian Society for Academic Freedom and Scholarship's annual general body meeting in 2017. "A lot of what's necessary with regard to thinking is the freedom to make mistakes."
The 56-year-old star of the intellectual dark web — whose anti-feminist views on women's unconscious desire to be dominated by men have been retweeted by alt-right figures like Richard Spencer — didn't seem to feel the same way earlier this week, in regard to a tweet from Wendy Lynne Lee.
Lee is a liberal professor of philosophy at Bloomsburg University in Pennsylvania who, like Peterson, is also a staunch defender of the First Amendment. On Nov. 30, 2016, she wrote a blog post about using flag-burning as a form of protest against the election of Donald Trump.
In a May 31 tweet to her nearly 300 Twitter followers, Lee characterized Peterson as a "committed white nationalist" and an "incel misogynist."
Neither of Lee's claims are verifiably true. Peterson has publicly denounced identity politics, which include the views of the so-called alt-right and white nationalists, on multiple occasions, but his primary targets in several of those denouncements have been proponents of what he calls the "Marxist lie" of "white privilege."
Peterson is also a married father of two adult children and by definition can't be accurately described as an "involuntary celibate" (or incel) — like Alek Minassian, the Toronto terrorist who allegedly drove a rental van into a crowd of pedestrians in April, killing 10 people, or Elliot Roger, the California killer and self-described 22-year-old virgin who said in his manifesto that he's never kissed a girl, according to the New York Times.
Many have called out the distortion of Peterson's views by other reporters and academics, such as Lee. This week, it appears Peterson had finally had enough.
On Wednesday, in response to Lee's tweet, Peterson authorized his attorney Howard Levitt to send an email to Lee threatening to sue her for libel unless she deleted her "defamatory" post and tweeted an apology.
"Please immediately retract all of your defamatory statements, have them immediately removed from the internet, and issue an apology in the same forum to Mr. Peterson," Levitt wrote in an emailed letter provided to Mic, which went on to threaten initiating legal proceedings.
Lee quickly did as Levitt instructed, telling Mic the legal threat both stunned and frightened her.
"I find it absurd," Lee said in a phone interview. "Many have actually said these things about Peterson and at much greater length. You can find similar language in several articles."
Levitt told Mic in a phone interview that if Lee hadn't taken down her tweet, he would indeed have filed a lawsuit at Peterson's behest in a Canadian court, where the legal standard for proving libel is less stringent than it is in U.S. courts.
In a subsequent conversation on June 18, Levitt clarified his earlier comment about possibly suing other individuals who mischaracterize Dr. Peterson as being a white nationalist or a member of the so-called alt-right.
"Anyone who does that is at risk of being sued," the attorney said. "You have to pick your particular lawsuits carefully. If there are several people saying the same thing, you don't necessarily have to sue every one of them. You're not going to sue the internet trolls in all likelihood because they don't have any credibility. But anyone calling Dr. Peterson that is at risk of being sued for defamation."
Peterson became a household name in January after his answer to British news anchor Cathy Newman's question pertaining to free speech and the freedom to offend went viral. It made Peterson a tell-it-like-it-is champion of truth among right wing pundits like Tucker Carlson and anti-political correctness YouTubers like Sargon of Akkad.
When Newman and Peterson's viral exchange took place, the host was taking him to task for his position against being mandated by Canadian law or his university to use gender neutral pronouns to avoid offending transgender individuals on his campus.
Peterson has routinely sounded the alarm of the potential pitfalls of regulating so-called hate speech. Yet his attorney said he doesn't see any hypocrisy in his client potentially suing Lee for expressing her erroneous opinion in her own "pursuit of truth" about Peterson. Levitt said that's because unlike Newman, a broadcast journalist, and random Twitter trolls, Lee is "a college professor."
"If some wacko makes a slur about somebody on the internet, it doesn't have to be taken seriously because it doesn't have a lot of credibility," Levitt said. "Dr. Peterson is a best-selling author. I take it that [Lee] is not a lunatic. She's a college professor. She has a Ph.D. She knows what she's doing. Yet this woman said Dr. Peterson is a white supremacist. If a professor at a university makes such a claim, people might actually believe it. Someone like Dr. Peterson has to make a stand."
Notably, Peterson himself in 2017 retweeted a picture of former President Barack Obama making the "OK" hand gesture mid-speech, saying that "half of Obama is a white supremacist" — amid a thread about whether the gesture is a white supremacist symbol. Also in 2017, Peterson tweeted a story about a Black Lives Matter Toronto co-founder calling Canadian Prime Minister Justin Trudeau a "white supremacist."
A Twitter search shows that other verified users have incorrectly characterized Peterson as a white nationalist, and many more Twitter users and journalists have mistakenly described Peterson as "alt-right." Levitt said this mischaracterization of Peterson is different because most people don't equate the alt-right with white nationalism.
"I think to most people, alt-right does not have the connotation of being a racist," Levitt said. "Calling someone a white supremacist in my view is certainly different than calling someone alt-right."
In relation to First Amendment law, Peterson is a widely recognized public figure who consequently would have a hard time holding Lee or any U.S. citizen accountable for libel in any court, regardless of country, according to Dave Heller, deputy director of the Media Law Resource Center in New York.
Heller said the 2010 Speech Act requires foreign plaintiffs such as Peterson to meet U.S. standards of proof for libel in order for the United States to honor and enforce a guilty verdict in a foreign court's libel case. That standard of proof would have to include verification of dissemination, falsity, actual harm done, and a reckless disregard of the truth described as "actual malice."
"If this were brought in an American court, it would face great hurdles to succeed," Heller said. "The court doesn't have to decide whether in reality Jordan Peterson is a white nationalist. All a court would have to decide is whether it's an erroneous belief based on what [Lee] read or saw online.
"She doesn't have to exhaustively research either," Heller continued. "People can have opinions like this, even if they prove to be wrong. Generally the law gives people the right to have stupid opinions on the internet."
On Thursday morning, Peterson was quoted speaking about Lee's tweet in a story published by the Daily Caller, the conservative news site founded by Fox News host and Peterson champion Tucker Carlson.
"It's clear that [Lee] has decided that it's entirely acceptable to be careless with her words in relationship to me and my putative beliefs," Peterson told the Daily Caller. "Academics, whose trade-in-stock is words, should know better. ... I would counsel those who wish to bring forward such groundless accusations to be duly cautious. Such shots in the dark have a nasty habit of backfiring."
The same article also highlighted Lee's 2016 blog post defending flag burning, which clearly didn't sit well with the Daily Caller's conservative readers. Within hours of its posting, the story's comments section was laced with threats of violence and death directed at Lee from anonymous users. She received at least one additional threat on her Facebook page.
Lee also copied and pasted the text from some of the death threats posted on the Daily Caller story into a Microsoft Word document provided to Mic.
In multiple emailed statements, spokespeople for the Daily Caller acknowledged the threats made against Lee and pointed out they've been taken down.
"We often receive tens of thousands of comments a day," Daily Caller publisher Neil Patel wrote in an emailed statement. "Like most news sites, due to the volume of comments, we rely on users' complaints to point out bad actors, which go in for review. If we see anything like a death threat our moderators would delete it immediately and ban the commenter."
Daily Caller editor-in-chief Geoffrey Ingersoll also insinuated Lee bears some responsibility for the homicidal threats made against her. "It's easy for people who say dumb things in public to find someone else to blame for the consequences," Ingersoll wrote in a separate email.
Lee said that Peterson wasn't even the primary target of her tweet — it was Turning Point USA, the pro-Trump, conservative nonprofit network of student organizations, which she had tagged in the tweet. The group invited Peterson to speak at its Young Women's Leadership Summit in Dallas in June.
Lee considers both Peterson and Turning Point USA to be part of a more sanitized version of the so-called alt-right movement. She takes issue with Peterson, whose audience is overwhelmingly male, speaking at a gathering of young women leaders. Many news sites have pointed out a major portion of Peterson's male audience is also young, white and disaffected, as are many supporters of the alt-right movement.
"I was saying, 'Look at this guy. He's going to be appearing at the Turning Point shindig,'" Lee said of her tweet. "I was commenting in the context of, 'This is what Turning Point really represents.'"
Lee has been doing research and keeping tabs on Turning Point since 2016. Students at Bloomsburg University, where she teaches, founded a TPUSA chapter in April 2017, but Lee didn't notice it until she came across the chapter's Facebook page in September. She tried to dissuade Bloomsburg University's Community Government Association from recognizing Turning Point as an official student organization — a designation which permits the conservative group to use the university's facilities at no additional cost.
Lee argued that Turning Point isn't just another conservative group like the university's College Republicans chapter. In her view, it's an alt-right hate group.
In November, however, Lee said Bloomsburg University administrators disagreed, and overruled her case. Since then, Turning Point founder Charlie Kirk and communications director Candace Owens have hosted multiple meetings with Trump at the White House.
Turning Point has additional conferences planned for Latino and black leadership groups in August and October, a few weeks ahead of November's midterm elections.
Lee says Turning Point is capitalizing on Peterson's popularity with the group of Americans that helped put Trump in the White House to rally the president's conservative supporters ahead of the 2018 midterms. She argues Peterson is disingenuously using the same audience to make himself rich.
"The order of things there is their white male victimhood and their desire to return to this Garden of Eden of male patriarchy," Lee said. "Peterson epitomizes that kind of argument. At the end of the day, I think this is about money for him. This is his retirement plan."
June 18, 2018, 4:24 p.m.: This story has been updated.