It's easier to sleep, eat and have fun at airports in Asia — here's why America is falling behind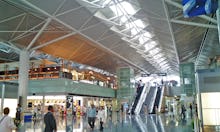 NAGOYA, Japan — Most air travelers have been there: The moment when you curse yourself for thinking that getting up at an ungodly hour for a flight would be worth the low price. At about 7 a.m., I arrived in Japan and dragged my feet through customs, immiserated by my all-nighter and the thought I wouldn't be able to check into my hotel until 4 p.m.
But then I found my solution.
On the first floor of Chubu Centrair International Airport in Nagoya — a city known for its world-class transportation industry — I found a capsule hotel that's meant specifically for napping. For less than $40, travelers can get a shower, brush their teeth, change into pajamas and sleep for up to nine hours (the clock starts ticking upon check-in). I was even greeted by a robot, its eyes tracking every movement and bidding me hello with a wave and an inquisitively turned head.
The beds weren't uncomfortable, either — and the capsules had more than enough space to sit up, with a reading light and adjustable air conditioning in tow. It was a bit like sleeping in a washing machine, but I got what I wanted.
That had me wondering: For an airport that didn't even make the top 50 most-trafficked list for 2017, why is Nagoya a port so lush with amenities? And why don't U.S. airports stack up against those in Asian countries like Japan, Singapore and South Korea, which win international superlatives for being so cushy?
"I think it's because they embrace and understand the customer service concept much more effectively than we do in the U.S. and Europe," John Grant, a senior analyst at an air travel intelligence firm called OAG, said in an interview. "At the very center of everything they do is the customer and the customer's satisfaction."
President Donald Trump has been publicly griping about U.S. airports since at least 2012, at one point calling places like New York's LaGuardia "Third World." His characterization no doubt deserves much of the backlash it received, but HuffPost's rebutting defense of U.S. airports unintentionally underscores how far behind U.S. air travel really is. The article boasts about "the occasional bird" trapped at the Denver airport, plus cotton candy and pizza stalls. Meanwhile, places like Incheon International Airport in South Korea have layover tours of Seoul, indoor parades, a movie theater, a temporary ice skating rink and key amenities such as free showers and baby lounges.
East Asia is "very different culture from other parts of the world, where we see airports only as infrastructure — people processing facilities," Grant said. "But there's supreme irony in all of this. Places like Japan and South Korea have to do people processing as well, but they seem to combine that process with good service."
Part of the difference could be cultural, but upgrading an airport isn't as easy as it seems. Airports have several revenue streams, including charging rent to the stores inside or fees to airlines for using office spaces and runways. They also charge airlines for every passenger that goes through its system and security — so imagine how complex their business model can be.
Any change can bring a difficult balance sheet: Imagine a scenario where an airport installs a new runway and tells the airlines it will be increasing fees. The airlines then may have to consider charging more for seats (the average profit per passenger is just $8.27, according to one report) or some other change make that money back. And if an airline gets upset and stops servicing that area, the airport would then lose money. Look no further than the latest spat over Heathrow Airport in London, where the head of British Airways lamented that new airport expansions could pass added costs onto airlines.
"Adding amenities — a lot of it depends on the motive and operation model of the airport," Grant said. "If airlines are going to see increased costs by the provision of customer service, then they're not going to be happy and could take their business elsewhere."
But there are a number of reasons why capsule hotels specifically are more common in Asian airports, along with a larger variety of retail and commercial comforts. The Asia-Pacific region won over 38.6% of the $60 billion travel retail market, which mostly sells things like cosmetics, tobacco and liquor, according to Generation Research, the firm Coresight Research reported. Europe takes up another 32.3% of that market, while the U.S. only takes up about 18.5%.
At the same time, budget air travel is a burgeoning industry in East Asia, whereas that market in the U.S. is already saturated by airlines such as JetBlue, Spirit and Southwest. It's arguably a signal to investors that low-cost accommodation options like capsule hotels would be a smart business idea, and the demand for them is projected to grow by about 42% between 2016 and 2022.
"East Asia is the fastest-growing, expanding market in the next 20 years [for budget travel]," Grant said. "If you read any forecast in any report, that's where the sweet spot of investment is. Quite a lot of independent travelers will do their internet research and find low-cost trips, but they'll have to stop 12 to 16 hours at an airport while en route. So it's not a bad idea to spend $50 on a capsule and get some decent sleep if you save $500 on your airfare."
In the end, Americans simply may not need all of these extra luxuries in their airports. But certainly, it's a missed opportunity in terms of soft power and capitalizing on high-spending international travelers — or at least a source of envy. The first American airport to make the Skytrax World Airport Awards' top 100 list is Denver, at No. 29.
And though judging a country by its airports is an arbitrary barometer of success, it still does matter to some extent. The rest of the world is certainly taking note.
"Airports are frequently said to be flagships of their countries in terms of their design and architecture," Grant said. "They're probably equally as symbolic of the culture."