Critics call out Candace Owens' transphobic views and want Kanye West, Caitlyn Jenner to do the same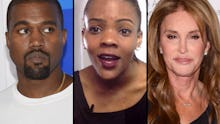 Transgender advocates and at least one conservative critic are beginning to call out Candace Owens, the Kanye West-endorsed black conservative pundit, for her history of virulent transphobia. They're also asking West and Caitlyn Jenner, a transgender conservative activist and West's stepmother-in-law, to do the same.
As recently as Nov. 13, Owens insisted that transgender women are in fact mentally ill men, and verbally attacked at least one trans woman — fellow conservative social media star Blaire White — on the issue.
"I believe transitioning individuals should not be in the Army," Owens said in July, after President Donald Trump signed a memorandum banning some transgender troops from serving in the United States military. "I cannot think of anybody's emotional capabilities that are more unstable than somebody that is transitioning from a male to a female. Am I the only person that watched [Jenner's cancelled E! Documentary series] I Am Cait?"
"It's pretty rich when someone like [Candace] can make comments like that and have never served," Matt Thorn, executive director of OutServe
On Monday, pro-Trump YouTuber Tree of Logic, another black conservative and staunch critic of Owens, called attention to Owens' anti-trans views in one of her latest videos.
"Go to Candace's Twitter, Facebook or other social media outlets and ask her the following: 'Is Caitlyn Jenner a man who should be addressed by the pronouns 'he' and 'him'?'" Tree said Monday. "Watch how Candace Owens reacts to this question and you'll see for yourself that she is far from a conservative."
Tree, who declined to give her real name in order to protect her identity, has characterized Owens as a political opportunist who'll say anything to get famous.
Tree did not explicitly state her motives for publicizing Owens' anti-trans comments this week. But her motivation could be to complicate Owens' relationship with Kanye West, who has been publicly supportive of Jenner.
Some of Tree's estimated 73,000 YouTube subscribers tweeted her transphobia query this week to Owens, who has yet to respond publicly. Owens declined to comment for this story. West and Jenner could not be immediately reached.
Owens is a 28-year-old ex-liberal turned conservative and Fox News regular who serves as communications director for the pro-Trump nonprofit Turning Point USA. She has spent much of the past year trying to woo black Americans to support Trump and the Republican Party.
Owens garnered national headlines in April when Kanye West tweeted his admiration for her so-called "free thinker" worldview and declared his own "love" and support for Trump. They met in person on April 29. Trump later claimed West's comments gave him an 11% boost in support from black Americans — a claim that has been disputed by pollsters.
Caitlyn Jenner is a Republican, but is also a Trump critic. She has called the president's administration the "worst ever" in regard to trans issues.
"Yes, I did vote for Trump, but here's the deal-breaker with the Republican Party," Jenner told Diane Sawyer during an April 21, 2017, episode of 20/20. "The deal-breaker is, you mess with my community, you do the wrong thing with my community, you don't give us equality and a fair shot, I'm coming after you."
A friend of Jenner's, Blaire White, a conservative transgender YouTube personality, was once a target of Owens' attacks.
During a November appearance on the Rubin Report — a YouTube talk show hosted by former Young Turks reporter Dave Rubin — White found herself getting berated about her gender identity by Owens.
"I think that the exchange between Candace and me was really unfortunate," White said Wednesday. "I hope that Candace has learned how to treat people with dignity and respect moving forward."
The Nov. 7 Rubin Report episode was intended to host a debate over Owens' now-defunct alleged doxxing website, Social Autopsy. Owens told the Stamford Advocate in 2016 that she was inspired to create the site after facing racist bullying in high school. She described it as "a searchable database of people who spew hate online."
But before they could discuss this on the air, Owens went on the offensive against White, targeting the YouTuber's transgender identity.
"I am not comfortable using the 'she' pronoun," Owens said at the beginning of the episode, establishing that she planned to misgender White during the rest of the show. "I think that it betrays the audience when you make it sound like this is a petty cat fight and there are two girls sitting across from a table when, in fact, it is a grown man sitting across from a grown woman. ... I just want that to be very clear."
"Super clear, super clear," White replied.
Rubin, a gay man, appeared to try and break the obvious tension between his two guests by establishing common ground among the three of them. Each represented a distinct marginalized group — black, gay and transgender — and all had recently become conservatives, or at least anti-progressives.
But Owens seemed uninterested in being conciliatory toward White.
"[The truth about your gender] should be known," Owens told White. "We're both adults. You're a grown man. I'm a grown woman."
"We're definitely adults," White responded. "I just think it's interesting how you act like you're above the ad hominems and you're above attacking someone—."
"That's not an attack," Owens said. "That's a fact. … I don't want them to think that this is a cat fight between two girls. It's not."
"She really went out of her way to attack a trans person. It's worrying and it's sad and extremely unfortunate," Cecilia Gentili, managing director of policy at Gay Men's Health Crisis
White grew visibly flustered. "That's the dumbest thing I've ever heard in my life," she said.
"Me and biology think you're a man," Owens concluded. "I'm happy to call you a 'she' for the rest [of the show] so that we can move on from the pronoun thing. … I want to make it clear. I don't want to have to afterward say, 'If this is your stance on trans [identity], why did you sit across from a trans person and call them she?' So I am making it clear."
Owens continued her verbal assaults via Twitter on Nov. 13, using her since-deleted @RedPillBlack account.
"Blaire. You are a man. You have a penis," Owens tweeted. "This isn't a debate, it's a mental disorder."
(Mic has obtained archived versions of these tweets, which are housed on the web archiving site Archive.Today. White's corresponding tweets in the exchange are still active.)
"If you would have told me two years ago that it would be conservatives rallying behind me this week after [a] woman called me a man on a show and I was assaulted on the street, I would NEVER have believed you," White tweeted on Nov. 13, referring to an incident where she said she was attacked for wearing a "Make America Great Again" hat.
"But you are a man," Owens replied hours later. "You have a penis. That's not offensive, it's a biological fact. Sorry you got assaulted though."
"It genuinely makes me uncomfortable when a man pretends I'm attacking him for calling him a man," Owens responded. "@MsBlaireWhite pls stop. It's freaky."
On Wednesday, White acknowledged the irony of being attacked for being trans by Owens, who would later become famous thanks to the former stepson-in-law of Caitlyn Jenner —who White had dinner with that same month.
"It's a small world," White said with a laugh.
On Thursday and Friday, some of the nation's most prominent pro-trans and LGBTQ advocacy groups denounced Owens remarks — and expressed hope that West or Jenner would soon speak out.
"It's pretty rich when someone like [Candace] can make comments like that and have never served," Matt Thorn, executive director of the military LGBTQ advocacy group OutServe said in a phone interview Friday. "I would challenge anyone who wants to oppose transgender military service to meet a transgender service member who has voluntarily signed up to defend our country, potentially with their lives. It's unfathomable that people would be against it quite frankly."
Thorn pointed out that the U.S. Department of Defense spent more than 18 years researching for its transgender policy before putting it in place prior to Trump's ban. He said he doesn't think Caitlyn Jenner, who has met with trans service members, would approve of Owens' comments.
"Caitlyn is supportive of trans service members," Thorn said. "I think she needs to make that decision on her own if she wants her family to be associated with this type of rhetoric."
Trans activist Sean Coleman, leader of the New York City-based trans advocacy group Destination Tomorrow, got emotional over the phone Thursday after watching and reading Owens' transphobic remarks.
"What [Owens is] doing is an act of violence," Coleman said. "Black trans people in particular get killed every day behind the nonsense she did on that show. If there's nothing else you believe in, you're killing your brothers and sisters because you can't open your damn mind."
"Banning transgender people from serving our country is simply wrong. We should be so grateful to anybody who wants to serve!" — Kim Kardashian West
Coleman, a transgender man, also addressed Kanye West, Owens' most famous proponent.
"Shame on you for not denouncing [Owens] and her tactics," Coleman said.
Cecilia Gentili, a trans woman and managing director of policy at Gay Men's Health Crisis, denounced Owens' views as well, and she also challenged Jenner to take a stand on Owens' rhetoric.
"Caitlyn Jenner has a huge platform," she said. "I don't know why she isn't reacting to this. She could at least tweet something. Sometimes it's not about the power that we have. It's about how we use it."
Both West and his wife, Kim Kardashian West, have been vocally supportive of Jenner's gender transition.
West's first tweet in April after a yearlong hiatus from Twitter was of a T-shirt design that had his former stepmother-in-law's photo on the back. The rapper, producer and fashion designer also defended Jenner from attacks on his Instagram page in February 2016, after he posted a behind-the-scenes photo showing the two at his Yeezy Season 3 fashion show at New York City's Madison Square Garden.
"I'm proud of this picture with me and Caitlyn," West wrote. "She gave the most heartfelt speech at my wedding ... and was there in full support to see me realize this dream."
Kardashian West's relationship with Jenner has reportedly soured of late. The two became all but estranged in April 2017 after Jenner published her autobiography, The Secrets of My Life, which included excerpts criticizing Kardashian West's late father, Robert Kardashian.
"She is not a good person," Kardashian West said of Jenner in a season 14 sneak peek of Keeping Up with the Kardashians, according to People.
Even so, the Keeping Up With the Kardashians star has remained vocal in favor of transgender rights. In July, Kardashian West joined her former stepmother in condemning Trump's transgender military ban.
"Banning transgender people from serving our country is simply wrong," Kardashian West tweeted in July. "We should be so grateful to anybody who wants to serve!"