How 'Sorry to Bother You' and 'Madeline's Madeline' are pushing independent filmmaking forward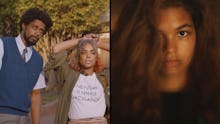 Brooklyn Academy of Music's BAMCinemaFest, which began its 10th anniversary festival Wednesday, occupies unique territory in the landscape of American film festivals. CinemaFest is small, featuring approximately 25 American independent films every year, nearly all of which are screened at BAM Rose Cinemas, in the Fort Greene neighborhood of Brooklyn. The program is primarily composed of gems excavated from bigger festivals like Sundance, South by Southwest and Rotterdam, giving much of its slate a New York (rather than world) premiere, and giving attendees a manageable experience.
When CinemaFest rolls around every year, a few months have elapsed since those bigger festivals, and a picture of what's resonating begins to emerge. As such, CinemaFest presents one of the clearest gauges of what's happening both in the margins and at the vanguard of American independent filmmaking.
This year, films from minority and female filmmakers are pushing the form forward, asking new questions and experimenting with new methods. "Finding work outside that traditional old, white voice is really incredible right now," Jesse Trussell, one of CinemaFest's programmers, said. "Having those other voices gets back to that [question] of, 'What's original and fresh that we haven't seen a thousand times before?'"
These days, Trussell's perspective is echoed by programmers and judges at America's other marquee festivals. Female filmmakers were highly represented in this year's South by Southwest narrative competition. Tribeca Film Festival director of programming Cara Cusumano said in an interview that this year's festival consisted of "46% feature films directed by women, and that push toward parity will continue to shape how we look at the submissions each year." Women also took home the top prizes at this year's Sundance.
The power of fresh perspectives is on display in the biggest films at this year's CinemaFest. Boots Riley's Sorry to Bother You and Josephine Decker's Madeline's Madeline are each unconventional, distinctly of this moment, and led by a brilliant actor of color. They're also both, in their own way, about exploitation — envisioning somewhat fantastical modes by which the exploited might revolt.
And yet, the experience of watching the two films couldn't be more different. Sorry to Bother You is a surreal, at times disturbing, comedy, with a boldly cartoonish aesthetic and firmly anti-capitalist message. Riley's wild imagination spills outward, bringing life — and absurdity — to the driest of worlds: telemarketing. The film is a riot — in both senses of the word.
Madeline's Madeline, on the other hand, is more introspective. Decker packs it with dizzying close-ups and disorienting sounds, putting the viewer inside the head of Madeline, played by Helena Howard. Madeline is a talented young actress living with mental illness and battling, at various points, an overbearing mother (Miranda July) and a manipulative teacher (Molly Parker). It's an intimate, anxiety-inducing character study that doubles as interrogation of art-making and reality itself.
Of the two films, Sorry to Bother You is the one more likely to become a cultural sensation. It's fun and strange, and it deftly captures the folly of these times. Madeline's Madeline, meanwhile, is testament to what technological advancements have made possible during this moment in independent film.
"We have this technology [in prosumer cameras] that allows us to shoot with lower budgets and smaller crews, and to shoot a lot more, and in more intimate circumstances," Decker said. "The intimacy between the camera and the subject, and in a way between the audience and the subject, feels possible now in a way that maybe didn't always feel possible."
Decker speculated that modern film technology is helping to elevate new voices behind the camera, particularly those of women. "I think women are interested in telling different kinds of stories, that maybe don't have lots of explosions and things that will draw audiences," she said.
Whether because of the cameras or the people behind them, a similar intimacy can be found in much of this year's CinemaFest slate. Crystal Moselle's Skate Kitchen, for instance, is an immersive ride-along with a young female skateboarder simultaneously navigating New York City's skate scene and her coming of age. Like Madeline's Madeline, it features a lot of tight shots and handheld sequences; Moselle opts to direct her camera at moving limbs as often as at faces. And though it is a narrative film, the script was written using journalistic techniques, in the style of Sean Baker's Tangerine. Moselle cast a real-life group of New York City female skateboarders, basing the characters and story on what she learned in her conversations with them.
This blurring of forms extends to documentaries, too. In Bisbee '17, Robert Greene uses narrative techniques to tell a story about labor activism and immigration rights in an Arizona border town during World War I. And in The Pain of Others, Penny Lane digs up YouTube videos and newsreels to craft a documentary about Morgellons, a mysterious illness who those living with the disorder say they have a variety of eerie symptoms.
Perhaps most audacious, though, is Feast of the Epiphany, a narrative-documentary hybrid from film critics Michael Koresky, Jeff Reichert and Farihah Zaman. Feast is split into two barely related halves — the first a scripted Brooklyn dinner party, the second a documentary about a female-operated New York farm.
"One of the things we talked about with this movie from the very beginning was 'what does authenticity actually mean?'" Zaman said. "Is it something in documentary? Something in fiction? And what's the difference? And why can't all of these things be authentic if the emotions are authentic?"
The other form-benders in the slate provoke similar questions — beyond authenticity, about the nature of "reality" and "truth." There are no clear-cut answers, but somehow these films are encouraging. They suggest that multiple perspectives can coexist. Call it a somewhat fantastical revolt.