This look inside the world's largest train station will make Americans painfully jealous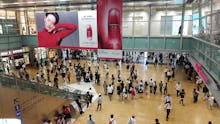 NAGOYA, Japan — On the 15th floor of Nagoya Station's JR Gate tower, one can take in the city's skyline from what is possibly the coolest Starbucks in the world. The cafe's rooftop garden is so popular that guests are advised to scavenge the area first and mark a seat with a "reserved" placard before putting in an order.
Floors below, dozens of cafes, beerhouses and some of the city's most famous restaurants yield guests by the thousands. Then there's the multiple malls, the luxury hotel and the underground food market and spa. Nagoya Station — the largest in the world by floor area — is Japan's sleek, envy-inducing, amenities-lush hub that would be unimaginable to most Americans. While those traveling through the U.S. experience dingy, inefficient rail, Japanese travelers shoot from city to city at about 200 miles per hour.
That's because transit stations around much of East Asia are about more than just trains. Seoul's subway network often touts street fashion, kiosks selling hot meals and even photo booths. The metro in Tokyo, Taipei, Taiwan, and major Chinese cities are just as luxe, while European train stations built over a hundred years ago also compete well on the world stage. So why hasn't the U.S. done more to make their transit hubs better public spaces?
"These places planned their cities in a way that made transit central to city life," Norman Garrick, associate professor of civil and environmental engineering at the University of Connecticut and a visiting professor at the Swiss Federal Institute of Technology, said. "We did the exact opposite of that."
Glory days gone
There was a time when U.S. trains were a source of glory for many Americans. The transcontinental railroad of the mid-1850s was characterized as the "arteries of America," which is far more flattering than "aging infrastructure and insufficient funding," as one 2017 Infrastructure Report Card put it. Cities like Boston, New York and Philadelphia all had modest subway lines by 1907. And much of the public, naturally, started to treat these stations like meeting points or even places to gather around.
In the 1800s and early 1900s, stations doubling up as public spaces "was very much the case in the U.S., with the rise of great train stations all around the country," Brooks Rainwater, director of the National League of Cities' Center for City Solutions in Washington, D.C., said by phone. "Unfortunately, now there are many cities — particularly in smaller communities — that have these grand stations still but with only a few Amtrak [trains] going in and out."
The turning point might have been the end of World War II, when the American modernist movement started steering people away from trains and into cars. The idea was that city organization itself didn't really matter, so long as people could move from point A to point B. In other words, there was no difference between a 10-minute walk, a 10-minute drive or a 10-minute train ride. That indifference meant that politicians authorized massive road and highway projects that tore down public spaces or displaced entire neighborhoods. People started to move out to the suburbs, car ownership increased and public transit started to be neglected.
By the 1950s and 1960s, "we thought downtowns were dead," Garrick said. "We turned downtowns into office parks by tearing down infrastructure and putting in parking lots and highways. Places like these stations became an afterthought."
Then in the 1960s and 1970s, long-distance train travel in the U.S. was nothing to brag about. Americans focused more on air travel — which arguably makes sense, given the country's size — but well-traveled, shorter-distance trips in the country failed to get much needed high speed rail upgrades, Rainwater said.
"We kind of decided how we wanted to get around in our country, and that really made the difference," he said. Meanwhile, high-speed rail in other countries "really hyper-charges the need to make sure train stations are civic spaces that speak to the community."
It's easy to understand why Americans would prefer planes over trains, even for fairly short distances. Take a trip from New Haven, Connecticut, to Washington, D.C., for example. Americans have three options: A 305- to 345-mile car trip that would take anywhere between 5.5 to 9.5 hours, a nearly five-hour ride on Amtrak Acela Express for $186 round-trip, or a roughly $150 plane ticket from Hartford, Connecticut, to Washington, D.C., which takes 1 hour and 15 minutes. Airlines clearly win that game.
Japanese travelers, on the other hand, don't have to face airport security check-ins and strict baggage limits: A 311-mile drive from Osaka, Japan, to Tokyo would take roughly 5.5 to 7.5 hours, while a budget airline plane ticket on SkyScanner goes for around $150. But a trip on the bullet train would take less than 3 hours and come out to around $130 — with WiFi, more legroom and a view of the countryside.
It's not a perfect comparison, but it's easy to see why American train stations appear to be abandoned while Japanese ones thrive. Now, it's unclear how the U.S. can revitalize its city metros and interstate railway stations to become alluring city centers.
"You do see some places in the U.S. that are like this, such as Grand Central. But in the U.S., it's always kind of this vicious cycle — it's a 'which comes first: the chicken or the egg?' issue," Garrick said. "Places where transit is already central can think of using stations in a different way, but it's much more difficult to build that kind of community in places where transit is not the way of life."
"These are skills we developed over 100 years and then lost, because we thought we were going in a different direction in terms of transportation," he added.
Lost opportunity
Treating train and metro stations as well-designed, public space can yield a variety of rewards — including a boost to the community and to ridership. But it's no secret that mega stations like Nagoya's can rake in big bucks — at least 30% of profits made by the East Japan Railway Company (also known as JR East) came from train station purchases in 2010, according to one newspaper report. All of those convenience store ice creams, sit-down restaurants and in-house bookstores simply add up.
In Switzerland, train stations "are increasingly coming to resemble shopping malls," with an estimated $1.51 billion of retail income coming from Swiss station stores in 2012 alone, according to a retail market study. (The study also suggests that ridership will increase about 50% by 2030.) Meanwhile, in the United Kingdom, a company called Network Rail has raked in about $925 million in retail income between 2009 and 2014 by converting empty floor space into stores. And an estimated 20% of nontraveling visitors to Italy's Milano Centrale Station shop within its walls — the station has also seen revenue boosts after rebranding itself as a mall.
"It creates commercial opportunity — you have these huge numbers of people passing through. But I also think it changes the character of the trip and the city," Garrick said. "It puts transit as a more central role in the society, and [stations] become a place for activities beyond simply moving."
There's also soft power in making train stations attractive — beautifully-designed infrastructure, no doubt, sends a powerful message to the rest of the world. Once set ablaze in a city that was largely destroyed by U.S. bombs, Nagoya Station was rebuilt as both a place where Japanese office workers can treat themselves to lunch and as a major tourist attraction worth talking about.
It's true that Japanese transit is probably an extreme example of what American transportation could be. Even a more quaint version with a farmer's market or a monthly event could make a difference.
"If you were to show any typical American a beautiful train station that had all these amenities versus one that is just used to travel, time and time again they would choose the building with the amenities," Rainwater said.