The US likely failed to record 70,000 opioid deaths, study says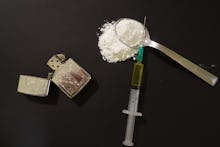 Scientists already know the United States is facing a serious opioid epidemic. So far, opioid overdoses have caused a drop in Americans' overall life expectancy and killed more than 42,000 people in 2016 alone.
Now, a recent study suggests the problem is even bigger than we imagined. Scientists at the University of Pittsburgh Graduate School of Public Health believe that as many as 70,000 opioid-related deaths are currently unaccounted for, thanks to vague reporting on death certificates.
"Opioids" is an umbrella term for a number of drugs, including prescription medications like OxyContin and Vicodin along with fentanyl and heroin.
Researchers analyzed data on unintentional drug overdose-related deaths recorded by medical examiners or coroners from 1999 to 2015. They found two disturbing details in the process: First, opioid overdose deaths increased by about 401% nationwide during the 16-year period. Second, the actual number of opioid-related deaths could be much higher than what's recorded.
The reason is surprisingly simple. Medical examiners and coroners use codes to indicate cause of death on death certificates, but some codes don't actually identify the type of drug involved. Those gaps in data could seriously affect policy, the makers of which may be underestimating or overestimating the impact of specific substances on their communities.
"This information is really important because these incomplete death certificates hamper the efforts of treatment specialists, public health officials and lawmakers," study author Jeanine Buchanich, a research associate professor at the University of Pittsburgh Graduate School of Health, said. "It hampers them from being able to target [states] with the most significant risk [of opioid-related overdoses]. And to allocate their resources properly, you really need to understand the problem."
Of the 438,607 drug overdose deaths recorded from 1999 to 2015, about 58% — 255,527 people — had opioid-related codes on their death certificates. But another 22% of deaths recorded during the same time period named no specific drug, leaving a massive discrepancy in the potential number of opioid deaths.
There are several reasons why unintentional overdose deaths are so poorly recorded, Buchanich said. Some communities may not have the money to process toxicology reports for each death, while others may be unable to identify new strains of street drugs and their unique toxicological profiles. Some areas also have a decentralized system where no specific body regulates death certificates, leading to inconsistent reports and lower standards.
"Even though there has been a lot of publicity and a lot of information being put out there ... The fact is that the unspecified percentage [of cases] hasn't changed that much," Buchanich said.
Buchanich and her colleagues calculated their estimate of 70,000 additional opioid deaths by grouping all 438,607 cases into three categories: definitely opioid-related, definitely not opioid-related and simply unknown. Using the yearly percentage change of known opioid-related in each state, the team then hypothesized how many unknown cases could also be from opioids.
For example, let's say Connecticut experienced a 10% increase in opioid-related deaths in 1999. Researchers would then add 10% of the state's unknown cases for that same year and count them toward the nation's overall estimate for additional opioid deaths.
Researchers admit their strategy isn't perfect, but the lesson is the same — there are likely more people dying from opioid overdoses than we know.