Antwon Rose's parents react with "guarded optimism" after arrest of officer who killed their son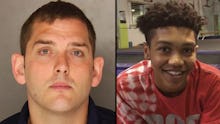 The East Pittsburgh, Pennsylvania, police officer accused of fatally shooting unarmed black teenager Antwon Rose Jr. on June 19 has been arrested and charged with criminal homicide, according to multiple reports.
Officer Michael Rosfeld, who is white, turned himself in Wednesday morning, after which he was arraigned and released on $250,000 bond. His next court date is scheduled for July 6, his attorney, Pat Thomassey, told reporters.
Rose's parents reacted to the news of Rosfeld's arrest with "guarded optimism," civil rights attorney Lee Merritt, who has been hired by the family to work on a potential civil lawsuit, told Mic in a phone interview Wednesday.
"Ultimately, [Rose's family] are holding out for a conviction and proper sentencing," Merritt said. "This was preventable. They would have preferred this never happened."
The shooting occurred around 8:40 p.m. June 19 after police responded to the scene of a suspected drive-by shooting in the neighboring borough of North Braddock, Pennsylvania.
Rose and Zaijuan Hester, both 17, were riding in an unlicensed "jitney" cab when Rosfeld pulled them over. Rose was sitting in the front passenger seat, while Hester — who was also charged Wednesday with criminal attempted homicide, aggravated assault, receiving stolen property and firearms violations in connection to the drive-by — was in the back.
Rosfeld allegedly shot Rose as the teen exited the cab and tried to run away. The officer initially told detectives Rose had "turned his hand toward" him, at which point the officer "saw something dark that he perceived as a gun." The claim has since been disputed by multiple eyewitnesses who said Rose's hand was empty, according to CBS News.
Local investigators said Rosfeld changed his story when asked to retell it.
"When confronted with this inconsistency, Rosfeld stated he saw something in the passenger's hand, but was not sure what it was," the police affidavit read. "In addition, Officer Rosfeld stated that he was not certain if the individual who had his arm pointed at him was still pointing at him when he fired the shots."
An investigation by Allegheny County District Attorney Stephen Zappala Jr. concluded Rose was not involved in the alleged drive-by and that his shooting was unjustified because he did not pose a threat to Rosfeld.
"You do not shoot someone in the back if they are not a threat to you," Zappala said during press conference Wednesday.
This isn't the first time Rosfeld has been accused of misrepresenting an alleged criminal incident. He was fired by the University of Pittsburgh's campus police department in January after inconsistencies in his report about a Dec. 9 bar fight he'd investigated in Oakland, Pennsylvania, came to light, according to the Pittsburgh Post-Gazette.
The fatal shooting reportedly occurred just 90 minutes after Rosfeld was sworn in as an East Pittsburgh police officer.
"After [Rosfeld] was arrested, the first thing Antwon's mom said was, 'This cop should have never been sworn in in the first place," Merritt said. "His record was enough to know he was a danger to the community."
The charges against Rosfeld came after several days of protests in Pittsburgh, where demonstrators pressured Zappala to file charges and called for candidates to run against him.
Activists have said they will announce the name of a potential challenger Monday, according to local CBS affiliate KDKA. The list of those hosting the event include police shooting victim Leon Ford, Abolitionist Law Center legal director Bret Grote, Alliance for Police Accountability president and CEO Brandi Fisher, community organizer Carl Redwood and community activist Jasiri "Jasiri X" Oronde, among others.
Merritt said he isn't confident Rosfeld will ever serve a day in prison, noting the historical rarity of criminal trials — let alone convictions — for police officers accused of on-duty homicides.
"This is America," Merritt said. "Because of the culture of the United States, a conviction of an officer never has a strong likelihood. There's a one in a million chance that this officer will be held accountable."