'RuPaul's Drag Race' season 10 finale: Kameron Michaels exit interview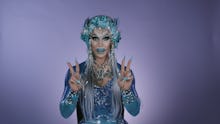 Kameron Michaels lip synced a record six times before claiming a runner-up spot on RuPaul's Drag Race's Season 10 finale.
The soft-spoken queen, who middled throughout much of the competition, was able to knock out Asia O'Hara during round one of the finale's lip syncs before facing off against Aquaria and Eureka for the crown.
Mic spoke with Kameron Michaels about the elimination and what's next for her drag career.
Mic: Gotta begin by asking, how are you feeling this morning?
Kameron Michaels: Absolutely incredible. Absolutely amazing. On top of the world.
How were you feeling immediately after the finale taping, 'cause there's been a few weeks between filming and now?
KM: I was very happy with my final performances. I was very happy with my onstage interview. It was a great final episode for me in terms of seeing Kameron coming out of her shell throughout the season. It was very heartwarming.
Let's talk finale. How did you prepare for a night that you knew was going to be so significant?
KM: The crazy thing is we've been touring on the road. There's been a lot of phone calls, a lot of emails, a lot of text messages to see who could make the costumes, the hair, the makeup, the jewelry, the nails, to make all that happen in time for the finale. It was very stressful and took a lot of meticulous planning to make that happen.
You were one of the quieter queens during our one-on-one sitdowns during press week but observing you online recently, Kameron's got a mouth on her. Has the show given Dane more confidence?
KM: It's given me more confidence because of the fans. Now that I am on my own, I feel free. It sucks that I didn't realize my power while I was on set and that I couldn't overcome the self-doubt that I had.
For a while during the airing of the show, it seemed like you were consciously not posting boy pictures, and my sense was that that was in response to fan pushback. Can you elaborate on that?
KM: I feel like I have an obligation to my fans now. I have to watch what I post because there's a lot of young kids following me now. I feel like my Instagram page at the moment is very PG and I kinda think it needs to stay that way for a minute, maybe. That was one part of it. Then the other part is, you know, I was called "the trade of the season" and maybe subconsciously I was trying to prove that I don't need to post a ton of boy pictures. I was doing drag far before I ever started working out and going to the gym and so I think I wanted people to pay more attention to my drag. And so yeah, I was avoiding boy pictures for a little while.
Success on Drag Race is often predicated on a solid story arc for a queen, often centered on personal or professional growth. What do you think your arc was this season?
KM: I think Kameron's story was her coming out of her shell and learning to love herself. My recent stories have been talking a lot about introverts and how we deal with things. There's a lot of self-doubt in that personality type and I think you see a lot of that play out on the show.
Looking back at this experience, both the filming and the airing of the episodes, what was the high and what was the low?
KM: I think the low for me was each time I lip synced I had to watch one of my sisters go home and feel partly responsible for that. I didn't make the final decision. I just stood on stage and did what I was told to do. But it was never a good feeling to watch my sisters have to pack their bags and go home and that was always the low point for me.
And then for a high point, the final four episode, filming that and realizing how much an iconic moment that was. It was a very, very long day filming that, a lot went into that episode, so in the moment I don't think I got to appreciate it so much because we were trying to make sense of everything as best as we could. But that was a great feeling, being there with Eureka, Asia and Aquaria and getting to wear our final garments that we took the to show. A lot of the girls didn't get to wear all their clothes and I got to wear every look that I brought and that's a feat unto itself.
How is the Kameron Michaels that first entered the workroom different than the Kameron Michaels I'm speaking to now?
KM: She talks a lot. She is definitely more outgoing and more confident because I have to be, not only for myself but for the fans because I feel like I am a new personality type that hasn't been seen on the show. And not seen. [Laughs] But yeah, I'm finding my confidence. I think when I walked into the workroom I was faking it. I think I was faking it and now I'm just doing it.
What's next for Kameron Michaels?
KM: A lot of touring. A lot of gigs. I'm on the Werq the World Tour and then I'm on the 10s Across the Board tour. I'll be all over the world doing that. And when I'm not doing that and have time to breathe and sit down I think people can expect some music from me about my journey on this season. It's not being released right now. We wanted to release something for the finale, but I'm a perfectionist and until it reaches the point of perfection or at least to my standards I'm not going to release it, but it's coming, it's in the process. But I'll find some time to be in the studio when I can be.
Check out Mic's exit interviews with week one's eliminated queen Vanessa Vanjie Mateo, week two's eliminated queen Kalorie Karbdashian Williams, week three's eliminated queen Yuhua Hamasaki, week four's eliminated queen Dusty Ray Bottoms, week five's eliminated queen Mayhem Miller, week six's eliminated queen Blair St. Clair, week seven's eliminated queen Monique Heart, week eight's eliminated queen The Vixen, week nine's eliminated queen Monét X Change, week ten's eliminated queen Miz Cracker and first eliminated top four finalist Asia O'Hara.