Dozens of racial justice groups join immigration protests in San Diego to "free our future"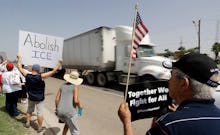 For roughly 10 weeks, immigrant rights activist Alejandra Pablos has been free from a detention center in Arizona. She was detained in March during a routine check-in with Immigration and Customs Enforcement agents, months after protesting immigration policies at a federal building in Virginia.
Pablos, who came to the U.S. with her parents as a child, had lost her legal resident status due to a drug paraphernalia charge several years ago. And although she acknowledges making a mistake, Pablos said she is like many immigrants who frequently worry about being targeted and deported.
"I know I deserve dignity and respect," Pablos said in a phone interview. "We should be able to make mistakes and move forward."
Pablos believes she hasn't been deported because her community organized and fought on her behalf. Now, she intends to take the same fight into a new wave of protests demanding humane treatment for all migrants, even if that means risking further detention. On Monday, Pablos will be among the dozens of racial and social justice groups representing Latino, black and faith communities converging on San Diego, California, where federal authorities reportedly plan to ramp up prosecutions of migrants. Organizers have dubbed the campaign Free Our Future, which includes a broader call to abolish ICE and end the Department of Justice's zero-tolerance immigration policies.
"[ICE agents] already have chains attached to me," Pablos said. "What we're trying to do is break those chains for other people."
Following several weeks of national uproar over the Trump administration's now-halted policy that separated thousands of migrant children from their parents, organizers in San Diego are drawing attention to court proceedings that criminalize and incarcerate immigrants. As long as these proceedings are carried out, there is no way to ensure that family separations and inhumane treatment end altogether, Marisa Franco, cofounder of the Latino political group Mijente, said.
"If we are horrified at the image of children being interned at our border, we must urgently address the criminal prosecutions of their families," Franco said in a phone interview. "We know that this is not the first time that our families have been separated and that our children have been taken from us. And it takes all of us to stop it."
Mijente, along with the Movement for Black Lives, the Women's March and over two dozen other groups, will hold a march from San Diego's Chicano Park to the city's downtown area. The procession will be led by a contingent of children, Franco said. Participants will also engage in civil disobedience at an unannounced location in San Diego.
Nelini Stamp, a national organizer with Working Families Party and member of Mijente, said the scale of the problem has drawn support from the Black Lives Matter movement and other non-Latino groups because criminalization and incarceration are a shared struggle. Last week, Stamp participated in protests led by United We Dream and the Women's March near the border and at a detention center in Tornillo, Texas.
Organizers said they are trying to delay or prevent the start of Operation Streamline, which is the practice of moving large numbers of migrants through arraignment and sentencing in group hearings that started in 2005. According to a Los Angeles Times report, federal immigration officials have used mass prosecutions of up to 100 migrants per day in Arizona and Texas. But it has been decades since officials in California used the expedited proceedings.
The planned events come after a tidal wave of public pressure forced President Donald Trump to end the policy separating children from their parents at the U.S. border with Mexico. On Tuesday, a lower court gave the administration a few weeks to reunite more than 2,000 children who have been separated from their families. As of Monday, the Department of Homeland Security and the Department of Health and Human Services had reunited roughly 540 children who arrived at the border unaccompanied.
But officials have yet to say how many of the families separated at the border have been reunited. In its most recent statement, HHS said the agency "knows the location of all children in its custody and is working to reunite them with their families."
Rhetoric coming from members of the Trump administration, including the president's referral to migrants as an infestation, has also enraged racial justice advocates, Stamp said.
"Fundamentally, I think it's really important that we be intersectional," Stamp said in a phone interview. "We just believe that we need to connect it all. I don't think we're going to get in a place where we can negotiate with folks who believe that we are animals."