Hawaii becomes the first state to ban sunscreens that damage coral reefs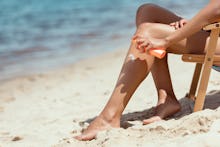 Hawaii Gov. David Ige has signed a statewide bill banning the purchase and distribution of sunscreens that damage coral reefs, making Hawaii the first state to do so.
The bill, originally proposed by state Sen. Mike Gabbard in May, will go into effect in 2021. It is specifically aimed at sunscreens that contain the chemicals oxybenzone and octinoxate, both of which help absorb UVB and UVA rays when applied to the skin. A number of sunscreens from popular brands like Banana Boat, Coppertone and Australian Gold contain either oxybenzone or octinoxate, according to a search of the Environmental Working Group's cosmetics ingredients database.
Critics argue that given the ubiquity of these chemicals, the bill will discourage beachgoers from wearing sunscreen, the Washington Post reported.
Sunscreen — which often comes off while swimming or showering — can pollute water sources. When in contact with coral reefs, these chemicals have been found to cause irreparable damage through coral bleaching, resulting in residual lightened appearance. (Coral bleaching can also be caused by pollution like pesticide runoff and sewage.)
"Worldwide, 50% of our coral reefs were lost in 2014 [and] 2015 because of coral bleaching," Gabbard said in an email. "Our state Department of Land and Natural Resources has reported that 55 gallons of sunscreen are going into or near shore waters each day on Maui. This legislation is a big step forward for the protection of our coral reefs, marine life and human health."
Craig Downs, executive director of Haereticus Environmental Laboratory, studied coral reefs in the Hawaiian islands for five years and determined the serious dangers associated with chemical contaminations in coral reefs lie in their inability to recover.
"Juvenile corals are a thousand times more sensitive to the toxic effect of these chemicals than adult [corals]," Downs said. "So what you'll see is a slow decay of coral reefs and nothing coming back."
Oxybenzone and octinoxate are also considered endocrine disruptors, which have been linked to conditions such as abnormalities in male reproductive organs, female infertility and an increased risk of cancer and autoimmune diseases. "Chinese [researchers] found that pregnant women who are exposed to oxybenzone are at a significantly higher risk of babies with Hirschsprung deformity, a deformity of the colon," Downs said.
The lack of progress in making safer sunscreen products is, in part, "being driven by the inability of the sunscreen industry, as well as the Food and Drug Administration, to bring any new sunscreen products with new active ingredients to the market," David Andrews, a senior scientist at the Environmental Working Group, said.
In fact, the FDA's standards for sunscreen products have remain unchanged since 2011, he added.
"There seems to be a number of new ingredients that can be used in place of oxybenzone that have been used for over a decades in other countries," Andrews said. "But these [sunscreen] companies haven't provided the safety testing and data required to bring them to the market."
A failure to adhere to the law won't result in fines or penalties, Gabbard said.
"There won't be 'beach police' writing out tickets; the onus is not on the tourist or citizen but on the retailers," he said. "It doesn't restrict tourists bringing in their own sunscreen products for personal use."
However, Downs emphasized the bill would still make an impact on tourists who run out of sunscreen while visiting and purchase from a local retailer.
Doris Day, a clinical associate professor of dermatology at the New York University Langone Medical Center, recommended consumers turn to mineral-only sunscreens like zinc oxide and titanium dioxide, which are rated better by the EWG.
The EWG also provides a guide that examines ingredients on product labels for more than 70,000 cosmetic products and matches those ingredients with known toxicity databases. By looking at the hazards of ingredients and products' efficacy, the guide provides tailored sunscreen recommendations for consumers.
Gabbard said he hopes the legislation brings attention to the issue of chemical-based sunscreens worldwide.
"I believe that as people become aware of the problem and solution, they'll do the right thing and use sunscreens that don't harm marine or human life," he said. "Education is the key."
Correction: July 9, 2018