White Ohio family that called 911 on black boy mowing lawn calls police on him again July 4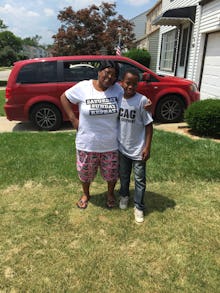 The white Maple Heights, Ohio, couple that called 911 on an adolescent black boy for mistakenly mowing part of their lawn 11 days ago called police on the same boy once again Wednesday, the Fourth of July.
Twelve-year-old Reggie Fields, CEO of Mr. Reggie's Lawn Cutting Service, was among the kids invited to an Independence Day party and barbecue hosted by Lucille Holt-Colden, the black Maple Heights mother and grandmother who initially hired Fields to mow her lawn June 23.
Holt-Colden, her family and friends were eating a holiday meal in her front and back yards Wednesday when two police cruisers pulled up. They had been summoned via the local police non-emergency phone line by Randy and Linda Krakora, Holt-Colden's white next-door neighbors, who had also called 911 on her and Reggie nearly two weeks earlier.
Members of the Krakora household, including Linda, her husband Randy, their son, daughter-in-law and two grandkids, have called police an estimated 60 times in the 18 years they've lived at their current address, according to Maple Heights Police Lt. Joe Mocsiran.
(This includes non-emergency calls for issues like getting permission to park their cars on the street instead of in their driveway to avoid getting tickets.)
"We have always been told by the police that if we feel threatened, 'Don't confront these people, just call us,'" Linda Krakora said during a recent phone interview. "We're a slightly older couple. We have a white couple in their eighties next to us. If we feel it's going to be more of an issue to go over trying to talk to somebody, for our safety, we just call the police."
The call Wednesday, police said, stemmed from Holt-Colden's kids and child guests, including Reggie, allegedly slamming into the Krakoras' fence while using a makeshift Slip 'N Slide.
"Somebody, anybody, better do something about this," an exasperated Holt-Colden said in the Facebook video she shot of the incident. "Police [are] being called because the kids are playing in water. Maple Heights Police, you ain't got nothing else better to do, do you?! Mayor, what you gon' do?! Maple Heights chief of police, what you gon' do?!"
Mocsiran said no arrests were made or citations issued for the July 4 call. However one of his officers did note in an incident report that one of the Krakora family's fence boards was damaged.
"The report says [the Slip 'N Slide] caused a board to pop off the fence," Mocsiran said over the phone Thursday. "If it's a result of playing and there's no criminal intent, then it becomes a civil matter."
The lieutenant added that the department can't punish the Krakoras for calling them excessively, as long as the family is using the non-emergency line.
"There's only a law for abuse of 911 and that's if there's no law actually broken," Mocsiran said. "If there's no laws being broken [by the Krakoras], there's nothing we can do."
Reggie and Holt-Colden appeared before the Maple Heights City Council Thursday evening, where city officials praised them for making positive contributions to the community — Reggie for being a young entrepreneur, and Holt-Colden for working with and inspiring young people, according to a city council spokesperson. Local officials even presented Reggie with a welcome packet typically given to city contractors and small business owners.
"We commended [Reggie] for being a bright spot in our community for his work," Councilwoman Sharri Thomas said over the phone Friday. "He came up there in his two or three piece suit, looking like a business man. He was definitely in his glory last night."
Reggie had never met Holt-Colden before June 23, when she saw him buying supplies at a Dollar Tree store. She hired him to mow her lawn the same day. But when Reggie, his younger brother and his two younger girl cousins — who were helping him with the job — accidentally mowed part of the Krakoras' lawn as well, Randy Krakora called 911. Fields knew nothing of the Krakoras' ongoing dispute with their neighbors, which began not long after Holt-Colden and her children moved in next door in October.
"I was nervous because I thought I was trouble," Reggie said of the police encounter during a phone interview.
Both the Holt-Coldens and the Krakoras live in Thomas' district. Thomas sent letters to both families to arrange a public mediation hearing after seeing Holt-Colden's June 23 Facebook video, which has since been viewed more than 622,000 times and drawn national media attention from the New York Times, Washington Post and CNN, among others.
"We have always been told by the police that if we feel threatened, 'Don't confront these people. Just call us.'"
But Linda Krakora said her family will not participate in any mediation with Holt-Colden, because she's angry that one of Holt-Colden's children allegedly threatened to kill Randy Krakora and the Krakoras' 18-month old grandchild over the dispute — an accusation Holt-Colden denies.
"Once you threaten to kill my grandchild, there's no coming back from that," Linda Krakora said.
The Krakoras are also angry about the negative media attention they've received since calling the police June 23, according to Linda Krakora. She wasn't home when her husband dialed 911 for the lawn mowing dispute, but says he was calling police on their neighbor, not Reggie.
"I'm sorry that the young man got scared, though I don't really think they got as scared as he says because [Reggie's cousins] were mouthing off to my husband when the police asked them to clear our driveway," Linda Krakora said over the phone Tuesday. "[Holt-Colden] is making this about race when race has nothing to do with it."
Since Holt-Colden's video went viral, Linda Krakora says she and her family have been inundated with threatening phone calls and social media posts. She blames Holt-Colden, not her husband's call to the police, for the negative attention.
"I've had three for sure threatening phone calls and lots of hang ups," Linda Krakora said. "On Saturday, some guy from Illinois kept calling. A woman from Switzerland keeps posting on my Facebook ... We have people walking past our house, taking pictures, calling us racists and stuff like that. If [Holt-Colden] wanted this to stop, she could make it stop. She's trying to milk this to get her 15 minutes of fame."
The feud between the Krakoras and Holt-Colden is far from unique. Thomas said it's emblematic of a larger problem plaguing both northeast Ohio and other parts of the nation.
The Cleveland suburb of Maple Heights has seen a major demographic shift in the last two decades, going from 51.6% white and 44.3% black in 2000 to just 23.9% white and 72.1% African American in 2017, according to the U.S. Census Bureau. It's a trend that hasn't gone unnoticed by the Krakoras.
"We've seen this community change," Linda Krakora said. "If we were racists, we would have moved out of Maple Heights a long time ago, but we didn't. We stayed."
The housing crisis, Great Recession and Cleveland's Rust Belt-era economic downturn forced many families to sell or abandon their underwater homes and move elsewhere for better job opportunities. Maple Heights was ranked in the top 1% of cities nationwide for foreclosures in 2007, according to the New York Times.
In more recent years, Thomas explained, predominantly-white millennials have gentrified much of downtown and inner-city Cleveland, driving up living costs for predominantly black locals who were then forced to move to more affordable suburbs.
The resulting demographic shift has led to tensions between black and white neighbors — like the Krakoras and Holt-Colden's family — who have suddenly been forced to reckon with each other on new and more immediate terms.
A similar gentrifying effect has taken place in Oakland, California, which went from having a 31.3% white population and a 35.7% black population in 2000 to a 38.2% white population and a 24.7% black population in 2017, according to the U.S. Census. The East Bay city is where Jennifer Schulte, known derisively on social media as "BBQ Becky," called police on black locals for using a charcoal grill in a local park.
In neighboring San Francisco, just a few weeks later, Alison "Permit Patty" Ettel, called police on an eight-year-old black girl for selling bottled water without a permit.
"This is happening all over the country," Thomas said. "[Maple Heights] is a community that was majority white and has gone through one of those serious changes where many of the white people who are left here probably can't leave. People are going to have to learn how to live together."
Linda Krakora first called police on Holt-Colden's family in November, when one of Holt-Colden's sons parked a car in his mother's back yard, nearly hitting the Krakoras' fence, according to Linda, who suspected the car was stolen.
"Why else would someone park their car in the back yard when they have a vacant driveway?" she said.
Holt-Colden said the car in question was an "old school" car that one of her sons bought and later restored.
"Why would she assume the car was stolen?" Holt-Colden said. "Because we're black? It ain't none of her business anyway. Then she wonders why people are calling them racist. Y'all are telling on y'all selves."
"I think the police in my community are smart enough to see these are innocent children mowing the lawn."
A month after the car incident, some of Holt-Colden's children were having a snowball fight in their front yard when some snowballs hit the Krakoras' windows. Linda Krakora said her husband went next door to ask Holt-Colden to tell her kids to stop, but that Holt-Colden refused, prompting him to call the police again.
Holt-Colden claimed Randy never knocked on her door that day.
"They're just lying, stop lying," she said. "Randy didn't never come to my house that day. Never, ever, ever."
Randy Krakora, who declined to be interviewed, regularly mows lawns and works odd jobs for his predominantly-black neighbors, according to his wife. In May, Holt-Colden said she hired him to mow her lawn a few weeks before his wife called police on Holt-Colden yet again. This time, it was after Linda Krakora said she heard one of Holt-Colden's sons screaming while getting spanked by his mother.
Police responded to all three calls, but arrested no one and issued no citations, according to both families. The May incident was the last straw for Holt-Colden, who refused to hire Randy Krakora to mow her lawn again.
"For calling the police on me that time, Linda's husband told me and my kids, 'My wife is such a bitch,'" Holt-Colden said. "Your husband called you a bitch, Linda! Who says that?!"
Holt-Colden said her lawn went un-mowed until she met Reggie Fields at that Dollar Tree on June 23. Linda Krakora questioned whether Reggie had good reason to fear the police who showed up at her home that day.
"I think the police in my community are smart enough to see these are innocent children mowing the lawn," she said.
Reggie Fields' mother, Brandy Marie Fields, said her son has plenty of cause to be leery of police encounters. Cleveland police shot and killed Tamir Rice, another 12-year-old black boy, after locals called police on him for waving around an air pistol in 2014. Ohio is an open-carry state.
Police in Grand Rapids, Michigan, Brandy Marie Fields recalled, held innocent black children at gun point in March 2017 after officers received reports of teens carrying a gun near a local basketball court.
"It could have went all the way left when police got involved," Brandy Marie Fields said Tuesday. "What satisfaction do you get out of calling the cops? I don't understand that."
Since the June 23 incident, Holt-Colden has started a GoFundMe page for Fields' lawn mowing business that has raised more than $48,000. Brandy Marie Fields says her son will use the money to expand his business and help pay for college.
"He's going to buy a shed and more mowers to rent out to his friends so they can mow lawns and make money like him," she said.
Brandy Marie Fields said the Krakoras should not have called police on her son because of issues they were having with Holt-Colden. She says the Krakoras themselves are responsible for the public backlash they're receiving.
"You asked for the wrong attention when you didn't handle the situation correctly," she said.
Holt-Colden, who suffers from Lupus, was at her wits' end Thursday over dealing with her neighbors. She said she's now contemplating moving.
"This ain't even about Reggie," Holt-Colden said. "Reggie got caught in the middle of something that has nothing to do with him. What about my kids? Who's going to stand up for my kids? People say don't move. Your kids ain't the one feeling like they can't do nothing at their own house."