Hong Kong now grants visas to same-sex expat couples — but doesn't recognize same-sex marriage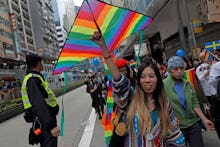 Expatriates in Hong Kong will now be able to get visas for their same-sex spouses, thanks to a new ruling from Hong Kong's top court. The decision — made on Wednesday after an appeal from a lesbian British national known as "QT" — makes Hong Kong one of Asia's most progressive regions for LGBTQ rights.
"We cannot shrug off the achievements of this win," Florence Chan, a diversity and inclusion advocate at the nonprofit organizations Community Business and Planet Ally, said in an email to Mic. "This was the first time ever that the business community in Asia stood up and spoke out in public in support of [a] lesbian expat couple fighting for their right to have a dependent-partner visa just like a married heterosexual couple."
"It brought LGBT organizations together. It raised the profile of LGBT+ inclusion for businesses [and] for the general public and it gave us all hope that we can finally achieve something for our community," Chan added.
It's certainly progress — but the bar for LGBTQ rights in East Asia still remains incredibly low. Hong Kong does not recognize same-sex marriages, despite pressure from Canada's consul general and vibrant pro-LGBTQ activism. So far, Taiwan is the only country in Asia to do so. The recent visa ruling could be interpreted as an increased tolerance to same-sex married couples, but only so long as those couples are foreign nationals.
Visas have been granted to the same-sex spouses of consular officials since 2016, but this most recent change expands the rights to all expats.
Hong Kong's high court was likely also influenced by economic incentives. Much of the economy in Hong Kong is fueled by foreigners, who made up 8.6% of the semiautonomous city's population in 2016 (more than 630,000 people). And understandably, some high-skilled workers might turn down a job in Hong Kong if they can't take their spouses with them.
According to Bloomberg, a joint statement signed by supporting law firms and banks listed that exact reasoning. "This ruling strengthens Hong Kong's ability to attract global talent and its competitiveness as Asia's pre-eminent global center for commerce," it said.
About 78% of those surveyed in Hong Kong stated that same-sex couples "should have at least some of the rights enjoyed by different-sex couples," according to a 2017 survey from the University of Hong Kong's Centre for Comparative and Public Law. About 69% of the survey's participants also were in favor of a "law to protect against sexual orientation discrimination."
Visas for same-sex married couples continues to be an issue in other East Asian countries with high expat populations. In June, the South Korean government refused to grant a marriage immigration visa to a British man who had married his Korean partner in the U.K. in 2015. Same-sex marriage likewise isn't recognized in Japan, making visas for same-sex couples nearly impossible to get.
"The government [in Hong Kong] must now follow up and end the discrimination same-sex couples face in all walks of life," Jan Wetzel, senior legal adviser at Amnesty International, said in an online statement. "It must also swiftly introduce comprehensive legislation against discrimination on the grounds of sexual orientation, gender identity or intersex status. No one should experience discrimination because of who they are, or who they love."
The next big, game-changing cause for LGBTQ advocates is a case involving a gay civil servant and immigration officer in Hong Kong named Angus Leung. Leung's husband — who he married in New Zealand in 2014 — is currently being denied the right to collect spousal benefits normally provided by Leung's job. A three-judge panel at the Court of Appeal suggested that the law guarantees benefits for heterosexual marriages — a decision that Leung is still fighting.
"We await the appeal of the negative decision at the Court of Appeal and hope the QT case judgment will help achieve a favorable decision at the Court of Final Appeal," Chan said. "We look to a future where Hong Kong has marriage equality and all the entitlements attached to this essential human right."