This 90-pound, blind "mechanical beast" can run and jump like a cheetah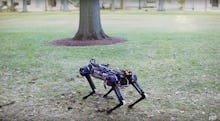 Humans of the future could someday see robotic beasts roaming the planet, like a friendlier version of Horizon Zero Dawn. Engineers at the Massachusetts Institute of Technology are making serious inroads with their robotic, 90-pound "cheetah."
The Cheetah 3 is "about the size of a full-grown Labrador," according to a recent press release. Researchers at MIT have been working on the robotic creature and its iterations for years, and now they're celebrating a new feat: The Cheetah 3 can run and jump through rough terrain, climb stairs riddled with junk and rebalance itself naturally when someone violently shoves it.
It does all of these actions blind.
"There are many unexpected behaviors the robot should be able to handle without relying too much on vision," Sangbae Kim, the robot's designer and an associate professor of mechanical engineering at MIT, said in the release. "Vision can be noisy, slightly inaccurate and sometimes not available, and if you rely too much on vision, your robot has to be very accurate in position and eventually will be slow. So we want the robot to rely more on tactile information. That way, it can handle unexpected obstacles while moving fast."
A previous version, the Cheetah 2, could run at a speed of nearly 21 feet per second (about 14.3 miles per hour). It also seamlessly jumped over the kind of obstacles you'd see at dog shows or equestrian competitions.
So far, MIT engineers have no plans to release the Cheetah into the wild like the post-apocalyptic, futuristic stories we imagine. But it could be used to complete tasks in hard-to-reach or hazardous places, taking the place of a human. "Dangerous, dirty and difficult work can be done much more safely through remotely controlled robots," Kim said.
The Cheetah 3 might be particularly useful for navigating and disassembling nuclear power plants and chemical factories that have been compromised. Kim previously stated in MIT News that it could be ready for this kind of work very soon.
"We believe the Cheetah III will be able to navigate in a power plant with radiation in two or three years," Kim said in March. "In 5 to 10 years it should be able to do more physical work like disassembling a power plant by cutting pieces and bringing them out. In 15 to 20 years, it should be able to enter a building fire and possibly save a life."