This Week in Trump-Russia News: Cohen-watch continues as Mueller beefs up investigation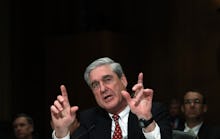 Robert Mueller has been investigating President Donald Trump's campaign connections to Russia, as well as possible obstruction of justice, for more than a year.
Now, as reports suggest he plans to wrap up all or part of his probe as early as this fall, the special counsel is looking to add resources to his investigation — a sign, perhaps, that he is planning to hand off parts of his inquiry, as he did earlier this year with a portion of the probe involving Michael Cohen.
Here's what you need to know about the latest developments out of the Mueller investigation — and about the new conditions Trump's legal team has set for a possible interview with the special counsel.
Mueller adding prosecutors as investigation beefs up
Mueller's current team consists of 17 federal prosecutors.
But, Bloomberg reported this week, he's been seeking additional resources from the Department of Justice to support his investigation and has been relying more and more on United States attorneys' offices and DOJ prosecutors as the probe has expanded — a sign, according to the outlet, "that he may be laying the groundwork to hand off parts of his investigation eventually."
There's precedent for this.
Earlier this year, Mueller passed a portion of his probe into Cohen — Trump's longtime personal lawyer and fixer — to the U.S. attorney's office for the Southern District of New York. Working under referral from the special counsel, federal authorities raided Cohen in April seeking information for a variety of possible crimes, including potential campaign finance violations related to the money he paid porn star Stormy Daniels to keep her quiet about an alleged affair she had with Trump.
Cohen hires Clinton ally
Cohen finally broke his silence about the mounting legal pressure he's been facing since the raid, seemingly distancing himself from Trump and suggesting he's open to cooperating with federal authorities against his former boss.
"My wife, my daughter and my son have my first loyalty and always will," Cohen said in an interview with George Stephanopoulos that aired on Good Morning America on Monday. "I put family and country first."
Trump's legal team has already warned him that Cohen may flip, but the president has dismissed the possibility, tweeting in April that he "[doesn't] see Michael doing that despite the horrible Witch Hunt and the dishonest media!"
Cohen has been one of Trump's most loyal allies, having famously claimed he would be willing to "take a bullet" for the president. But he is said to be feeling increasingly isolated by Trump and his team, and has reportedly indicated to those close to him that he believes his arrest to be imminent.
If Cohen were to flip, he could pose as a significant legal and political headache for the president. Cohen has fueled rumors saying he plans to cooperate with investigators in recent days. He apparently deleted a reference to Trump from his Twitter bio in the wake of the ABC News interview, and has reportedly hired an ally of former President Bill Clinton.
Giuliani issues new demands for Mueller
Meanwhile, Rudy Giuliani — the public face of Trump's legal team — has continued to adopt a gladiatorial posture against the special counsel.
He's long expressed resistance to allowing Trump interview with Mueller, and has attempted to set strict conditions on such a testimony.
Now, the former New York City mayor has outlined even more stringent conditions Mueller would have to meet to be granted an interview: he'd have to prove "he has evidence that Mr. Trump committed a crime and that his testimony is essential to completing the investigation," he told the New York Times this week.
Trump's legal team has been wary of letting him sit for a formal interview with Mueller's team, fearing the loose-lipped and loose-with-the-facts president could imperil himself legally.
Trump himself has waffled on the matter, alternating between saying that he is "looking forward" to such an interview and suggesting that he won't because he doesn't believe he'd be "treated fairly" by the special counsel's team.
Trump has long characterized the investigation as a "witch hunt" and has, in recent months, gone after Mueller directly, suggesting the special counsel is biased due to "conflicts of interest."
Senate panel says Russia backed Trump
But while Trump continues to slam the Mueller investigation — and to question the intelligence community's conclusion that Russia interfered in 2016 with the goal of getting him into the White House — a bipartisan Senate panel this week affirmed that the Kremlin did, in fact, meddle in the U.S. election to help Trump and hurt Hillary Clinton.
The Senate Intelligence Committee — which is conducting one of two active Capitol Hill Russia probes — released a summary of its initial findings on Tuesday, calling the intelligence community's assessment of the Russian election hacking "sound."
The intelligence community concluded in 2017 that "Russia's goals were to undermine public faith in the U.S. democratic process, denigrate [Hillary Clinton] and harm her electability and potential presidency." It also concluded the Russian government had "developed a clear preference" for Trump.
The committee, a bipartisan panel led by Sens. Richard Burr (R-N.C.) and Mark Warner (D-Va.), affirmed that assessment.
"After 16 months of reviewing the intelligence that went into this report we have found that the [intelligence community's] finding — that Russia interfered in the election to help Trump and to hurt Clinton — is well supported," Warner tweeted Tuesday.
The panel's conclusion stands in stark contrast to that reached by the House Intelligence Committee in March. That panel — led by Rep. Devin Nunes (R-Calif.), a close ally of the president — cast doubt on Russian President Vladimir Putin's "supposed preference for candidate Trump."
Democrats on that committee claimed Republicans "tanked" the investigation and ended it prematurely to provide political cover for Trump, who has sought to undermine the investigations with the help of Republican allies on Capitol Hill.
Jim Jordan comes under fire
One of Trump's allies in his fight against the Russia probe is now facing significant scrutiny over his response to alleged sexual abuse at the school where he was once an assistant wrestling coach.
Rep. Jim Jordan (R-Ohio), an ardent Trump supporter, has been accused of multiple former Ohio State wrestlers of ignoring sexual misconduct allegations against former team doctor Richard Strauss in the 1990s.
Strauss, who died in 2005, is said to have inappropriately touched the college athletes and leered at them while they were naked.
Jordan, who coached at the school from 1987 to 1995, was told about the inappropriate behavior but did nothing about it, several former wrestlers have said in recent days.
The Ohio Republican has denied the accusations against him, suggesting they're politically motivated, but indicated in a Fox News interview Friday that he may, in fact, have been aware of the allegations but dismissed them.
"Conversations in a locker room are a lot different than allegations of abuse or reported abuse to us," Jordan told Brett Baier on Special Report Friday.
Jordan's profile has grown over the past year as he has leveled accusations of bias against federal officials investigating Trump and called for Mueller's probe to be ended.
He has repeatedly made headlines for his heated clashes with FBI and DOJ officials in House hearings, including a recent row with Rod Rosenstein — the deputy attorney general overseeing the Russia probe.
Rosenstein and FBI Director Christopher Wray — both Trump appointees — were sitting for a hearing with the House Judiciary Committee last week when Jordan suggested Rosenstein threatened to subpoena House Intelligence Committee staffers' phone calls and emails.
"There's no way to subpoena phone calls," Rosenstein replied, eliciting audible laughter from onlookers.
Jordan has suggested that the emergence of the allegations so close to his headline-grabbing clash with Rosenstein indicates his former wrestlers are being used in a "deep state" plot against him as he mounts a possible bid to replace outgoing Rep. Paul Ryan (R-Wisc.) as House Speaker.
"It's false," Jordan told Fox News on Friday of the allegation.
Trump, too, has defended Jordan against the allegations, suggesting his accusers are lying.
"I don't believe them at all," Trump told reporters of Jordan's accusers. "I believe him."