Jemele Hill, Candace Owens and the silly myth that black people don't care about black gun violence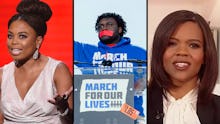 Conservative commentator Candace Owens tried to goad ESPN reporter Jemele Hill into a Twitter war Monday after Hill posted a tweet dispelling one of the most popular conservative myths about black progressives: That black activists don't protest against so-called black-on-black gun violence.
Owens is the black, conservative communications director of Turning Point USA who Kanye West tweeted support for back in April. Hill is the writer for ESPN's The Undefeated and former Sportscenter co-anchor who called the president a white supremacist in September and was temporarily suspended by her employer shortly thereafter for violating its social media guidelines in a separate incident.
Her tweets have been known to ruffle conservative feathers and Saturday she was at it again.
"But what about Chicago?" Hill tweeted mockingly Saturday morning, linking to a CNN story about a Windy City anti-gun violence protest organized by local black activists. Owens, like other conservatives, has previously lamented that Democrats and supporters of the Black Lives Matter movement often talk about police who disproportionately kill black Americans, but supposedly don't care about the hundreds of black people killed by other black people every year in cities like Chicago. (For more on why "black on black crime" isn't a thing, Mic's Aaron Morrison explains.)
Twitter user @andrewl1978 tagged Owens and Turning Point USA founder Charlie Kirk in a reply to Hill's tweet about half an hour later. Owens responded to another one of Hill's tweets on Sunday. In her tweets, Owens characterized Hill as a political prop used by Democrats playing identity politics to appeal to black voters. However, Owens has been accused by other conservatives of doing the exact same thing for supporters of the GOP. Hill declined to engage Owens over Twitter.
"I'm good luv (sic). Enjoy," she tweeted.
Owens never acknowledged the thrust of the CNN news story from Hill's initial tweet about the thousands of predominantly black and Latino Chicago demonstrators who shut down an interstate highway on a humid and sweltering Saturday while demanding an end to the city's slowly decreasing rate of gun homicides.
Rev. Michael Pfleger and Rev. Jesse Jackson, both Democrats, led the multitude of chanting protesters across the Windy City's Dan Ryan Expressway where witnesses say they were confronted by hostile state police, frustrated motorists and law enforcement helicopters hovering over head.
Longtime activist Pamela Bosley takes exception to Owens' notion that Black Lives Matter supporters only care about black lives when they're killed by police.
"That is not true at all," she said. "There are a lot of organizations that [the media] doesn't talk about that do a lot to reduce the violence in our community. The reason why we walked through our expressway is the same reason we walk through our neighborhoods every week. These youth, they want their voices to be heard. Before the Parkland shooting even took place, these youth voices were out there, but they didn't have a platform. We'd have a press conference. No press would show up. We've been walking and talking in their communities for years."
Bosley, a former banker and married mother of three, is the violence prevention manager of B.R.A.V.E. Youth Leaders, a group of anti-gun violence activists ages 14-21 whose members spoke at the March For Our Lives in Washington, D.C. Her group has also been supported by the survivors of the Marjory Stoneman Douglas high school shooting in Parkland, Florida.
Bosley left the banking industry to be a full-time activist after one of her sons, Terrell Bosley, was fatally shot while leaving church in April 2006. She and dozens of activists from the south side of Chicago have been marching and demonstrating against gun violence for years, if not decades.
Bosley was joined Saturday by Audrey Wright, 17, a senior at North Lawndale College Prep on Chicago's west side, who is also president of the anti-gun violence group NLCP Peace Warriors. She and her troop helped shut down the expressway for approximately two hours to force local commuters, city and state politicians to pay attention to their cause.
"It made me feel powerful," Wright said in an interview about the demonstration. "We're so tired of being ignored."
Wright says more than 20 of her family members have been shot in the Windy City.
"If I knew the exact number, I would tell you," she said.
Yet Wright, who wants to study law in college, said she has found time to demand political leaders do more to fix what's broken in her neighborhood while also supporting the Black Lives Matter movement against police injustice.
She's marched for accountability for the officers who killed both Laquan McDonald and Eric Garner in recent years.
"LaQuan McDonald was shot down the street from my house," Wright said. "We're not focused on one thing. Our main focus is gun violence in Chicago. The black-on-black crime, the black-on-white crime, the police violence, all that ties into gun violence. All of that ties into what we stand for. We stand for peace in our communities. We know we can't have peace if the gun violence is shooting through the roof."
Bosley and Wright say anti-gun violence activists are demanding Chicago police solve more of the murders that take place in their neighborhoods without brutalizing the locals.
The city's police solved a record low 17.5% of 650 murders in 2017, according to the Sun-Times.
Local activists also want more economic investment and jobs brought in so hopeless young people don't feel they have to turn to sell drugs or join gangs to support themselves and their families. They need more investment in local schools instead of school closings, and better funding for education programs.
"The students here have textbooks that were published during the last Bush administration," Bosley said. "Some of the schools don't even have books. There's a lot of resources and things they're asking for so we can get rid of the violence. It's not all about getting rid of guns. It's about providing resources and opportunities in our communities and that's not happening."
Neither Bosley nor Wright had even heard of Candace Owens before speaking with Mic Tuesday. They suggested she try visiting Chicago's troubled neighborhoods and debating one of the local youth about what the community needs instead of challenging Jemele Hill on Twitter.
"I don't have the time or the energy to debate someone who doesn't know what we're going through," Bosley said. "But my young people would love to debate her."