Pro Tips: Drag queens on packing for multiple cities — and the items they always carry on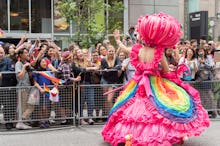 Many drag queens tour the country for weeks at a time. With several cities on a single itinerary and multiple wardrobe changes, traveling requires efficient packing and preparedness at a moment's notice.
"It all looks glamorous and put together on stage," Paige Turner, a drag queen who tours regularly, said in a phone interview. "But behind the scenes, it's organized chaos and I always need a travel checklist — which includes my inflatable pony, merchandise and lots of glitter."
From late hours to long flights, the reality for some drag queens is that schedules can be erratic and often tiresome. Mic spoke with a few queens about living out of their suitcases, packing travel essentials while on tour and the importance of having extras — in this case, wigs — in their carry-ons.
Improvise when packing fragile items
For drag queens, a number of tools are essential in maintaining garments and hair while on the road — and they're often creative methods. Pissi Myles, a drag queen who travels daily for performances, sews or uses duct tape to help repair torn clothing. To protect wigs from damage on flights, Turner typically places them within a compartmentalized cardboard box and carries them on board.
"I use an old Amazon Prime box you're supposed to give back," Turner said. "It looks like I'm carrying a dog crate."
Carefully consider carry-on items
In the event of missed flights or lost luggage, packing carry-ons with drag wear is vital for queens in emergencies.
"I always bring my wig in a carry-on," Sherry Vine, a drag queen who often travels to the U.K. for performances, said in a phone interview. "I was working on a 10-day cruise once and my suitcase didn't arrive, so I had to wear a floral shirt from the gift shop and borrow makeup from guests."
Tight schedules can sometimes mean preparing for performances ahead of time.
"I've had to paint my face in the middle of a flight," Myles said. "It was a bizarre experience for everyone, to say the least."
Give yourself time at security
With a number of props, undergarments and liquid cosmetics, security can sometimes be an issue, Myles said.
"The first time I went through Newark International Airport, they had to examine my silicone breast forms because they're water-based," Myles said. "And when I travel with them in my checked suitcase, more often than not I'll find slips of paper that say the TSA had examined your bag."
In an effort to avoid trouble, Myles often forgoes carrying on larger cosmetics.
Turner, too, has encountered her share of security issues.
"I once had a baby prop in a carry-on, and TSA thought, 'Oh my god, there's a child in her bag,'" Turner said. Rather than complain, though, she often finds the humor in these situations.
"I once brought a diamond-studded dildo that looked like a gun in my carry-on," Turner added. "I didn't get stopped, but I kind of wanted to."
"I once brought a diamond-studded dildo that looked like a gun in my carry-on. I didn't get stopped, but I kind of wanted to." — Paige Turner
Schedule some downtime for rest and relaxation
Erratic hours and long nights while touring can be an exhausting experience. For Myles, relaxed clothing and shoes are especially important.
"My feet tend to swell on planes," Myles said. "There have been times where I put on a pair of shoes and it's like trying to squeeze a watermelon through a bagel hole."
Turner emphasized the importance of routines and relaxation to combat sleep problems on the road.
"The show is my drug and I'm pretty wound up," Turner said. "I believe in transcendental meditation and taking baths when you're out of town. It calms me down."
Similarly, Shuga Cain is a triathlete who runs regularly to relax.
"I used to be the person who finished a run at 5 a.m., but now I get home at 5 a.m," Cain said in a phone interview. "You fit it in whenever you can."
Experience a new place without judgment
"I'm usually the first drag queen that people have met in person, that they haven't just seen on TV," Myles said. "You meet a lot of people who don't understand drag queens. In small towns, it's not something they experience a lot."
She added that getting to know people while traveling is especially important to drag queens. "It's important to experience the culture, see what people think of local politicians or events, because it makes it easier for me to relate to them on stage," Myles added.
Cane said meeting audiences is her favorite part of touring.
"My job allows me to take the time to talk to people and learn about them," she said. "During one performance, my wig flew off and I screamed, but the audience got a kick out of it. I like to make those connections with everyone. It means a lot to them to see us living our lives."