8 under-the-radar shows to bask in this summer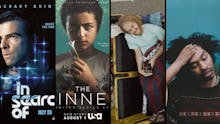 Summer's here, and the time is right for dancing in the streets — or laying out at the beach, going hiking or whatever else it is that outdoor people do. But if, like us, you're averse to heat, humidity, sand wedgies and sunburn, then it is definitely the season for setting your DVR, pumping central air and leaving the unmistakable impression of your rear end on the couch. Good thing, then, that networks — desperate as ever for a leg up amid overwhelming competition — are programming quality content year-round.
Still, even if you're already digesting The Affair or primed for Better Call Saul, there's plenty of low-key or less-established series making their debuts or returns as the dog days approach. So for those about to laze, we salute you by offering this guide to eight new and upcoming summer shows airing from now through the end of August. On balance, the lot of them may or may not measure up to cooler months' peak TV, but they sure beat reruns — or, at minimum, running around in the humidity.
Bobcat Goldthwait's Misfits & Monsters
"If you were really losing your mind, you wouldn't know you were losing your mind." That's a line from Misfits & Monsters' series premiere, which aired earlier this July, but it's probably a good mantra to bear in mind as you wade through subversive comedy auteur Bobcat Goldthwait's first fully realized, serialized TV project as creator and producer.
It's an episodic anthology (think more Tales from the Crypt than American Horror Story in terms of rubric) that's alternately outlandish — the aforementioned first installment is a part-animated fever dream — and topically satirical, a la one story that sends up the mockumentary and found-footage formats. Seth Green, Mr. Show's Jill Talley, Michael Ian Black and Anchorman's David Koechner are among the rotating cast, and Misfits is an at-times riotous statement of intent for TruTV as they get more invested in non-reality fare.
Bobcat Goldthwait's Misfits & Monsters airs on TruTV on Wednesdays at 10 p.m. Eastern.
In Search of
A cursory web search unearths countless cheapo, purported explorations of infamous myths and mysteries, be it alien life, Sasquatch sightings or good ol' Nessie. But none of those have the cachet of uber-likeable Broadway and Star Trek franchise star Zachary Quinto once again fills Leonard Nimoy's shoes for a reboot of O.G. '70s investigative series In Search of.
The caveat here is that, as with any such sci-fi vérité, if Quinto and his crew stumbled on definitive evidence that little green men are real and people can travel to and fro in time, that would have generated substantial headlines long before broadcast. As ever, the allure is watching a famous, handsome man submit himself to the possibilities that none of us will ever know it all. Plus, as the very "reimagining" (in its own words) of In Search of suggests, we all still want to believe.
In Search of premieres on History on July 20 at 10 p.m. Eastern.
Miz & Mrs. (USA, July 24)
Reality TV has finally eaten itself. Many moons ago, a young naïf from Ohio named Mike Mizanin appeared on The Real World: Back to New York, was outed as racially oblivious, atoned, ate up further screen time on spinoff Real World/Road Rules Challenge and then set about fortifying his fanciful dreams of becoming a pro wrestler dubbed The Miz. Just your standard, Midwest-knucklehead-makes-good Hollywood saga. And it worked. And The Miz, god bless him, has carved out a legitimately Hall of Fame-worthy career in WWE, while marrying fellow competitor Maryse Mizanin, the titular Mrs. to his Miz.
Their fast-approaching USA docuseries comes on the heels of the WWE's hugely successful partnerships with E! for wrestling-reality hits Total Divas and Total Bellas, but fits seamlessly into USA' Chrisley Knows Best-style family shenanigans formula. Only difference is, Mike Mizanin — who has taken acting lessons and starred in several straight-to-video flicks — and Maryse Mizanin have honed a genuine onscreen charisma together and apart. And as with Total Divas and Bellas, Miz & Mrs. serves as a kind of cheat sheet to the backstage world of pro wrestling, while dishing out the requisite potty-mouthed domestic foibles. That Maryse Mizanin happens to deliver their first baby during filming? That's just storytelling manna.
Miz & Mrs. premieres on USA on July 24, at 10 p.m. Eastern.
Swedish Dicks
This little Pop comedy that could merits a comparison to BBC America's bonkers Dirk Gently, in that both shows feature a core duo of eccentric dudes playing detective, until suddenly they're kind of actual detectives. Only Swedish Dicks, now entering season two, falls squarely in the quirky, offbeat, half-hour continuum (as opposed to Gently's grander sci-fi scope). It also rests most heavily on its two leads, Peter Stormare (as exasperated former stuntman Ingmar, clinging to his second career as a private, well, you know) and deadpan Johan Glans (as ex-DJ Axel, who goes from perp to partner after a coincidental encounter with Ingmar).
Stormare also co-created and co-writes Dicks, which gets a lot of mileage out of its playful title, and a huge boost from recurring player Keanu Reeves, who continues his unpredictable third act of toggling between John Wick sequels and oddball ensemble pop-ins (see: The Bad Batch, Neon Demon). This season continues using Ingmar and Axel's casework as a device for skewering the true strangeness of America's cultural strew. Who's weirder: the aspiring Nordic PIs or, say, the freakish street performers crazy enough to hire them to out whichever rival is pickpocketing their loot? If nothing else, check in for an over-the-top Traci Lords as the rival snob to their slobs and standout Vivian Bang (most notably of more conventional TBS sitcom Sullivan & Son) as the guys' haltingly inappropriate co-conspirator.
Swedish Dicks returns to Pop on July 26 at 10 p.m. Eastern.
The Sinner
Last year's inaugural season of this sleeper summer gem dared viewers to eschew lighter seasonal fluff and fall down a rabbit hole of dark and twisty melodrama. Season-one star and the show's executive producer, Jessica Biel, stays behind the camera for this anthology's next chapter. But surprisingly, season two continues shadowing the investigative detours of Bill Pullman's disheveled Harry Ambrose.
He's divorced, deals with kinky fetishes and happens to be a virtuous devil, but now he's up against Vera, played by ubiquitous prestige-cable Emmy nominee Carrie Coon (The Leftovers, Fargo), and a whole town withholding terrible secrets related to a troubled boy's (Elisha Henig, familiar to USA viewers from a brief but crucial role in Mr. Robot) apparent patricide/matricide combo special. Only a brief sneak peek was made available for press by publication, but it's enough to cement that The Sinner once again upends boilerplate expectations despite its superficial trappings. And judging by said sneak peek, trust us that you may steer clear of licorice tea for life.
The Sinner returns to USA on Aug. 1 at 10 p.m. Eastern.
Random Acts of Flyness
And you thought Misfits & Monsters would be the strangest selection on this list. Indie filmmaker and artist Terence Nance does it all in his stream-of-consciousness, controversial social commentary, cannily packaged as a half-hour late-night series. To wit: a segment starring a black, matriarchal grim reaper/game-show host who tricks a group of black children into a contest that — like life, as she bitingly makes clear — is rigged against them. The weight of HBO and co-production studio A24 likely helped secure top-notch guest stars including Jon Hamm and Whoopi Goldberg (along with Lakeith Stanfield, currently of similarly batty and conscientious flick Sorry to Bother You), but Flyness' darkness and sleight of hand — as well as its prevailing humor — are all Nance's own.
Random Acts of Flyness premieres on HBO on Aug. 3 at 12 a.m. Eastern.
Lodge 49
When you don't know that Wyatt Russell is Kurt Russell and Goldie Hawn's son, it's easy to say, "Oh, that's the (mostly) likeable lug from Everybody Wants Some!! and that one episode of Black Mirror." But once you make the connection, their shared, shaggy charm is absolutely unshakeable. Lodge 49 stars Russell as an aimless surfer who goes by "Dud" and, while struggling with his dad's death and an overall lack of purpose, happenstances his way into an unusual fraternal order (like a more ragtag Elks) populated by distinctly adrift souls.
Typically underutilized character actors like Brett Jennings (Shameless, Political Animals) and David Pasquesi (Veep) also get meaty screen time in a series that answers the question of what would happen if John From Cincinnati and Six Feet Under were crossbred but lightened up a bit. It's a slow burn punctuated by big laugh lines, and it has a whole lot of heart. No membership dues required.
Lodge 49 premieres on AMC on Aug. 6 at 10 p.m. Eastern.
One Dollar
Users and abstainers alike bemoan CBS deferring some of its coolest programming to paid-streaming service All Access, but then again, it certainly lends the app a mystique. And given a track record that boasts critical faves The Good Fight and Star Trek: Discovery, there's good reason to place bets on One Dollar, despite there being relatively scant detail beyond cast and premise as of publication. What we do know whets the appetite: an unsolved murder that intertwines the lives of several strangers who share little aside from the same dollar bill that has, at some point, passed through their hands (hope they have Purell).
John Carroll Lynch, who's been so good recently in SyFy's Channel Zero, FX's American Horror Story and AMC's The Walking Dead, anchors a diverse and compelling cast highlighted by soulful country-music crossover Sturgill Simpson, multi-talented Smash alumnus Leslie Odom Jr. and fresh faces such as Gracie Lawrence and Kirrilee Berger. The characters scan as a bit stock — popular daddy's girl, hardworking single dad, burnt-out homicide cop, etc. — but it'll be worth seeing whether One Dollar can stretch its catchy concept all the way through the fall.
One Dollar premieres on CBS All Access on Aug. 30.
July, 13, 2018, 2:38 p.m.: This story has been updated.