Trump set to meet Vladimir Putin Monday, days after Russian indictments in Mueller probe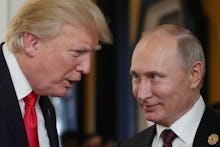 President Donald Trump is set to meet with Russian President Vladimir Putin on Monday in Helsinki in a potential one-on-one meeting, the idea of which has become even more contentious in recent days.
The summit comes just days after a grand jury indicted 12 Russian intelligence officers accused of meddling in the 2016 presidential election. The White House has claimed the indictments, handed down Friday, are proof of Trump's innocence because no Americans were charged.
Trump and Putin's meeting is set to begin at 1:00 p.m. local time Monday at the Presidential Palace in Helsinki and will be followed by a joint press conference. Approximately 2,500 Finnish protesters took to the streets Sunday to rally against both Trump and Putin's divisive political policies; according to Reuters, 16 demonstrations are expected to be held in the Finnish capital Sunday and Monday.
Friday's indictments will likely cloud the conversation surrounding the meeting, which the Los Angeles Times noted Trump arranged with no obvious agenda or set "deliverables." When asked about his goals for the summit during an interview with CBS Evening News anchor Jeff Glor on Saturday, Trump said, "I'll let you know after the meeting."
"I think it's a good thing to meet," Trump told Glor. "I do believe in meetings. I believe that having a meeting with Chairman Kim was a good thing. I think having meetings with the president of China was a very good thing. I believe it's really good. So having meetings with Russia, China, North Korea, I believe in it. Nothing bad is going to come out of it, and maybe some good will come out."
Trump also said he would ask Putin about extraditing the 12 Russians who were indicted Friday, though he noted he "hadn't thought of that" before Glor brought up the possibility.
In a Friday press conference with British Prime Minister Theresa May, Trump claimed he would ask Putin about Russia's alleged election meddling. "I will absolutely bring that up," he said. "I don't think you'll have any, 'Gee, I did it. I did it. You got me.' There won't be a Perry Mason here, I don't think, but you never know what happens, right? But I will absolutely, firmly ask the question."
In an interview Sunday on ABC's This Week, national security adviser John Bolton claimed Friday's indictments could "strengthen [Trump's] hand" in his meeting with Putin.
"It shows that the justice system, the Department of Justice, are aware of these Russian efforts in election meddling, and I think the president can put this on the table and say, 'This is a serious matter, we need to talk about it,'" Bolton said.
In addition to the indictments and the 2016 election, Trump is expected to speak with Putin about such topics as Syria, North Korea and the Russian military presence in Ukraine. CNN noted Trump is particularly interested in making progress on extending an arms control treaty between the U.S. and Russia.
Ultimately, as Bolton noted Sunday, Trump will handle the Russian election charges "as he chooses" with Putin — which is what Democratic politicians and other government officials appear to fear ahead of the Monday meeting.
Trump is going head-to-head with Putin — a former KGB officer with significant diplomatic experience — with seemingly little preparation. One former State Department official cited by the New Yorker described the meeting as "like an amateur boxer going up against Muhammad Ali."
"Frankly, one of the things I'm most worried about is we need to have other Americans in the room," Sen. Mark Warner (D-V.A.) said Sunday on CNN's State of the Union. "Vladimir Putin is a trained KGB agent, he may come in with maps of Syria or maps of Ukraine, and frankly I think he'll take advantage of this president, who we know doesn't do much prep work before these meetings."
Opponents also fear Trump's unwillingness to take Russia's alleged interference in the 2016 election seriously will weaken potential discussion of Friday's indictments. An unnamed source cited by Axios on Sunday claimed Trump believes the Russians did meddle in the election, but refuses to "give in to anything that could give the impression that the election outcome resulted from anything besides his skill and success as a candidate."
In an interview Sunday on CNN, Rep. Adam Schiff (D-Calif.) noted that "none of us have any expectation that he's going to do anything more than ask Putin" about the allegations.
"We don't need to ask Putin whether or not he did it. We know that he did it, and merely by phrasing it as a question, I think, betrays the confidence that the president of the United States ought to have in his own intelligence agencies," Schiff said Sunday.
Sen. Chris Murphy (D-Conn.) echoed this sentiment; in an interview Sunday on ABC following Bolton's appearance, Murphy said he would "like to know the name of the president John Bolton thinks he works for, because he's not describing Donald Trump."
"What we have been told by the intelligence services in this country is that the Russians are trying again to interfere in the 2018 election, and what I believe is that President Trump knows, ultimately, that this could be to his benefit, to his party's benefit," Murphy continued. "He is simply not going to raise this issue strongly, if at all, with Putin, which is why many of us believe this summit should stand down."