South Korea beyond Seoul: 5 must-visit places for green tea, bamboo forests and more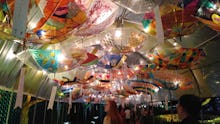 Millions of tourists have flocked to South Korea in recent years. About 13.2 million people visited the country in 2015 — more than double the number of visitors just a decade earlier, in 2005.
The influx can, at least in part, be chalked up to country's growing cultural influence — the "Korean wave," also known as "hallyu." K-pop group BTS has danced its way through the Billboard Music Awards and on The Ellen DeGeneres Show, Korean skincare products are still seeing a "K-beauty boom" and Americans are developing a taste for Korea's spicy, pickled cuisine. And of course, the 2018 Winter Olympics reminded the world of what Seoul has to offer.
Seoul is no doubt the country's biggest attraction. As South Korea's largest city, it has much to offer: Cutting-edge transit, a vibrant art scene, high-tech virtual reality cafes and all-you-can-eat barbecue houses are just a few of its pleasures. It's a city characterized by its breathtaking mountain hikes and the ancient architecture standing right up against massive skyscrapers.
But beyond the capital, about half of South Korea's population lives in smaller cities and countryside regions that are just as vibrant and interesting. So next time you're in South Korea, head outside Seoul to see the destinations that are lesser known, but just as exciting.
Jinju: A lantern festival along an ancient fortress
A small city near the southern tip of South Korea, Jinju was the site of two deadly Japanese invasions in the 1500s — and as a result, it lives on today as a historic symbol of the Korean peninsula's struggle for sovereignty. The city's most famous site is the more-than-600-year-old Jinjuseong Fortress, which sits on the bank of a the Namgang river. This is where a 19-year-old female entertainer named Nongae sacrificed herself to kill an occupying Japanese general. As the story goes, Nongae lured the general to the edges of a cliff, wrapped her arms around him and then plunged downward to both of their deaths. Now honored for her courage and her place in history as a strong female figure, Nongae's birthplace, north of Jinju, has become a popular tourist attraction.
These days, happier memories are made within the stone walls of the Jinjuseong Fortress. Every October, the castle and its surrounding waters are transformed for the Jinju Namgang Yudeung Lantern Festival. Expect thousands of handmade lanterns glowing through an ancient landscape, with trees and blooming flowers and street-food stalls lining a long walking path. Some lanterns are small and uniform, but others stand taller than humans — like statues — or float like boats along the Namgang River.
The lanterns demonstrate an incredible amount of craftsmanship. Long tunnels exhibit those made by school children in the area — you'll see a lot of Pikachus and Totoros — while professionally made lanterns often depict historical scenes. Some even get quite psychedelic, like a top hat-wearing tiger smoking a pipe (a photo-op favorite at the 2017 festival).
The city also attracts tourists during its National Bullfighting Contest in the spring and fall. Unlike the Spanish bullfights, the fight ends when one bull turns over their tail. (Animal rights activists still take issue with the event, however, as bulls are sometimes injured.)
For the rest of the calendar year, the city still has plenty of character and local cuisine. Try the locally sourced eel (pronounced min-mool jang-uh) or the city's spicier version of a the pa-jeon scallion pancake (called ji-jim-ee).
From Seoul, the fastest way to Jinju is by plane (approximately one hour), but cars, trains and buses will bring passengers from the capital city in about 3 1/2 hours.
Boseong: Green tea everything
Have you ever tasted fresh green tea ice cream, made right from the tea fields?
That's a possibility at the Boseong Green Tea Plantation, a 1,230-acre landscape of rolling hills and bright green, pillowy rows of tea leaves. Visitors can take a short hike around the plantation (the longest course is about an hour), or find a spot to simply enjoy the sights and the wafts of tea in the air. There are several shops within the plantation that sell green tea ice cream, frappes and other tea-related drinks, as well — and restaurants that serve green tea mandu (dumplings) and green tea bibimbap (rice mixed with seasoned vegetables).
While the fields are open nearly year-round, visitors are most likely to show up for the Boseong Green Tea Festival every May. The tea is ripe and vibrant then, and guests can meander from booth to booth to try their hand at tea cup painting or candle making. Live folk music and stalls selling traditional Korean fare is also usually available during the festival, along with spots to camp out and picnic.
Damyang: Wild bamboo forests
Those who go to Boseong's green tea plantations can also reach the Juknokwon bamboo forest in Damyang on the same day by bus, or split the trip across two days. Laden with soft waterfalls and Instagram-worthy panda statues, Juknokwon is a quaint mixture of manicured walking paths and deep swaths of undisturbed forest. Visitors can be seen eating cups of bamboo ice cream or drinking bamboo milkshakes from street stalls in the area — a cool treat to finish off the hour-long loop beneath the trees.
From Seoul, visitors can travel to Boseong and Damyang by bus, airplane or train. The route to either attraction, however, isn't exactly direct — many visitors take a bus, train or plane to Gwangju, then connect to Boseong or Damyang by bus or taxi.
Jeju: Blue seas, flower festivals and roaring waterfalls
Here's a fun fact: The path between Seoul's Gimpo International Airport and Jeju Island is the most-flown route in the world.
Anyone who has been to Jeju Island likely understands why: It's the exciting site of countless honeymoons, iconic K-drama scenes, seafood indulgences and year-round flower festivals. The island can be an ideal place to handpick the area's yuja fruit — which tastes like a crossover between an orange, grapefruit and a lemon — or a racy place to pose with giant penis statues at Jeju Loveland. Frankly, Jeju Island is whatever you want it to be.
Every spring, tourists visit Jeju with their selfie sticks in hand to take photos in several of the island's vast flower fields. In April, a parade runs through the island during the annual Canola Flower Festival, and zealous hikers trek around Hallasan mountain to see the pink azaleas in bloom. Sanghyowon Botanical Garden holds festivals throughout the year to show off its collection of blooming foliage, including tulips, zinnias, lupines and marigolds.
Jeju is lush with volcanic caves and natural waterfalls like Cheonjiyeon or Jeongbang, as well. But in the summer, most travelers come to the island for its vast beaches with bright blue waters. Many of the resorts are located on the southern edge of the island in Seogwipo, where rows of seafood restaurants also reside. Try an assortment of South Korea's sashimi — pronounced "hwe" in Korean, and often Romanized as "hoe" — or a wriggling dish of sannakji (live octopus). It doesn't get fresher than that.
The best way to get to Jeju is by plane — the flight is usually just under an hour from Seoul, according to SkyScanner. Ferries are also available from various ports around the country. Jeju Island does have a robust bus system, but some opt for a car rental because intervals between buses can be long.
Jeonju: Traditional villages serving up next-level cuisine
A look into the distant horizon will reveal that Jeonju is a city, but tucked inside of it is one of South Korea's most famous "hanok villages" — a conglomeration of roughly 800 traditional Korean homes. Some families still live in the village, though it has largely gone commercial with trendy cafes, restaurants and stores selling traditional Korean fare. Hanbok rental businesses are among some of the most popular storefronts in the area — for around $10, Koreans and tourists alike can rent traditional garb and walk around in it against a backdrop of the village hanoks.
Jeonju Hanok Village is the perfect place to find some of Korea's best street food, including hot, sugar-filled doughnuts called hotteok and long skewers of grilled cheese or spicy chicken. Jeonju is often referred to as South Korea's cuisine capital, with its mixed-rice bibimbap and marinated meat tteok galbi dishes frequently attracting foodies.
Jeonju is also a great place to try South Korea's traditional rice wine, called makgeolli. Milky and with a fizzy consistency somewhat comparable to a beer, makgeolli is most famous in Jeonju because it comes with an array of free side dishes called banchan. (You'll have to order it separately in other cities like Seoul.)
Tourists can travel to Jeonju by bus or train from Seoul, which can range from 1 1/2 to 3 1/2 hours.
Aug. 13, 2018, 11:36 a.m: This story has been updated.