Black gun rights advocates criticize FBI's, NRA's response to Rakem Balogun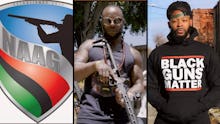 Two of the nation's leading black gun rights advocacy groups are up in arms about what the FBI and the Trump administration have done to Rakem Balogun, a Texas community organizer whose support for a man who killed police officers made him an FBI target — and landed him in jail.
"They on some bullshit," Maj Toure, leader of the black gun education and awareness group Black Guns Matter, said of the FBI during a recent phone interview. "I support [Balogun's] First Amendment right, his human right of self-expression, and I support his Second Amendment right to self-defense just like anyone else."
Balogun, whose legal name is Christopher Daniels, is a black U.S. Marine veteran, information technology professional and active gun user who, in 2008, founded a black political organization and firearms tactical group called Guerilla Mainframe to defend the residents of his community in Dallas.
In December, the FBI raided Balogun's home as he and his teenage son slept, seizing his guns before accusing him of being a potential domestic terrorist for previous Facebook posts he made praising Micah Xavier Johnson. Johnson is the black Dallas mass shooter who shot and killed five police officers during a Black Lives Matter demonstration in July 2016 after the week-long string of high-profile, police-involved shootings that killed Alton Sterling, Delrawn Small and Philando Castile.
Johnson's killing spree inspired the FBI to target so-called black identity extremists, individuals who resent and commit acts of violence against law enforcement officers as payback for acts of police brutality inflicted on black Americans. The FBI's BIE designation became public knowledge in October after Foreign Policy obtained and published a leaked FBI memo that was written in August.
Balogun spent five months in prison after his arrest in December. During his time incarcerated, Balogun lost his job. Some of his firearms that were seized by the FBI still haven't been returned to him, even though a judge ruled the federal government had no justifiable basis to detain him.
On the first episode of Mic's Facebook Watch show Mic Dispatch, Balogun told correspondent Aaron Morrison that he doesn't advocate for people going out and killing police officers.
"I wouldn't advocate that unless it's for reasonable self-defense," Balogun said. "I do have the First Amendment right to express my opinion. I have the First Amendment right to support someone who has possibly killed somebody. And I have the First Amendment right to not empathize with the death [of police officers] just like everybody else in this country do."
After watching the Mic Dispatch episode, leaders of the National African-American Gun Association said they are considering ways to intervene and advocate on Balogun's behalf. NAAGA is the network of an estimated 28,000 black gun owners founded in February 2015. The group's membership surged in 2016 around the election of Donald Trump, when hate crimes and overt displays of white supremacy skyrocketed across the nation. Practicing attorneys in the group have previously helped other gun owners navigate court cases.
Balogun already has an attorney and has not filed a lawsuit against the federal government, but NAAGA vice president Douglas Jefferson said his organization wants to help Balogun in any way it can.
"The legal aid, that would be the most beneficial to him and his family," Jefferson said. "Anything else we can do, statements to the public ... we'll just lay out that this is where we stand as an organization when it comes to him."
Maj Toure of Black Guns Matter also watched Balogun's story on Mic Dispatch and was disturbed by what he saw.
"[Balogun] is talking about advocating for his community," Toure said. "That's an American citizen. What's the problem? I know [a lot] of white dudes that will agree with me."
Despite the FBI's probe and arrest of Balogun, his self-defense group has not engaged in any overt acts of violence. Yet the Trump administration has not only tolerated white men engaged in militia-involved legal battles with the federal government, it has pardoned them.
Toure contrasted Balogun's case with that of Clive Bundy's family. In May 2014, the Bundys and several other cattle ranchers led an armed standoff against the U.S. Bureau of Land Management in rural Oregon after a dispute over cattle grazing fees. A federal judge dismissed charges against Bundy and his sons in January due to severe "government missteps" in withholding evidence in the case, according to the New York Times.
Toure also blasted the National Rifle Association for not publicly commenting on the Balogun case even though it raises Second Amendment issues central to the organization's mission. Mic reached out to the NRA multiple times for comment Monday, Tuesday and Wednesday.
"If [the NRA] does know about this guy and they're not saying nothing, that's bullshit, period," Toure said.
Texas A&M philosophy professor Tommy Curry, author of The Man-Not: Race, Class, Genre and the Dilemmas of Black Manhood said cases like Balogun's are part of a long history of black Americans being denied their Second Amendment rights. He said the NRA has never really supported gun rights when black men are involved.
"It tells us exactly what the NRA has historically been about — which is the ability for white Americans to own guns and prevent gun ownership for black Americans, to protect white Americans from threats that they saw coming from immigrants, blacks or any other group they thought would threaten their republic or the culture of America," Curry said in a phone interview.
The NRA certainly has a history of not standing up for black Americans' Second Amendment rights when they're infringed upon by law enforcement.
The organization said nothing in 2014 when John Crawford, who was holding a pellet gun he picked up while gun shopping inside a Walmart, was fatally shot by police in Beavercreek, Ohio. Later the same year, the NRA remained silent when 12-year-old Tamir Rice was gunned down by officers in Cleveland, Ohio, for wielding what turned out to be another pellet gun in a public park. The shooting was ruled justified even though Ohio is an open carry state. In July 2016, licensed gun carrier Philando Castile was shot within seconds after telling officer Jeronimo Yanez he was legally armed during a traffic stop that was broadcast on Facebook Live.
More recently, the NRA also failed to issue any statements after U.S. Navy veteran Jason Washington was fatally shot by police on June 29. Washington, who was black, was breaking up a fight in Portland, Oregon when the handgun he was licensed to carry fell out of his pocket. When Washington went to pick it up, officers at the scene opened fire and killed him.
The NRA has, however, stood up for the gun rights of black gun owners when their cases intersect with the organization's political goals, which include eliminating government-regulated gun free zones and expanding concealed carry freedoms in restrictive territories.
In 2008, the group helped Otis McDonald, a retired black custodian living in Chicago, successfully sue city government for denying him the right to purchase and own a registered handgun. The U.S. Supreme Court ultimately ruled in favor of McDonald and his co-plaintiffs in 2010.
Curry and other Second Amendment proponents have long contended that gun control laws often implemented in cities with large black populations were intended to prevent black men from owning guns.
When the Black Panthers started exercising their open carry rights in Oakland, California, during the 1960s, for example, state lawmakers and then-Gov. Ronald Reagan eventually passed the Mulford Act banning open carry of such weapons, a gun-control law that had the full support of the NRA.
Curry said the Trump administration is doing to Balogun today what FBI Director J. Edgar Hoover and COINTELPRO did to the Black Panthers and other black advocacy groups during the 1960s and '70s.
"For black people, there's no distinction between revolutionary violence and self-defense," Curry said. "As a black male who says that black people have a right to defend themselves, that automatically becomes, 'You want to kill white people.'"