Officer who killed Eric Garner will face NYPD disciplinary trial if DOJ fails to charge him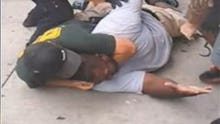 The New York City police officer who choked Eric Garner to death in July 2014 will face an internal police disciplinary trial for the incident unless the U.S. Department of Justice decides by Sept. 1 to charge him with a crime.
Tuesday marks four years to the day since Officer Daniel Pantaleo, and other NYPD officers, wrestled the 43-year-old black Staten Island man to the ground and placed him in a fatal chokehold. Pantaleo remains employed by the department and has received annual, union-required raises since being forced to surrender his badge and gun in 2014. Pantaleo earned almost $120,000 in salary and overtime in 2016.
In a letter sent Monday to DOJ Deputy Chief Paige Fitzgerald — which was later provided to Mic — NYPD Deputy Commissioner Lawrence Byrne indicated the public is tired of waiting for federal prosecutors to decide whether to pursue civil rights charges against Pantaleo.
"Members of the public in general and the Garner family in particular have grown impatient with the fact that the NYPD has not proceeded with our disciplinary proceedings," Byrne wrote, "and they have difficulty comprehending a decision to defer to a federal criminal investigation that seems to have no end in sight."
Garner was breaking up a fight outside a Bay Street convenience store in the New York City borough of Staten Island on July 17, 2014, when he was confronted by Pantaleo and other NYPD officers, who suspected Garner was selling loose cigarettes. Pantaleo used a banned chokehold to subdue Garner, who repeatedly told the officers, "I can't breathe." A city coroner ruled Garner's death a homicide caused by asphyxiation.
In December 2014, a Staten Island grand jury declined to indict Pantaleo for the homicide, sparking outrage and protests across the U.S. The non-indictment was also a pivotal moment in the budding Black Lives Matter movement.
New York City local Ramsay Orta recorded the incident with his cell phone camera. The video has been viewed millions of times around the world. Orta later sued the NYPD for allegedly targeting him for arrest for filming the video. NYPD officers arrested Orta and charged him with weapons and drug possession in August 2014, but later dropped the charges. He is now serving a prison sentence on an unrelated gun charge, making him the only person associated with the Garner case that has served any jail time since.
The lone officer disciplined for Garner's highly publicized death was black female Sgt. Kizzy Adonis, who was in command and at the scene when Garner was killed, but never laid a hand on the late father of four. Erica Garner, one of Eric Garner's four children, became a Black Lives Matter activist after her father's homicide. She died after a major heart attack in December.