Eric Garner's mother slams NYPD "political posturing" on four-year anniversary of her son's death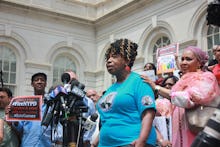 NEW YORK CITY — Gwen Carr received neither a phone call nor official notification Monday alerting her that the New York City Police Department plans to launch a disciplinary trial against one of the officers who killed her son Eric Garner.
"Yesterday afternoon was when I first heard about [it]," Carr told reporters during a press conference Tuesday at City Hall in Manhattan. "My daughter told me she got a call from [New York City Mayor Bill de Blasio's] office."
NYPD Deputy Commissioner Lawrence Byrne sent a letter Monday to DOJ Deputy Chief Paige Fitzgerald saying that the NYPD could no longer justify delaying potential punishment for Daniel Pantaleo, the officer who used a banned chokehold against the black 43-year-old Staten Island man on July 17, 2014.
The letter gave the DOJ until Sept. 1 to decide whether to file civil rights charges against Pantaleo — otherwise, the NYPD will proceed with its own trial.
"Members of the public in general and the Garner family in particular have grown impatient with the fact that the NYPD has not proceeded with our disciplinary proceedings," Byrne wrote.
Tuesday marks the four-year anniversary of Garner's killing, which sparked nationwide protests and galvanized the emerging Black Lives Matter movement.
Carr dismissed Byrne's letter as "political posturing," saying the city has had 1,460 days to discipline Pantaleo on its own and doesn't have to wait until September.
"September is too long to wait," Carr said Tuesday, noting that her birthday takes place during that same month. "It's been four years and my family has not seen any responsibility taken by De Blasio or the police for misconduct. All those officers that day, they need to stand accountable for what they did to my son."
In an emailed statement to Mic, the Justice Department said the NYPD can do what it wants in regards to Pantaleo.
"Mr. Byrne's letter does not have any bearing on the decision-making timeline at the Justice Department," DOJ spokesperson Kelly Laco wrote. "The Department cannot comment further at this time."
Eric Garner was breaking up a fight outside a Bay Street hair supply store four summers ago when he was confronted by Pantaleo and other NYPD officers, who erroneously suspected the father of five of selling loose cigarettes.
Pantaleo jumped on Garner's back and wrapped his arm around Garner's throat while trying to arrest him. Garner told the officers 11 times, "I can't breathe," before losing consciousness and dying on the sidewalk. A city coroner ruled his death a homicide caused by asphyxiation.
Pantaleo has remained on the job nonetheless, serving desk duty and receiving union-required annual pay raises since being forced to surrender his gun and badge in August 2014. In December 2014, a Staten Island grand jury declined to indict Pantaleo for killing Garner, sparking outrage and demonstrations across the country.
Several New York City politicians who joined Carr Tuesday at City Hall placed blame on both Republicans and Democrats for the lack of accountability in the Garner case. Public Advocate Letitia James said any hope of intervention from the U.S. Justice Department went away when Donald Trump was elected president.
"When this president took over, the Department of Justice closed its doors," she said. "We all know that."
But city councilman Jumaane Williams noted that the DOJ under President Barack Obama had more than two years to bring civil rights charges against Pantaleo as well. The same is true of New York, which is run by Democrats, Williams said.
"We keep talking about the Republicans and Trump," Williams told reporters. "These [city officials] ain't Republicans and this [mayor] ain't Trump. We are talking about Democrats who were elected ... We need people who are going to make the changes when they're in power."
Carr was flanked Tuesday by Hawa Bah, mother of the late Mohamed Bah, who was fatally shot by New York police in 2012, and Eric Vassell, father of the late Saheed Vassell, who was fatally shot by New York police in April. Also present was Victor Demsey, brother of the late Delrawn Small, who was killed by off-duty NYPD Officer Wayne Isaacs on July 4, 2016. All three shooting victims were black men.
Only one person associated with the Garner case has served any jail time as a result: Staten Island resident Ramsay Orta, who recorded Garner's death with his cellphone camera and shared it with the New York Daily News. Orta later sued the NYPD for allegedly targeting him for arrest for filming the video. He was booked and charged with weapons and drug possession in August 2014, but the charges were later dropped. Orta is now serving a prison sentence for an unrelated gun conviction.
The lone police officer disciplined for Garner's death was Sergeant Kizzy Adonis, the black woman who was in command at the scene when Garner was killed. Erica Garner, one of Eric's five children, became a Black Lives Matter activist after her father's death. She died after a major heart attack in December.
Carr, Garner's mother, said she'd be open to speaking with de Blasio's administration about the case if the mayor was genuinely interested in meeting.
"I would if they'd let me in," Carr said. "They know I'm here."