Trump points to Google's $5 billion fine from Europe as proof that the US and EU are foes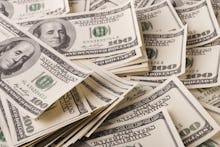 President Donald Trump is using the European Commission's record-setting $5 billion fine against Google as proof that the United States and European Union aren't allies. On Thursday morning, he tweeted that the EU is taking "advantage of the U.S."
The European Commission's fine against Google is in relation to antitrust issues. The commission argued that Google is using Android "to cement the dominance of its search engine," Margrethe Vestager, the commissioner in charge of competition policy, said in a press release.
To Trump, the move backs up comments he made in an interview with CBS Evening News. When asked who he thinks is the country's biggest foe at the moment, Trump named the European Union, regarding how they treat the U.S. in trade.
In response to Trump's comments, Donald Tusk, president of the European Council, noted that the U.S. and EU are "best friends." Later, Frans Timmermans, first vice president of the European Commission, responded to Trump's statements days before the commission fined Google. "Europeans will never give up on America because America never gave up on us," Timmermans said in a tweet. "That's what friends are for."
Europe has a long history of calling out tech companies for not putting their users' privacy first. In May, Europe passed the General Data Protections Regulation, requiring all tech companies who store data on their users to be transparent about what they're storing and allow users to download their data whenever they want.
A spotlight was put on tech companies' relationship to privacy when it was discovered that Facebook allowed Cambridge Analytica to access a wide swath of user data. Facebook received a fine of $664,000 from the U.K., which is the maximum amount allowed. Meanwhile Facebook saw no punishment stateside.
U.S. lawmakers continue to encounter roadblocks when attempting to keep users' data safe. Rep. Bobby Rush, Rep. Jerry McNerney and Sen. Amy Klobuchar have introduced bills to improve privacy and security laws, but to no avail.