It's true — white mass shooters get more sympathy from news media, study says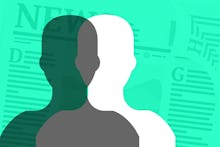 Both cases are dark and disturbing: In 2014, a Utah police officer named Josh Boren shot and killed his wife, their two children and his mother-in-law before fatally turning the gun on himself. The following year, a man named David Ray Conley killed his girlfriend, son and six others with a gun.
Boren and Conley both qualify as mass shooters, typically defined as those who injure or kill at least four individuals other than themselves. Yet despite their similar crimes, local and national news media treated them differently.
That's probably because Boren was white and Conley is black, researchers say.
"We were kind of stunned by what we found, especially during that comparison between Conley and Boren," Scott Duxbury, lead author of a recent study on race and mass shootings and a doctoral student in sociology at Ohio State University, said in an interview. "Boren had this dark history of perpetrating violence against his wife, and then you had positive references of him being a 'giant teddy bear.'"
Duxbury and his colleagues analyzed 433 news articles about 219 mass shootings that occurred between Jan. 1, 2013, and Dec. 31, 2015. Their methods were both statistical and qualitative, meaning human eyes combed through the news coverage along with computer models.
"Our main purpose was to see how much this was actually prevalent," Duxbury said. "How frequently does media coverage refer to white people as mentally ill, versus people of color. We wanted to uncover what is actually being said about perpetrators when they're being called mentally ill, too."
The disparity was huge: White mass shooters were 95% more likely to be portrayed as "mentally ill" than black shooters. This means white shooters were more likely to be at least partially absolved of blame.
Further, "when shooters were framed in the media as mentally ill, 78% of white attackers were described as being victims of society ... versus only 17% of black shooters," according to a news release about the study.
By mentioning white perpetrators' supposed high-stress lifestyles, lack of friends or traumatic life events, news articles implied they were good men whose violent acts were seemingly "out of character." Duxbury and his colleagues also looked for specific descriptions of the shooters in news articles, such as whether or not they were from a "good environment," meaning family or community.
Nearly 28% of all stories examined included testimonies of the perpetrator's "good character" — for example, one article said Boren was referred to as a "teddy bear" at work. But the overwhelming majority of those details were about white shooters, and none of the articles ever described a black shooter as coming from a good environment.
"Usually, when you see these really egregious types of crimes and you have a person of color as a perpetrator, you have really strong criminalization, condemnation from a high-profile figure or speculation that there might be a gang problem, that they're a person of perpetual crime," Duxbury said. "But when a white person was called mentally ill in the coverage, we didn't see any of that. It kind of gets refocused toward the illness and the shooter is actually treated as if he were a victim himself."
Latino shooters weren't given the benefit of the doubt as often as white shooters, either. But they were still 92% more likely to be framed as mentally ill than black shooters. For other demographic groups, data was "literally too small to analyze," Duxbury said. Nevertheless, the study's data does not imply certain racial groups commit mass shootings more than others.
The definition of mass shootings varies depending on the source, and the study's sample is limited to those mentioned in online or print news articles published from 2013 through 2015 — television and video were not included in the study. In other words, the research does not encompass all mass shootings in that time period.
About 57% of the shooters in the study were black, while nearly 24.5% were white and 10.4% were Latino. Even so, "white shooters get the most media coverage," Duxbury said.
"I think, with a study like this, it's easy to blame the media for not covering mass shootings in a different way," he added. "But I think the broader takeaway really is that this kind of coverage works because it resonates with an audience."