Eric Garner's mother reacts to NYPD decision to pursue disciplinary trial against her son's killers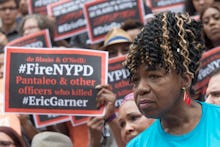 The New York Police Department announced Thursday it will move forward immediately with its own disciplinary proceedings against two of the officers involved in Eric Garner's chokehold death in July 2014.
Garner's mother, Gwen Carr, said she wants the department to proceed "expeditiously" after more than four years with no clear accountability for the death of her son.
"We have just been left hanging — and we got the sense that nothing was happening," Carr said in an emailed statement to Mic. "We want all six police officers involved in my son's murder to be held accountable."
On Monday, NYPD Deputy Commissioner Lawrence Byrne sent a letter to the U.S. Department of Justice with an ultimatum and a Sept. 1 deadline for the DOJ to announce whether it will file civil rights charges against Officer Daniel Pantaleo for choking Garner to death on July 17, 2014.
Pantaleo was forced to surrender his gun and badge in July 2014, but has remained on the NYPD's payroll and received annual pay raises despite being relegated to desk duty.
After four years without federal action, the DOJ under Attorney General Jeff Sessions once again refused to give a timeline on its Garner investigation. Wall Street Journal reporter Zolan Kanno-Youngs broke the news Thursday morning that the NYPD is done waiting.
"NYPD confirms they will move forward with a disciplinary trial of [Pantaleo]," Kanno-Youngs wrote.
An NYPD spokesman confirmed to Mic via email that the department will immediately begin disciplinary proceedings against both Pantaleo and Sergeant Kizzy Adonis, a black woman officer who was in command and at the scene when Garner was killed. 
The NYPD disciplinary procedures are set to begin within days, according to a department spokesperson.
A legal representative from the New York City's Civilian Complaint Review Board will prosecute the case against Pantaleo after recommending charges against him back in September 2017. The CCRB is an independent city agency that investigates and recommends action regarding misconduct complaints against New York City police officers.
An NYPD advocate attorney will lead the case against Adonis, the spokesperson confirmed. The department advocate's office is responsible for preparing disciplinary cases for prosecution against NYPD officers.
The NYPD previously acknowledged misconduct by Adonis in the Garner killing for failing to control the scene. But the department did not officially find Pantaleo guilty of any wrongdoing, even though he was the one who used a banned chokehold on Garner and Adonis never laid a hand on the victim.
New York City Mayor Bill de Blasio has been criticized for not forcing his police department to fire Pantaleo sooner. The mayor defended his position Monday, saying the city was waiting on the DOJ to decide what it would do first.
"I don't know why the Justice Department didn't make a decision up or down a long time ago," the mayor told Inside City Hall host Errol Louis on NY1, according to Politico. "The Justice Department was abundantly clear ... that they did not want the internal process for the NYPD to go forward when they're in the middle of their investigation."
Rev. Al Sharpton, who has been advocating for Carr and her family since Garner was killed, said Donald Trump and Jeff Session's DOJ have been "shamefully slow" to pursue justice in the Garner case.
"Six NYPD police officers have remained on the city's payroll for a whole four years after brutally killing Eric," Sharpton said in an emailed statement. "We, at [the National Action Network] have stood with Eric's family from the beginning — and fully support the NYPD in their decision to move forward immediately with disciplinary action, which we hope will finally bring justice to the perpetrators and closure for the family."