In Oakland's most exciting restaurants, incredible food and social activism go hand in hand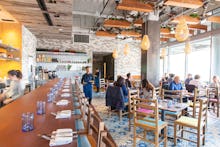 In 1966, Oakland, California, became the birthplace of one of the most influential activist organizations in American history — the Black Panthers. They rallied against police brutality and food insecurity, making the city a locus for social justice.
Half a century later, the spirit of activism is flourishing in Oakland's dining culture. You'll find it at the recently opened Dyafa, where refugees make the ever-popular samaka harra, a fiery, crisp whole-roasted fish freshened up with tahini and lemon; and in the sheer diversity in the dining room at Brown Sugar Kitchen, which perennially smells of freshly fried chicken and sweet cornmeal waffles.
Once seen as a mere afterthought to San Francisco in terms of restaurants, Oakland has taken on a distinct, powerhouse culinary identity of its own: one that blends a legacy of activism with a multifarious set of chefs who are on a mission to break boundaries, both socially and in the kitchen.
Oakland has long been one of the most diverse cities in the country by class, race and economics. That's why you'll find such an array of cuisines in the city, from the soul food at Brown Sugar Kitchen to the jerk chicken at the Jamaican spot, Kingston 11, to the bright Cali-Mexican fare at Cosecha.
"When you have all these artists, activists, chefs, really racially and economically diverse people driven by change, with an attitude of 'We can fucking do it ourselves'," said Preeti Mistry, the chef and co-owner of the recently-closed Navi Kitchen, "that's the type of environment that creates great restaurants."
Oakland's restaurants are also the type of environment where activism comes naturally — particularly in today's political climate.
"Being a woman, and being black, it is what it is," said Tanya Holland, the owner of Brown Sugar Kitchen. Holland, who appeared on the latest season of Top Chef, recently turned the original location into a test kitchen, and is expanding the restaurant to uptown Oakland this September. "I have to lead by example," she said. As a young restaurateur, she remembered being denied funding, "and then the opportunity I was looking for was offered to a white male with half the credentials. I didn't find mentors that I wanted, so I have to create opportunities for people who wouldn't get them. That's why I am doing all this."
"On any given day, you can look around and see every population represented here," she added. "I hire diversely. Everyone is welcome here. It's quiet activism."
This quiet activism is similarly present at CDP, a new restaurant and cocktail lounge from the Laotian-American chef James Syhabout that's attached to his Michelin-starred fine dining restaurant, Commis. "I never had a head chef of color," Syhabout said, reflecting on people he has worked under. So to be a chef and owner of color, cooking technique-driven, European-centric dishes like caramelized onion financiers and hen liver mousse gougères at Commis and C.D.P, he said, is groundbreaking in its own way.
For others, the social mission is more pronounced. Reem Assil, who runs the Arab bakery Reem's California, and its fine casual counterpart Dyafa, comes from a community organizing background, and was very intentional about incorporating activism into the restaurants' operations.
Assil partners with organizations like the International Rescue Committee to hire refugees, vocally advocates for restaurant workers and fair wages across the entire industry, and offers up her space for free for community members organizing on political issues.
She said that the concept of Reem's — an Arab bakery specializing in Mana'eesh, a silken, za'atar-rubbed flatbread — was directly influenced by the Black Panthers' groundbreaking Free Breakfast for Children program, started to combat food injustice in Oakland. "I wanted to create places that weren't just a value to people patronizing them," she said, "but a value to actually creating jobs, and an ecosystem that helps lift people up in Oakland" — a city that has long suffered from severe income inequalities compared to the rest of the Bay Area. (Holland, too, points to the fact that her neighborhood of West Oakland, where she has lived for 15 years, still doesn't have a proper grocery store.)
But as Oakland becomes more of a dining destination, there is always the risk that locals will eventually be priced out of their own neighborhoods.
"I want to make sure that people can actually live in Oakland and afford to work at Reem's and Dyafa, but at the same time keep our prices accessible enough to the community," Assil said, adding that with Dyafa, she wanted to offer up a version of fine dining that was decidedly price-sensitive. "Not everybody is going to be able to afford everything at our places, but the hope is that we are generating [monetary] assets that give back to the community."
Plus, she added, "Food is such an important part of how cities are made." Restaurateurs need to be aware of the power that they have in shaping the values and culture of a destination for the better.
Amidst #MeToo, Oakland's restaurant scene has shown its own share of abuses of power — local restaurateur Charlie Hallowell stepped away from day-to-day operations of his restaurants after numerous harassment allegations against him emerged last year. Still, the Oakland dining scene in 2018 provides an alternate vision for the future: What does a restaurant industry look like that is teeming with chefs of many stripes and perspectives, all of whom are explicitly aiming to make restaurants into spaces for social change?
The answer, quite predictably, is pretty great.