NYC mayor Bill de Blasio won't commit to firing all the officers involved in Eric Garner's death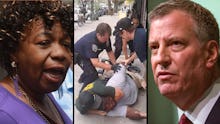 Eric Garner's mother Gwen Carr said she was "not satisfied" with the response New York City mayor Bill De Blasio gave her Wednesday night about punishing not just one, but all of the officers involved in the chokehold death of her son four years ago.
"Would you agree to holding all of these officers accountable for their wrongdoing that day?" Carr asked De Blasio in person Wednesday night, according to the New York Daily News. "It's been four years since my son's murder and it's been very hard on me and my family, but it seems like the administration is blocking the accountability for the, you know, for the justice for my son and this just makes the four years worse for me."
De Blasio didn't know Carr would be in attendance Wednesday night at a Staten Island town hall where she posed that simple question to the him during an audience Q&A session, according to a staffer working for Progressive Cities, the a consulting firm working with the organization that helped arranged Carr's Thursday afternoon press conference.
"He just didn't answer my question," Carr said of the Democratic mayor during the press conference in Manhattan.
Only NYPD Sgt. Kizzy Adonis and Officer Daniel Pantaleo have been officially accused of any wrongdoing for their role in the Garner tragedy, even though at least five other officers were involved in pinning the Staten Island father of five to the concrete on July 17, 2014. De Blasio, who was first elected in 2009 with overwhelming support from New York's African-American community, didn't sugar coat his response.
"I don't think what I'm going to say is going to satisfy you, but I want to just tell you straight up, I have a lot of respect for you," he said before telling Carr only Adonis and Pantaleo will face potential disciplinary action for her son's death, according to the Daily News. "That is the decision that came out of a previous review of the situation and I know you disagree with that, but I want to be straightforward."
The mayor recently blamed the U.S. Justice Department for the four-year delay in accountability for Garner's chokehold death, telling NY1 Inside City Hall host Errol Louis the department asked the city not to act on the Garner case until their own civil rights investigation was finished. On July 19, the NYPD announced the city won't wait any longer to proceed with an internal disciplinary trial against Adonis, the black woman who was in command at the scene when other officers choked Eric Garner to death. Adonis never laid a hand on Garner that day, but in 2016, the NYPD charged her with "failure to supervise" for what happened to Garner.
Disciplinary charges against Pantaleo aren't being brought by the NYPD, but rather the city's Civilian Complaint Review Board, which recommended punishing Pantaleo back in 2017. In December 2014, a Staten Island grand jury voted not to indict Pantaleo for killing Garner.
In August 2014, a city coroner who examined Garner's body ruled his death a homicide due to asphyxiation, which was caused not only by Pantaleo's chokehold, but also "the compression of [Garner's] chest and prone positioning during physical restraint by police," according to Time.
On Thursday, Garner's supporters characterized De Blasio as a political coward, calling him an "opportunist."
"All he does ever since the NYPD turned their backs on him is kiss their ass," Loyda Colon, co-director of the Justice Committee, which organized Carr's Thursday afternoon press conference, said in an interview with Mic.
Before speaking at her press conference, Carr attended a hearing with the CCRB where officials discussed proceeding with their NYPD prosecution against Pantaleo. There's no guarantee that the CCRB will prove the officer committed any wrongdoing that day, which would mean Pantaleo could keep his desk job, for which he was paid $120,000 in 2016.
Joo-Hyun Kang of Communities United for Police Reform, who participated in the CCRB hearing, said CCRB attorneys can't prosecute the other officers involved in Garner's death.
"The CCRB only has authority over certain kinds of misconduct," she said. Carr had no comment on why Adonis is the only officer the NYPD has sought disciplinary action against.
Colon said the decision to only charge Adonis may be racially and politically motivated.
"It's suspect, right?" Colon said. "It's easy to see that the black woman who was there that day is the one they go after when everyone else who was piled on top of Eric Garner didn't get charged."