How states are working to dismantle the "deportation pipeline"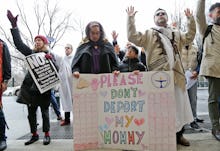 For most people in the United States, a minor civil infraction — like a ticket for speeding or jaywalking — is nothing more than a small, annoying hiccup in one's day. You roll your eyes, pay a fine and move on. But for undocumented Americans, getting dinged for even the smallest of violations can trigger a chain reaction that ends in deportation.
In the two years since the Trump administration began piloting tougher policies on immigration, politicians in liberal enclaves have drawn the ire of the president for refusing to allow the systematic targeting and deportation of undocumented people in their constituencies.
On July 23, New York Governor Andrew Cuomo became the latest head of a blue state to offer pardons to immigrants facing deportation as a result of past criminal convictions. Although the individuals in question faced harsher convictions than minor traffic violations — their crimes ranged from petty larceny to selling drugs — Cuomo underscored during remarks announcing the pardons that they had built productive lives and careers in America, and had not received additional convictions in the intervening years.
"At a time when President Trump and the federal government are waging a war on our immigrant communities, New York stands firm in our belief that our diversity is our greatest strength," Cuomo said. "While President Trump engages in policies that rip children out of the arms of their mothers and tries to ramp up the deportation of New Yorkers to advance his political agenda of hate and division, we will protect our immigrant communities."
Other governors to offer pardons so that undocumented individuals could avoid deportation include Democrat governors Jerry Brown of California and Terry McAuliffe of Virginia.
Cuomo, it's worth noting, is bracing for a September primary election against political newcomer Cynthia Nixon, who has steadily nudged him to the left on key issues throughout the primary season.
One of those issues is the matter of offering driver's licenses to undocumented Americans, which proponents argue helps to mitigate the risk of immigrants being flagged for Immigrations and Customs Enforcement detention during routine traffic stops. While legislation to implement the licenses has cropped up in the state legislature in the past — it has languished there, and Cuomo has stopped short of signing an executive order making the policy a reality.
Nixon, on the other hand, in April called for New York to "protect its immigrant families and restore access to driver's licenses for all."
"[Undocumented New Yorkers] often have to drive without a license, putting them at risk of deportation," Nixon said. "New York needs to lead the way to protect immigrants."
Twelve states, plus Washington, D.C., currently offer driving privileges to undocumented immigrants, including California, Colorado, Connecticut, Delaware, Hawaii, Illinois, Maryland, Nevada, New Mexico, Utah, Vermont and Washington.
The policy has entered the spotlight again in recent weeks after Pablo Villavicencio, an undocumented pizza delivery man originally from Ecuador, was detained by ICE as he attempted to drop off food at a Brooklyn, New York, military base.
Driver's licenses and gubernatorial pardons aren't the only forms of reprieve undocumented Americans can hope for. Dotted across the U.S. are sanctuary cities — municipal jurisdictions that choose to set their own parameters when it comes to enforcing federal immigration laws.
Sanctuary cities in particular ignited Trump's temper last winter, when the president railed against the jurisdictions with large immigrant populations who sought to defy him and threatened to revoke federal grants from those cities if they failed to cooperate with ICE.
In Novemeber, a federal judge permanently blocked an executive order Trump had issued to slash funding from the cities, ruling that the sanctions would cause the counties "constitutional injuries by violating the separation of powers doctrine and depriving them of their Tenth and Fifth Amendment rights."