Son of couple who called 911 on black boy mowing lawn accused of threatening black teens with gun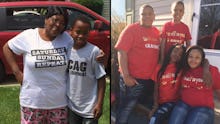 The son of a white Maple Heights, Ohio, couple that called police twice on an adolescent black entrepreneur earlier this summer has been accused of flashing a gun at another group of black children after his father allegedly called them "niggers."
Randy Krakora Jr., 32, called 911 Monday night from the home of his parents, Linda and Randy Krakora, after Linda and Randy's' 17-year-old granddaughter got in an argument with the teenage children of the Krakoras' black next-door neighbor, Lucille Holt-Colden, 51.
The black teens had inadvertently thrown a football that landed near the Krakoras' yard. Krakora Jr. — who lives with his parents — came outside with a firearm soon after and indicated that he could use it on the children, according to multiple witnesses and a police report obtained by Mic.
"This is just getting to the point where it's just ridiculous," Holt-Colden said during a Facebook Live video she posted after the incident. "I can take a lot of things, but what I will not take is when you start messing with my kids."
Holt-Colden made national headlines in June when she posted a Facebook video of police responding to her home at the Krakoras' behest. The mother of seven had hired 12-year-old Reggie Fields — CEO of Mr. Reggie's Lawn Cutting Service — to mow her lawn on June 23 after meeting him for the first time at a local Dollar Tree store.
While doing the job, Fields accidentally mowed part of the Krakoras' adjacent yard, prompting Randy Krakora Sr. to call 911. It was at least the fourth time the Krakoras had called police on Holt-Colden, her children or children on her property since she first moved in next door in October.
The Krakoras called police on their black neighbors once again on July 4 — this time using the department's nonemergency line — after a group of black children, including Reggie Fields, allegedly damaged the Krakoras' backyard fence while using a makeshift water slide in Holt-Colden's backyard.
No arrests or citations were issued following any of those calls. Maple Heights Police Lt. Joe Mocsiran told Mic previously that the Krakora family has called his department an estimated 60 times in the 18 years they've lived at their current address.
Linda Krakora told Mic earlier in July that her family has been harassed and falsely labeled racists on social media as a result of their highly publicized feud with Holt-Colden.
"We have people walking past our house, taking pictures, calling us racists and stuff like that," Linda Krakora said. "If [Holt-Colden] wanted this to stop, she could make it stop. She's trying to milk this to get her 15 minutes of fame."
Holt-Colden said the Krakoras' teenage granddaughter — whose name the Krakoras did not disclose to Mic — has recently started harassing her children while visiting her grandparents.
"She's been messing with my kids for the last week," Holt-Colden said Monday. "She don't even live there. I feel like they brought her here to start some mess."
Holt-Colden was meeting with a support group for mothers who've lost children to gun violence Monday when the latest incident occurred. Her niece, Martinique King, 22, who she'd raised like a daughter since King was 10 years old, was killed Sept. 11, 2016.
Holt-Colden's son, Kyron Hudson, 16, and daughter, Larica Gibbs, 13, were among a group of neighborhood kids playing with a football in their front yard around 7:30 p.m.
Kyron told Mic he accidentally threw the ball near the Krakoras' driveway. The Krakoras' granddaughter ran into the street and scooped up the ball, then ran back to the porch and threw the ball inside her grandparents' front door.
When Kyron asked her for his ball back, he said, the Krakoras' granddaughter refused to return it. Kyron and his sister called their mother's cell phone, but she didn't answer. They then called their eldest sister, Dontasia Hudson, 18, who lives roughly five minutes away with her friend, Selena.
When Hudson and her friend arrived at the scene, Kyron said his sister asked the Krakoras once again to return their football.
"We was like, 'Can you give us our ball back?'" Kyron said. "[The Krakoras' granddaughter] was like, 'You ain't getting nothing back.'"
The Krakoras' eventually threw the football into Holt-Colden's backyard, but their initial refusal led to a shouting match on the front lawn, according to Kyron and Holt-Colden, who rushed home after finally checking her phone and getting a related call from her mother at 8:48 p.m.
Before Holt-Colden arrived, however, Kyron said Linda Krakora ran outside and confronted his sister's friend Selena. The argument compelled the Krakoras' son, Randy Krakora Jr., to come outside with a handgun he had tucked in his waistband, according to Kyron.
"He was like, 'I got my gun! I got my gun! You need to get home right now!'" Kyron said. "We was like, 'You pullin' a gun out on us?' They were like, 'He's got his license. He can do what he wants with it.'"
"He was like slowly pulling it out like he was about to shoot us or something," Kyron's 13-year-old sister Larica told Mic. "My brother was like, 'What you bout to do with that gun?' [Randy Krakora Jr.] said, 'I have a license.'"
A police report of the incident confirms Randy Krakora Jr. did in fact have a gun "on his hip" while confronting his neighbor's kids. Linda Krakora also confirmed over the phone that her son was armed, but that the weapon was never drawn.
"No gun was pulled," Krakora said. "We have video to prove that they're lying. You call the police and you ask them about the video we gave them and the 35 minutes of threats from those kids saying they're going to burn down my home because that's what happened."
"We're the ones who are the victims," she added before abruptly hanging up.
Holt-Colden's family said Maple Heights police didn't arrived at the scene until around 9:15 p.m., shortly after Randy Krakora Sr. lobbed a racial slur at the black teens.
"We all was yelling and he was like, 'You niggers in my yard and stuff causing trouble,'" Kyron said. "My sister said, 'Did you just call us the n-word?' He said, 'If I did, what are you going to do about it?'"
No arrests were made and no citations were issued, according to a Maple Heights police sergeant who declined to give his name, but was on duty around midnight Tuesday.
"It was basically a he-said-she-said type of situation," the officer said over the phone. "There were no independent parties to verify what happened in the incident. A report is going to go to the prosecutor in the morning and let him decide what to do with this incident. Any charges will come from the prosecutor's office."
City officials' attempts to help the feuding families reach a truce have failed miserably, according to Holt-Colden. Activist LaTonya Goldsby, leader of Black Lives Matter Cleveland, said she plans to reach out to Holt-Colden's family to discuss the possibility of advocating on their behalf.
Goldsby, whose cousin is the late Tamir Rice, previously contacted Holt-Colden after her June 23 lawn mowing turmoil with the Krakoras.
"My family just watched the Trayvon Martin documentary," Goldsby said in a phone interview Monday night. "For this Krakora person to brandish a gun and say he is licensed to carry almost to suggest he has permission to kill you, that's horrible. We're going to kill kids because of footballs now? If you are that fearful of black folks living next door to you, why don't you just move?"