The Chico police shooting of Desmond Phillips still rattles the family, as justice remains uncertain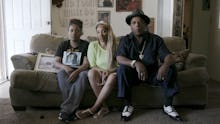 Aug. 20, 2018, 6:25 p.m.: Xavier Becerra, California's attorney general, will not reverse the Butte County district attorney's decision clearing the police officers in Chico involved in the fatal shooting of Desmond Phillips, his father told Mic on Friday. Becerra met with David Phillips Sr. and Desmond Phillips' siblings on Thursday, after his office conducted a review of the case.
Phillips said the AG's office provided no details about how it conducted the review, leaving his family in a state of disbelief. "It knocked me down and it was a big blow," Phillips said in a phone interview. "That just goes to show you that the DA is investigating the DA, and they're not going to anything."
In an email, the AG's press office declined to elaborate on the meeting. "To protect its integrity, we can't comment on our review of this matter," a spokesperson said in the email.
Becerra faces re-election in November as the state's top law enforcement official.
Mic's original story appears below.
----
David Phillips Sr. is afraid to move out of the Chico, California, apartment where police officers fatally shot his 25-year-old son, Desmond Phillips, last year.
David Phillips called 911 the night of March 17, 2017, telling dispatchers that Desmond was having mental health "episode" and had at one point picked up some kitchen knives.
More than a year later, David Phillips refuses to patch up the spots where bullet holes are still visible on the walls. He doesn't want evidence of the officers' alleged negligence erased.
"I haven't moved anything because I don't know if or when investigators are going to come and want to see it," David Phillips said in a sit-down interview in his living room in April. "This stays here at all times," he added, pointing to a black toolbox that was pierced by an officer's bullet.
Thursday's episode of Mic Dispatch explores the fateful night last spring when, rather than supplying treatment for what David Phillips says was post-traumatic stress disorder, officers with the Chico Police Department used a stun gun on Desmond Phillips and then shot him at least 10 times, killing him.
The officers' actions have already been ruled "justified" — the Butte County District Attorney's Office said the officers saved themselves, David Phillips and his nephews from a potentially lethal knife attack by Desmond Phillips.
But the Phillips family disputes this assessment, owing partly to the apparent lack of threat Desmond Phillips posed at the time he was shot. He died with nothing more than part of a wooden door jamb in his hand.
"When you call medical help for your child [and] 15, 16 minutes later your child's laying in the living room with over 16 gunshots in him, something's wrong," Phillips said. "Why did you have to murder him?" [Editor's note: According to a county coroner's report, Desmond Phillips was shot 10 times.]
Amid an ongoing epidemic of police violence in the U.S., how law enforcement officials handle mental heath crises is a problem of unknowable size, police reform advocates say. Many officers with the roughly 18,000 American law enforcement agencies receive what's known as CIT training, which teaches them how to de-escalate a situation, avoid using lethal force and steer subjects toward the appropriate medical treatment.
That training is optional. But over the past few years, high-profile police shootings — like those of Deborah Danner in New York City, Charleena Lyles in Seattle and Alfred Olango in the San Diego area — have cast doubt on whether it is enough to counteract officers' implicit biases.
"I do think the training needs to go a step further, to address those inherent biases that exist around race, around ethnicity, around immigration status," Erica King-Toler, assistant professor at the John Jay College of Criminal Justice in New York City, said in an interview with Mic Dispatch anchor Natasha del Toro. "I don't think that the police are, as a group, aware of the long history of the things that have been going on in communities of color that affect how we respond to the police."
At least half of the estimated 375 to 500 people shot or killed by police in the U.S. each year had a mental disorder, according to a 2012 review of available law enforcement reports by the Portland Press Herald/Maine Sunday Telegram. In 2017, police shot and killed 987 people overall — 236 of whom had some form of mental illness, according to the Washington Post.
"What would happen if we just stop and assess and see what are his symptoms?" King-Toler said. "What is the family observing? What is happening? I wonder, could the outcome have been different?"
King-Toler's question is one the Phillips family has wrestled with for nearly 17 months. David Phillips said his son experienced a mental health episode during a police encounter in Sacramento, California, a year or so before the fatal shooting. That encounter traumatized his son, his father said.
In the March 2017 911 call , Philips told at least one dispatcher that paramedics and officers had been to their home to help deal with one of his son's crises in the past.
"He had two strikes against him — he had the color of his skin, which was the main thing, and then he had the mental health," David said. "They knew he had mental problems."
Desmond's family has filed a federal civil rights lawsuit and a wrongful death claim against the city of Chico and its police department, alleging that officers were negligent in their response to David Phillips' 911 call. In March, the city and lawyers for the officers involved denied the allegations.
The lawsuits are still in litigation, said John Burris, a prominent, Oakland-based civil rights lawyer representing the Phillips family. The family has had to push back against the narrative that Desmond Phillips intended to do harm, including to the responding officers, he said.
"In order for police to justify what they're doing on a routine basis, they really have to demonize the person they have killed and deny their humanity," Burris said in a recent phone interview. "Well, the families have to deal with that loss of humanity, so to speak. And the collateral damage for them is immeasurable."
Still, David Phillips doesn't regret dialing 911 to get help for his son. He said police officers should be held accountable for uses of excessive force, whether or not they have been trained on mental health crises, he said.
"There's nothing that I could've not done, because I did not expect them to come in here and murder my child," David said. "They're supposed to help you."