Hype Daily: Cher does ABBA, Omarosa's got tapes of Trump and more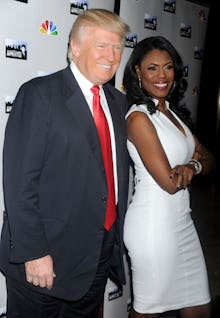 Welcome to Hype Daily, Mic's morning entertainment roundup. Here's everything you need to catch up on in the entertainment world and what to look forward to today. Want to receive this as a daily email in your inbox? Subscribe here.
Good morning from Hype reporter Anna Swartz.
Cher teased her upcoming album of ABBA covers
Remember how, in addition to her role in Mamma Mia! Here We Go Again, Cher also said she's going to release an entire album of ABBA covers? Well, on Wednesday she released a little teaser clip from the upcoming album, tweeting out a snippet of her version of ABBA's "Gimme! Gimme! Gimme! (A Man After Midnight)." The album is due to come out sometime in September, but the teaser clip gave fans hope that it's close to completion. I wouldn't put it past Cher to drop her cover album early — I mean, she's Cher!
Cameron Esposito and Rhea Butcher are separating
Comedians Cameron Esposito and Rhea Butcher, a real-life couple who played fictionalized versions of themselves in their sitcom Take My Wife, announced their separation on Wednesday.
In a tweet, Esposito said, "Rhea & I are separating to live individual lives for a time. We care very much about each other & that's why we're doing this. We're gonna talk to our friends about it & be pretty private in public. Thanks for your kindness and understanding." Butcher posted a near identical tweet. The two married in December of 2015. I hope those two are doing OK.
Apparently, Omarosa secretly recorded Trump in the White House
Omarosa Manigault Newman, the reality show villain who became a White House advisor, secretly recorded conversations with President Donald Trump during her time in the White House, the Daily Beast reported on Wednesday. She has apparently used those recordings to boost the profile of her upcoming tell-all book, Unhinged.
A source confirmed to the Daily Beast that they had heard "at least one of her recordings." Whether there's anything interesting in those recordings is another story, but it's noteworthy that Manigault was secretly recording Trump in the first place. Her upcoming book focuses on what she calls Trump's "mental decline" and contains some behind-the-scenes antics, like her attempt, along with Ivanka Trump, to identify and kick out any "leakers."
Brad Pitt says actually, he does pay child support
Cast your mind back to the mid-aughts when Brangelina was the hottest news in town. It was such an innocent time. Anyways, the celebrity couple still makes news, I guess. On Wednesday, Brad Pitt disputed claims by his now-ex Angelina Jolie that he hadn't paid child support, CNN reported.
After Jolie's lawyer wrote in court documents that Pitt had "paid no meaningful child support since separation," Pitt's lawyers responded, telling the court that Pitt had paid Jolie $1.3 million in "bills" since their 2016 split and loaned her $8 million more to purchase a house. Pitt's lawyer apparently wrote in the court filing that Jolie's claim was a "thinly-veiled effort to manipulate media coverage."
Put this on your radar: Slender Man
Or rather, put the debate around this movie on your radar. Slender Man, the horror film based on a scary internet legend, hits theaters on Friday. But critics and regular folk alike have pointed out that making a horror movie about a meme that factored into a real-life tragedy feels icky. In 2014, two Wisconsin 12-year-olds stabbed their friend with a kitchen knife, telling investigators that they did it for Slender Man. So does a film about the meme exploit that real-life tragedy? Despite the criticism, the movie's coming out anyways.